Colton Parayko has come to expect a scouting report before puck drop. It's courtesy of his teammate, Carl Gunnarsson, and the veteran defenceman goes into a lot of detail if the St. Louis Blues are playing a team Parayko hasn't seen before. Until recently, that's been every team. And so, the rookie and the vet sit down for a talk about the opposing team. Well, Gunnarsson talks. Parayko listens. "He doesn't know all of the guys, and a couple fourth-line players maybe wanna hit late or try to take his head off or something," Gunnarsson says. "You just gotta try to make him aware and keep him safe."
Those pre-game discussions are "huge," if you ask Parayko, like walking a golf course before you play it. "He'll tell me, 'You have to look out for his speed, look out for this guy being really hard on the puck,'" he says. "We talk about how the other team forechecks. I know what to expect."
In a season full of lessons, Parayko is going through one of the steepest learning curves of any rookie. The 22-year-old from St. Albert, Alta., just outside Edmonton, made an instant impact on defence, a position that even the most highly touted players often take time to master. The third-round pick who was passed over in his draft year is exceeding even his own expectations, and he says it's in large part thanks to the veteran Swede he's often alongside on the point.
Playing on the Blues' second D unit with either Gunnarsson or Kevin Shattenkirk, Parayko ranked among the top 15 in the NHL in plus-minus through much of the first half of the season, and second in the category among rookies. Parayko says the teammate he calls "Gunny" (the duo even have their own slang lingo), who he was paired with starting early this season, deserves much of the credit for his transition to the NHL, and not just because of the conversations. "He makes it so easy on the ice," Parayko says. "He's such a smart defenceman; he's always in the right position. I'm learning just by watching."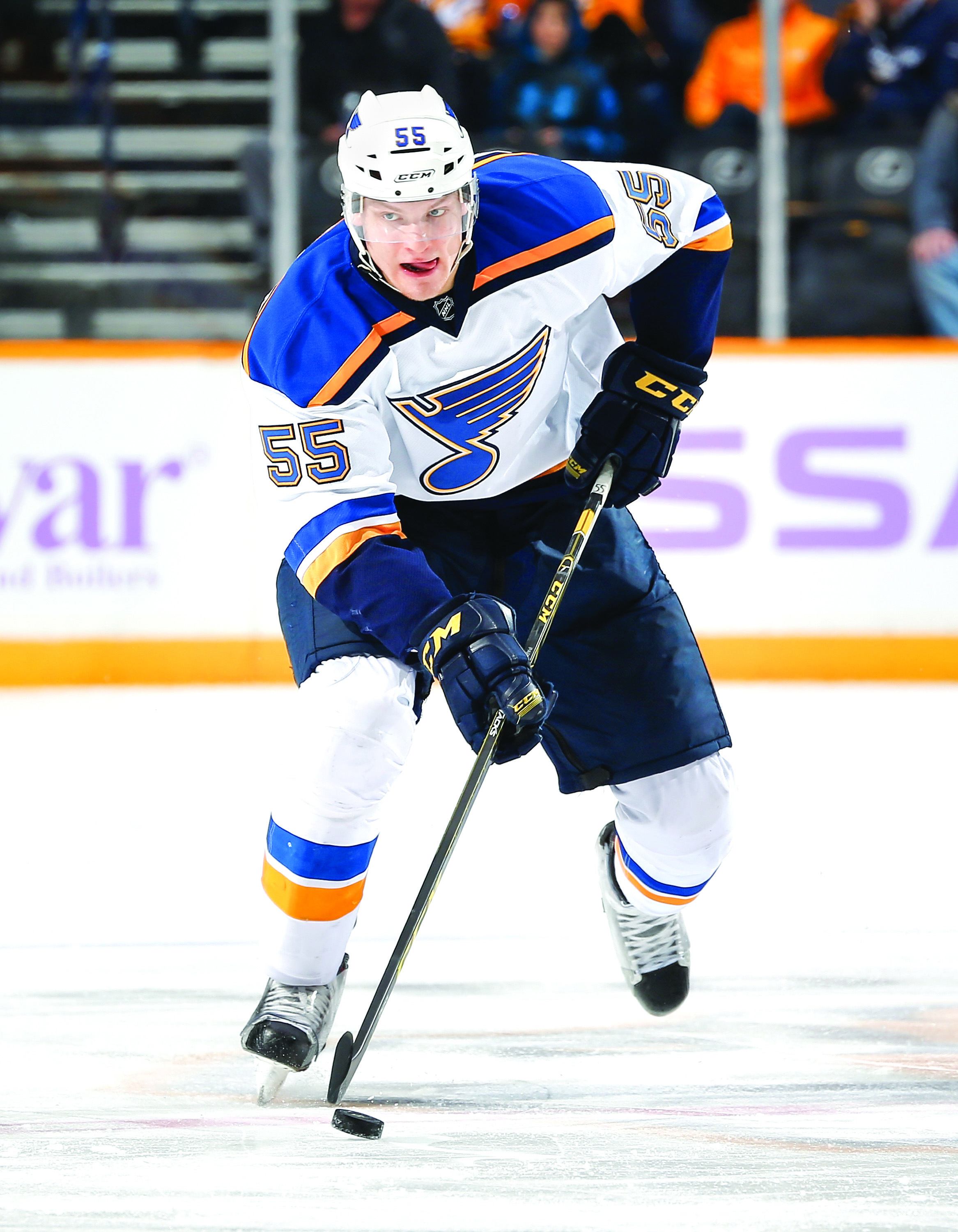 NASHVILLE, TN – NOVEMBER 7: Colton Parayko #55 of the St. Louis Blues skates against the Nashville Predators during an NHL game at Bridgestone Arena on November 7, 2015 in Nashville, Tennessee. (Photo by John Russell/NHLI via Getty Images)
Gunnarsson says Parayko's positioning has improved significantly. Among the bigger adjustments for any first-year blue-liner is going up against the best in the world, facing guys like Patrick Kane and Evgeni Malkin one-on-one. Parayko has learned that even though he respects them and what they can do with the puck, he can't respect them too much. "It's making sure that I don't give them too much time and space to make plays," he says. "I have to do whatever I can to separate them from the puck and make it easy for the rest of my team." Parayko's six-foot-five, 226-lb. frame helps with that. "He can out-battle 90 percent of the guys in this league with just pure strength," Gunnarsson says.
That's also the driving force behind his cannon from the point. Still, Parayko is surprised he has six goals through the first half of the season. "In previous years, I mean, I've put up points, but I don't know if I ever even had five goals in a season before," he says. (He did eclipse the five-goal mark in college, twice, with six- and seven-goal seasons.) "I don't know my personal stats; I never keep track. But I don't think I was a big goal-scorer. Ever."
With that shot, and being on the team's second power-play unit, Gunnarsson says Parayko should get used to seeing his name on the game sheet. "When he's got an opportunity to shoot it, I tell him, 'Don't ever pass it over. You use that slap shot of yours, and bombs away.' It's a great weapon."
The most exciting part of Parayko's game, if you ask Gunnarsson, is the untapped potential, the lessons still to be learned. "I wouldn't say he hasn't found his game, but he can improve so much," Gunnarsson says. "Let's put it this way: He hasn't found his limitations yet. The further you get into a career, you kinda narrow down your path a little bit, but his path is wide open. As long as he can keep it that way, he can explore all the options. And if I can help him out doing that, it's fun."