Being a rookie in Detroit must be a unique experience.
It's a little different here, I guess. This team hasn't had a teenager in a while, and I think the guys on the team like having me around. They teach me things. It's been great with the fans, and being a local boy, I've got a lot of support. Being able to stay at home and play in the NHL has been awesome.
There's a lot of talk about you. Do you pay attention to it?
It's hard not to. But I just kind of brush it off, try not to let it get to my head that much.
You're being compared to Henrik Zetterberg and Pavel Datsyuk, and you can brush that off?
It's pretty cool but I'm just trying to play hockey, you know?
Do you like pressure?
I guess I do. [Laughs.] As a hockey player you like being in that moment. When it comes from outside the rink and outside of a coach or a teammate, it's something you kinda just listen to, and you have your own opinion about it.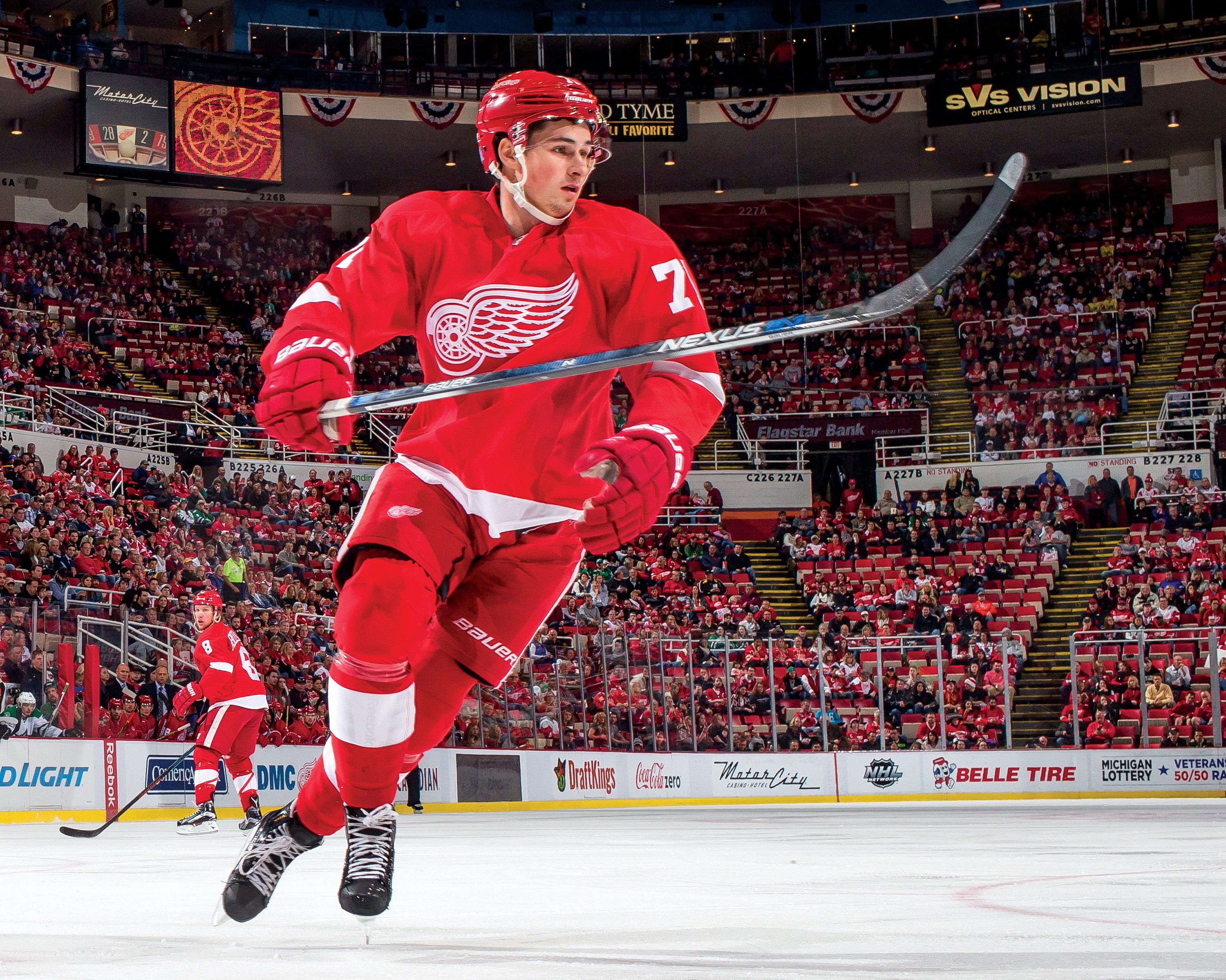 DETROIT, MI – NOVEMBER 08: Dylan Larkin #71 of the Detroit Red Wings follows the play during an NHL game against the Dallas Stars at Joe Louis Arena on November 8, 2015 in Detroit, Michigan. The Stars defeated the Wings 4-1. (Photo by Dave Reginek/NHLI via Getty Images)
What's been the biggest surprise for you this season?
How close the league is. Every team, no matter where they are in the standings, is a good team. It's so tight. It's crazy, you know, you play college and there're some teams where you know you're gonna win that game. Here, every game's a battle.
When you have questions, who do you go to?
I live with Luke Glendening and Riley Sheahan. They're pretty young guys but they've been around for a few years, so they're a good help. We share a house; it's nice. They have two dogs, so it's a full house.
What have they been teaching you? Are you cooking, doing laundry?
Cooking a little bit, yes. They're pretty good cooks. We do our own laundry. It's been good to learn from them, things like paying rent, and we had to do the bills—the electrical bill and all that stuff. That's one thing I've learned.
Favourite moment so far of your first year in the NHL?
My first game was really cool. I scored and we won and it was a great atmosphere. It was a dream come true. I had tons of family in town. I don't think I've ever been that excited in my whole life.