Just a few games into the season, there have been some incredible individual performances, most of which will not continue and certainly not keep pace over the 82-game season. Naturally, this will lead to some overreactions, but we need to keep in mind that goal totals will likely fall as defences tighten up, and some of those players (hello Nail Yakupov) having unpredictable starts will begin to fade.
With all that said…could Alex Ovechkin score 50 goals in 50 games!?
The Washington Capitals sniper is off to a torrid start with eight goals in his first four games, a pace of 164 goals that certainly will not be maintained. But coming off a "down" 33-goal season after which his conditioning and dedication were questioned, all indications are that he's returned a more motivated player.
Senior Writer Ryan Dixon and NHL Editor Rory Boylen always give it 110%, but never rely on clichés when it comes to podcasting. Instead, they use a mix of facts, fun and a varied group of hockey voices to cover Canada's most beloved game.
"You can see maybe he's more hungry. I can see this in his eyes," Evgeny Kuznetsov, Ovechkin's new centre, told the Washington Post's Isabelle Khurshudyan.
Ovechkin has rebounded from a low-30s goal scoring season before. In 2010-11 he scored just 32 and followed it up with 38 in 2011-12. At that time there were people wondering if the decline had started early for Ovechkin, only to see him notch 32 in the lockout-shortened 2012-13 season and then reel off three-straight 50-goal seasons.
We should have expected an Ovechkin revival. So much of his struggles last season had to do with a dip in 5-on-5 production: Ovie scored just 16 times at even strength, so any improvement there would go a long way towards getting him back up over 40 goals. He's nearly halfway there already, with seven of his first eight coming at 5-on-5.
But bouncing back to 40 or even a 50-goal season is one thing: scoring 50 in 50 games is quite another. No one has done it since Brett Hull in the 1991-92 season when he was paired with super setup man Adam Oates in St. Louis.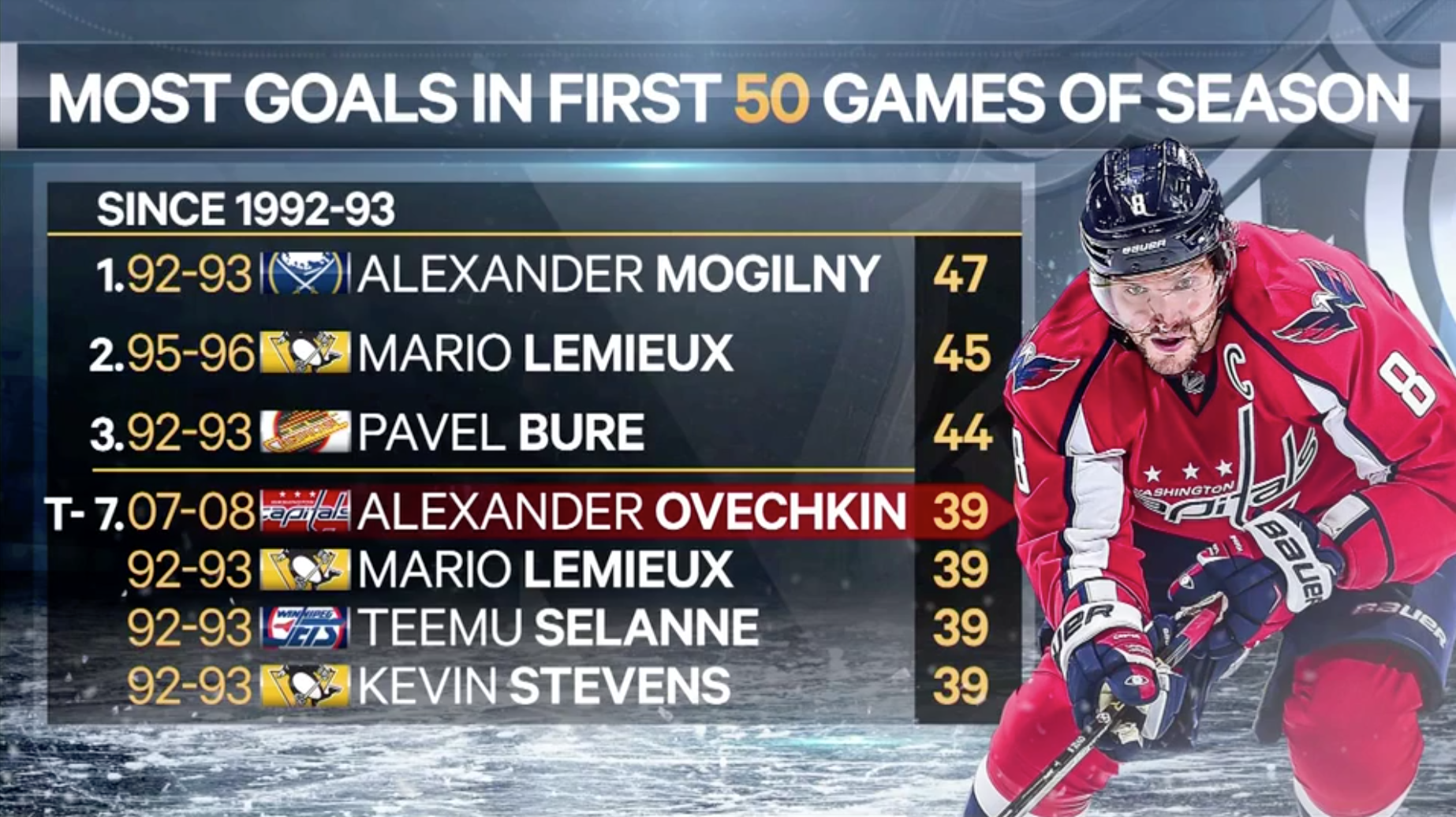 We've been teased with this kind of early surge before — just last season Sidney Crosby started with 21 goals in his first 23 games and then slowed to eight in his next 23. Ovechkin has reached 39 goals in 50 games before, which is a terrific achievement in its own right comparable to other scorers from the early-1990s, but realistically is still a long way off 50 in 50.
The fact is in this defensive era, all of those offensive achievements from the pre-trap days are out of reach.
If 50 in 50 isn't attainable in the modern age, what is the new 50 in 50 equivalent?
"I think you go 20 in 20, 25 in 25, 30 in 30 that's the kind of stuff you can do," Elliotte Friedman said on Wednesday night's broadcast.
Either way, Ovechkin is still in the conversation among the best goal scorers in NHL history and one day may pass even Wayne Gretzky after adjusting for era. But while we're on the topic of throwback goal scoring stats, let's try this hypothetical on for size.
What is a more attainable achievement for Ovechkin: scoring 50 goals in 50 games, or breaking Gretzky's 894 career NHL goals record, without adjusting for era?
Friedman asked Ovechkin about Gretzky's goals record just last year, which The Great Eight of course played down.
"I don't think somebody will beat this record," Ovechkin said at the time. "In this hockey right now, in this league, I think it's impossible."
Currently, he sits at 566 goals in his age 32 season, so to break the all-time record Ovechkin would need to average 36.4 goals per season through his age 40 season. A 50-goal season in 2017-18 would bring that per year average down a bit to 35.75. There's every possibility that by the time Ovechkin's current contract with the Capitals lapses after 2020-21, he'll be within 200 goals of Gretzky, heading into his age 36 season.
To have any chance at eclipsing Gretzky, Ovie would certainly still need a couple 45-plus goal years and, of course, to remain healthy and for the NHL to not shutdown for a work stoppage. Remember, too, that Ovechkin has already missed a full season, as the lost 2004-05 season would have been his rookie year.
All of this is a long shot, based off early overreactions from an incredibly fast start by Ovechkin this season. But the fact it's even something to ponder based on the fringes of reality in the modern game is a testament to Ovechkin's place in history.