TORONTO — The one absolute truth in the Steven Stamkos situation is this: There's no guarantee he'll ever be on a team with as good a chance to win the Stanley Cup as this one.
Even though he's only a month past his 26th birthday, even though he could still sign a long-term contract with the Tampa Bay Lightning, he's very aware of the opportunity at hand with the playoffs beckoning.
"I think it's the toughest sport to win in; to win a championship in," Stamkos said Tuesday. "I've had an opportunity to get to a conference final, a Stanley Cup final, and those things don't just happen. Some guys don't even get a chance to do that in their career.
"When you have a special group like we do here you have to take advantage of it."
Perhaps, then, it should come as no surprise that the Lightning captain seemed to have his guard up prior to his third visit to Air Canada Centre this season. He was careful not to say anything that could be misconstrued — even downplaying a visit to his parents' place in Markham, Ont., during Monday's off-day.
"I was almost a little bored actually," said Stamkos. "You're back at the parents house, you're sitting around, OK you're talking, but … no, it was good. It was just a peaceful day and obviously nice to see the family again, have a nice home-cooked meal.
"That's always fun."
He didn't field any questions specifically pertaining to his pending free agency or long-term future. Those are for another day.
These are relatively peaceful times for Stamkos, and have been since general manager Steve Yzerman announced on Feb. 15 that the Lightning wouldn't be trading him prior to the deadline.
Not only did that quiet another round of speculation before it flared up, but it's been followed by prosperity — with Stamkos scoring nine times in the 14 games since and Tampa going 10-3-1 during that stretch.
Stamkos dismisses the notion that one had something to do with the other as "coincidence," but his coach believes there's a little causation in effect here.
"I think it probably brought a little bit of calm to Stammer," said Cooper. "As much as I truly don't believe any of what's gone on around us or around him has affected our team in any way, for Steven it's probably affected him at some point.
"If that was pressure on him — to be able to just eliminate another factor was good for him."
What has been somewhat lost in a Lightning season featuring more than its share of drama is that the team is back to the form that got it within two games of a championship last spring.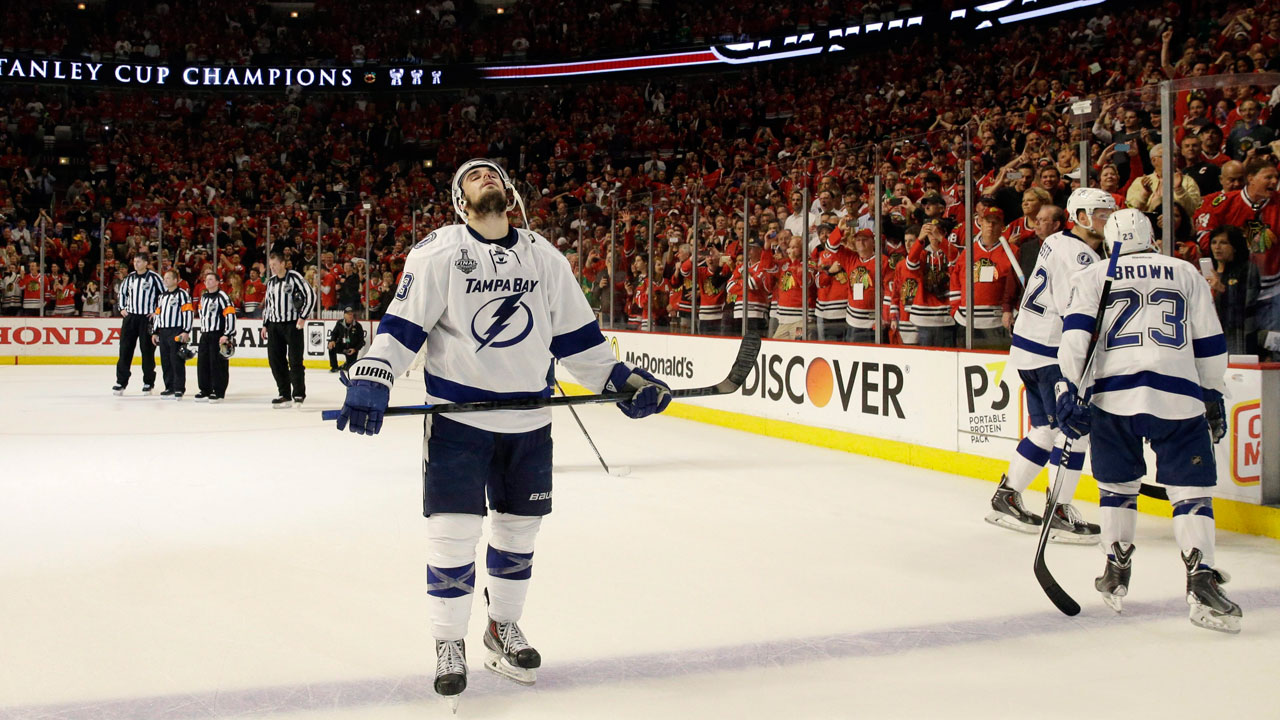 The Tampa Bay Lightning fell 4-2 to the Chicago Blackhawks in last year's Stanley Cup final. (Nam Y. Huh/AP)
Tampa was on the outside of the Eastern Conference playoff picture as recently as Jan. 2, but is now challenging for another Atlantic Division crown after going 22-8-1 heading into Tuesday's game against the Maple Leafs.
"I think we might have got caught up in what happened last year and just expecting to win some games early on in the season," said Stamkos. "We dealt with some injuries, too, no doubt. People tend to forget about that. We got healthy, our goaltending's been absolutely solid."
A fact that shouldn't be lost on any of the Lightning players is that big changes are looming in the years ahead.
The team is already pressed up closely against the salary cap and has Nikita Kucherov and Alex Killorn among the players needing new contracts this summer, with Victor Hedman, Tyler Johnson, Ondrej Palat and Ben Bishop due for new deals in 2017.
That has undoubtedly played a huge role in the Lightning's inability to get Stamkos signed to an extension that would make him among the NHL's highest-paid players.
Without it, he'll likely test free agency on July 1.
Whether he stays or goes, the last playoff run for the core as currently constructed is due to begin in four weeks. They're focused on ramping up the intensity for that.
"It's a long season," said Stamkos. "I think when you go on a long run like we did last year you know the adjustments you have to make heading into the playoffs. You don't want to peak too early.
"You want to be playing solid obviously don't the stretch, but it's such a different game come playoff time and this group realizes that."
With so much focus on the ice right now, even a trip to the ACC came off like just another stop on the road.
That's a far cry from the previous two visits, when the Stamkos-to-Toronto storyline was blaring more loudly.
"It's great how it worked out," said Cooper. "The first two times we were here it was back-to-backs, never had to come to the rink (for a morning skate), you got to hide. Now you're on almost the 17th hole of the season, everybody's at the (GM meetings in Florida) and all the controversies — we won't call them controversies, whatever those are — the fire's been put out on them.
"It's just a nice relaxing day in Toronto."
For Stamkos and the Lightning?
Imagine that.