Time and tide wait for no man. Whether it ends through unfortunate injury or slowly trickles away as the speed of the game passes him by, no player's career lasts forever. Rest assured that your favourite star's retirement is coming—and in hockey, as in most contact sports, it's probably coming sooner rather than later.
Scoring in the NHL is a young man's game. Multiple studies have shown that offensive performance for NHL skaters peaks at the ages of 24 or 25. On average, we can expect players to maintain around 90 percent of their production through their age 29 season, but from that point on the decline tends to accelerate. This graph was created by Eric Tulsky to describe the average decline in Even Strength scoring (measured by points per 60 minutes of 5v5 TOI) as players age, and it fairly clearly indicates that the average player will see his scoring decline significantly as he approaches his mid-30s.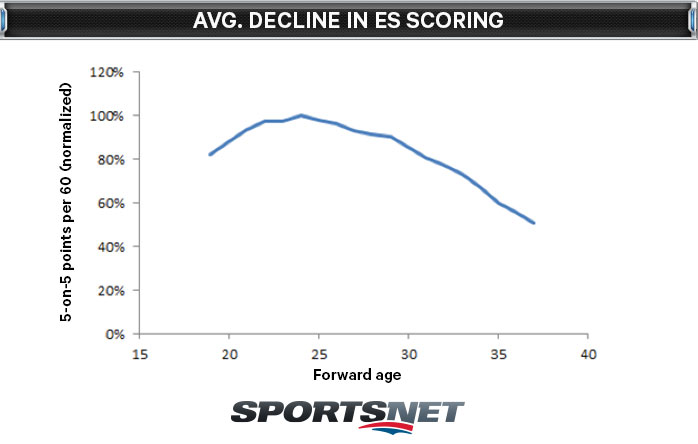 Aging veterans often see reduced roles on teams with up-and-coming young talent. While being counted on to mentor the next wave of leaders, many struggle with the shift to a supporting role. We caught a glimpse of that recently with the Teemu Selanne-Bruce Boudreau saga. The Finnish Flash was frustrated by a reduced role on the Ducks power play. Being benched against Dallas in the playoffs was likely the final straw. He retired rather than play another season of unhappy hockey under a coach he believes lost faith in his abilities. Whether or not her recognized how significant the decline in his production had become is debatable, but in this case he was in a bit of a state of denial.
Declines in observed performance are closely linked to downward trends in the underlying, causal aspects of play. When it comes to goal scoring, skill and an understanding of the best locations to shoot from (i.e. consistent shot selection) can maintain shooting percentages, but shot-attempt generation itself becomes more of a challenge. Speed, reaction times and the ability to fight through checks decline with age. Thus, one's ability to get to good shooting locations and to get shots off decays and unblocked shot attempts decrease in a relatively consistent pattern.
Over the past seven seasons, Jarome Iginla has seen his unblocked shot attempt generation (iFenwick per 60) slide at 5v5, and his production has followed suit. In 2007-08 his iFenwick of 13.993 was 10th in the NHL alongside other stars like Patrik Elias, Jeff Carter and Alexander Semin. Last season, his iFenwick had dipped below 11, ranking him 97th, behind the likes of Jiri Tlusty, David Jones and Chris Higgins. That's a drop of more than 20 percent in his shot attempts.
In order to compare players in a consistent game state, it's best to ignore power-play opportunities and ice time. The ability to fire away on a depleted defensive unit doesn't require the same level of physical acuity as production at even strength. Also, in order to compensate for seasonal variation in the data, we can smooth the changes out by exploring the moving average in two year time segments (i.e. 2007-09, 2008-10, 2009-11, etc.). Looking at the data for elder statesmen around the NHL, it's fairly obvious that a number of "stars" are in decline offensively. Interestingly, the age range is quite sizable—as early as 24, while others have maintained production into their 40s.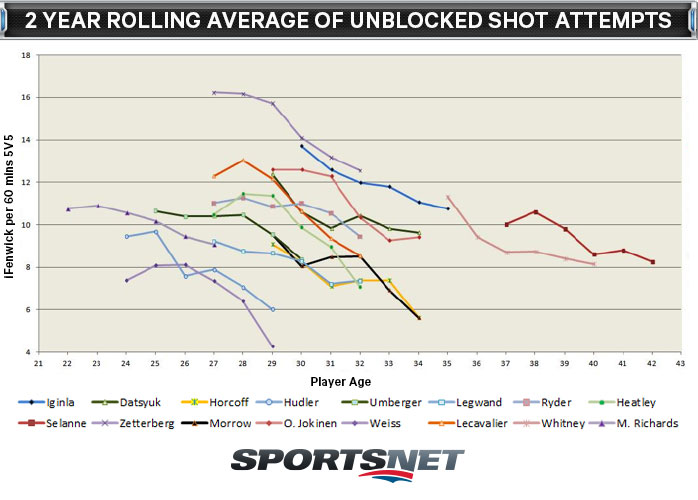 Players with declines comparable to Iginla who were once counted upon to produce at the highest levels in the NHL include a few names that might surprise. Kings centre Mike Richards shot-attempt generation peaked in 2009-10 when he was 24 and has been in precipitous decline since. His most recent two-year average is 16.9 percent lower than his peak. Richards will be 29 this season, and the Kings may have a hard time moving his contract if his drop continues.
Other skaters who peaked fairly early and are now in rapid decline include Stephen Weiss who has seen a massive 47 percent decline before turning 31, Jiri Hudler (37.8% by age 31) and R.J. Umberger (21.3% by age 32). Weiss appears to have been an unfortunate UFA mistake on the part of an aging Red Wings squad that was hoping to get a bit younger. Hudler is perhaps being relied upon a bit too heavily for production by an anemic Flames squad after leading them in scoring. Umberger was sent back to Philadelphia by Columbus this off-season, along with a fourth-round pick in exchange for the consistently productive Scott Hartnell. The Flyers faithful may find out that the Blue Jackets have burned them a bit.
The reasons for the decline in the production are varied, as are their respective age ranges. But no matter how you dissect it, the fact remains all have seen reduced output and reduced roles as their careers progress. Before too long they'll be gone, and another scoring star will be on the clock… tick, tock.