One of the main reasons I began the shot quality project was to fill in major gaps of information missing from NHL data reports. Through my research I discovered inconsistencies when it came to shot locations coupled with significant information missing on pre-shot movement. In short, a lot of conclusions were being made without the correct information.
The analytics community is filled with intelligent individuals who come up with logical conclusions based on the information at their disposal. The problem with the gaps in information is that we begin to lean on luck because we just can't logically explain the reasons without making assumptions based on intuition or research based on this same limited data.
War on ice as emerged and they are attempting to fill in these gaps. Their charts and scoring chance accumulation have provided great new resources for analysis. The site is a great resource and would be an even greater accumulation of data if NHL.com did not have accuracy issues.
Trying to assess how Rick Nash is producing at a 52-goal pace is futile using numbers from war-on-ice. His shot rate hasn't changed and his scoring chances for are in line with the previous two seasons in which he scored at 33 and 39 goal pace. His breakaway opportunities are stable—about one every 10 games—so that's not it. Simple solution: Luck. His shooting percentage is at a rate he hasn't seen since his 21-year-old season.
Looking at Nash's numbers since he joined the Rangers, he isn't producing at a rate that would suggest a 50-goal season. His shot rate is actually slightly down from 2013-14. You could conclude luck, but the term itself means different things to different people. Some take it to mean lack of skill and entirely due to fortune. It can also mean pucks finding players in good positions on the ice, lucky bounces, or even bad goaltending.
I prefer to search for logical and more concise explanations. Steve Valiquette of MSG Sports has also been doing shot quality analysis and has done a fantastic job of visualizing the work. He has a slightly different evaluation than mine and has added the concept of the royal road to the discussion. Earlier in the season he reviewed Nash's success and concluded it was based on pre-shot movement.
Similar to my philosophy that success is earned by making goaltenders move laterally, I decided to review Nash's Rangers career. Highlighting the difference between a shot from the exterior versus a pass across the royal road we see a significant increase in goal probability when Martin St. Louis unleashes a goal-mouth feed instead of a harmless exterior shot.
With the pre-shot movement, St. Louis takes goaltender James Reimer from a situation where he would be expected to succeed 98 out of 100 times to one where 60 out of 100 times is an average.
Nash's first two seasons in New York saw him take clean shots 90 percent of the time. His conversion rate on those opportunities was 10 percent. With the Rangers, his finishing rate on shots with pre-shot movement is 32.5 percent. But in the past two seasons, Nash only managed to take 44 such shots out of the 429 he registered. During this time, Nash scored 37 of his 47 goals through clean shots. There's no doubt Nash is a sniper—you don't need advanced analytics to understand that—he is a career 12.7-percent shooter and doubles the average success rate on clean shots. So what's different this season?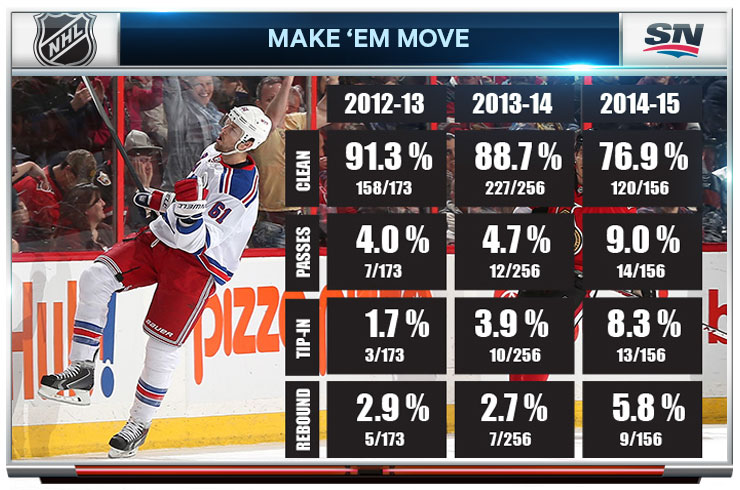 Of the 156 shots Nash has taken in 2014-15, 36 have included pre-shot movement (lateral passes, deflections, rebounds). Twenty-three percent of his shots are of a variety where he has a 32.5-percent finishing rate. The result, 16 of his 28 goals are thanks to these higher-end opportunities.
The question is sustainability, individually and team wise. It is unlikely that he continues the 44-percent rate he is currently scoring at on these opportunities. His three-season conversion rate is 32.5 percent, and his previous two-season rate was 23 percent. Also, will the opportunities continue at the same high rate? St. Louis has been responsible for a third of the passes that preceded Nash's shots, but Nash spends the majority of his time with Derrick Brassard and Mats Zuccarello. Nash is also more active in front of the net, where he has doubled his tip opportunities and has a higher frequency of second-chance rebound shots. Will he keep that up?
A slight decrease in opportunities or finishing rate and Nash will fall short of his first 50-goal campaign.
The point of this study is to add a new layer of context to previous observation. While we may be forced to guess the reasons for his career bump because of the limited NHL.com data, more information allows for a rational explanation for his production increase. Nash is scoring more because of the quality of his shots.