OK, so most of the bigger trades didn't happen on deadline day, but with all the deals now done, we can look at which teams set themselves up best for the playoff push.
Some went all out in an effort to load up for a run, while others made conservative, but intelligent moves to provide depth for the stretch run. Which avenue is better will be determined by the playoffs themselves, but we'll look at where the improvements have come for the big contenders.
CHICAGO BLACKHAWKS: Andrew Ladd, Dale Weise, Tomas Fleischmann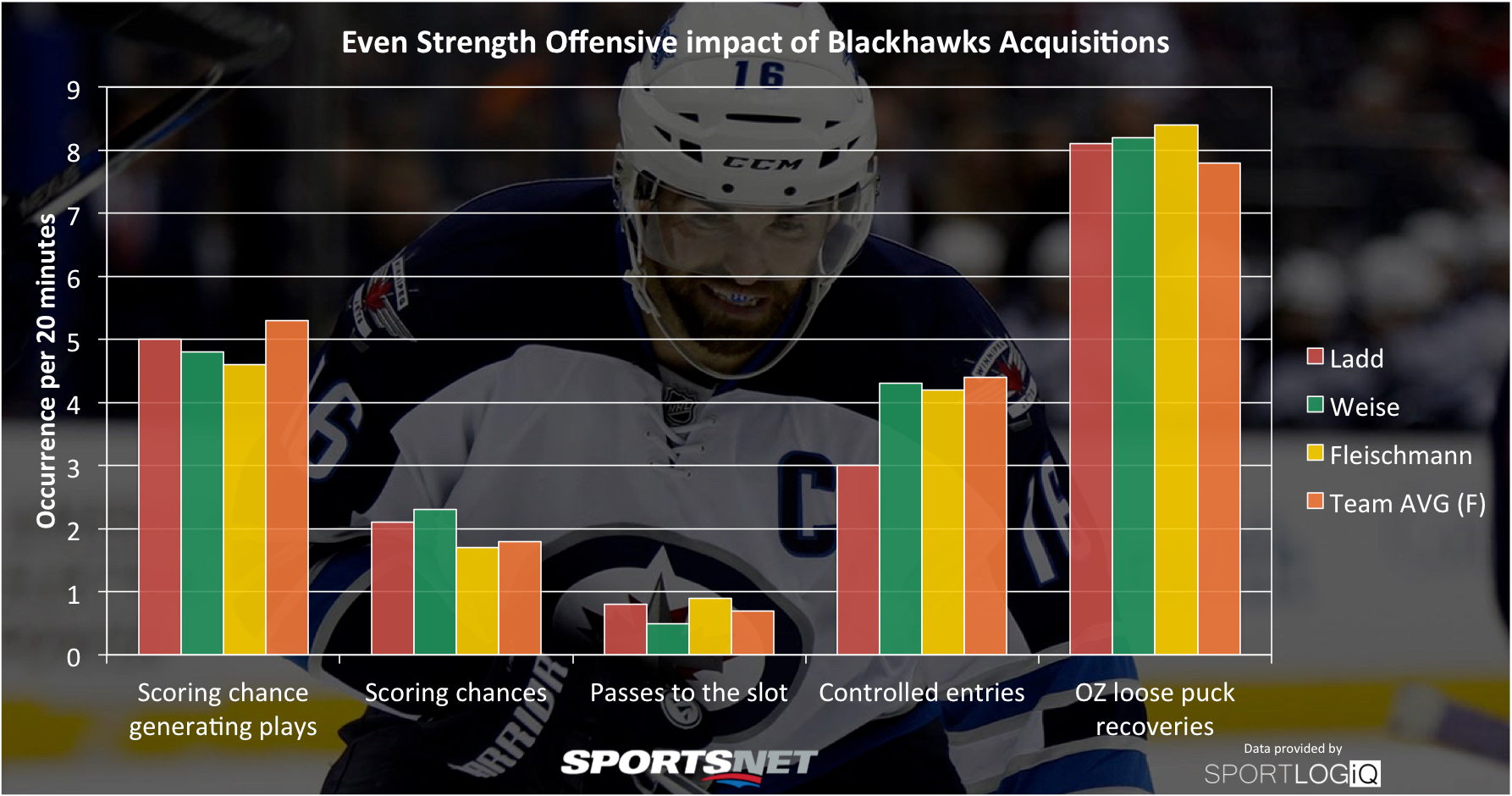 The Chicago Blackhawks made by far the biggest splash with their deadline deals and while they also acquired veteran defenceman Christian Ehrhoff, I want to focus on their additions on offence: Andrew Ladd, Dale Weise and Tomas Fleischmann.
Chicago's high-end core actually makes this trio of players look less impactful than they are, as all three appear to be below team average in scoring chance-generating plays. But they are replacing players who were significantly below team average, so the Hawks do get better.
Ladd and Fleischmann add some playmaking prowess with better slot pass rates than the average Blackhawks forwards, while Weise and Ladd add a significant amount of scoring chances and finishing ability.
One thing to watch above all, though, is that all three players are better than average when it comes to forechecking ability, an area where the Hawks' forwards are just around league average. That added ability to win pucks in the offensive zone could be huge for the Hawks' talented forward group, adding a level of ferocity needed in the playoffs.
The Blackhawks gave up a lot to boost their forward group, moving their 2016 first-round pick, 2018 second-round pick, a conditional 2018 third-round pick, Marko Dano, and Phillip Danault, but that makes sense for a team attempting to maximize the amount of championships they win with this core.
ANAHEIM DUCKS: Brandon Pirri, Jamie McGinn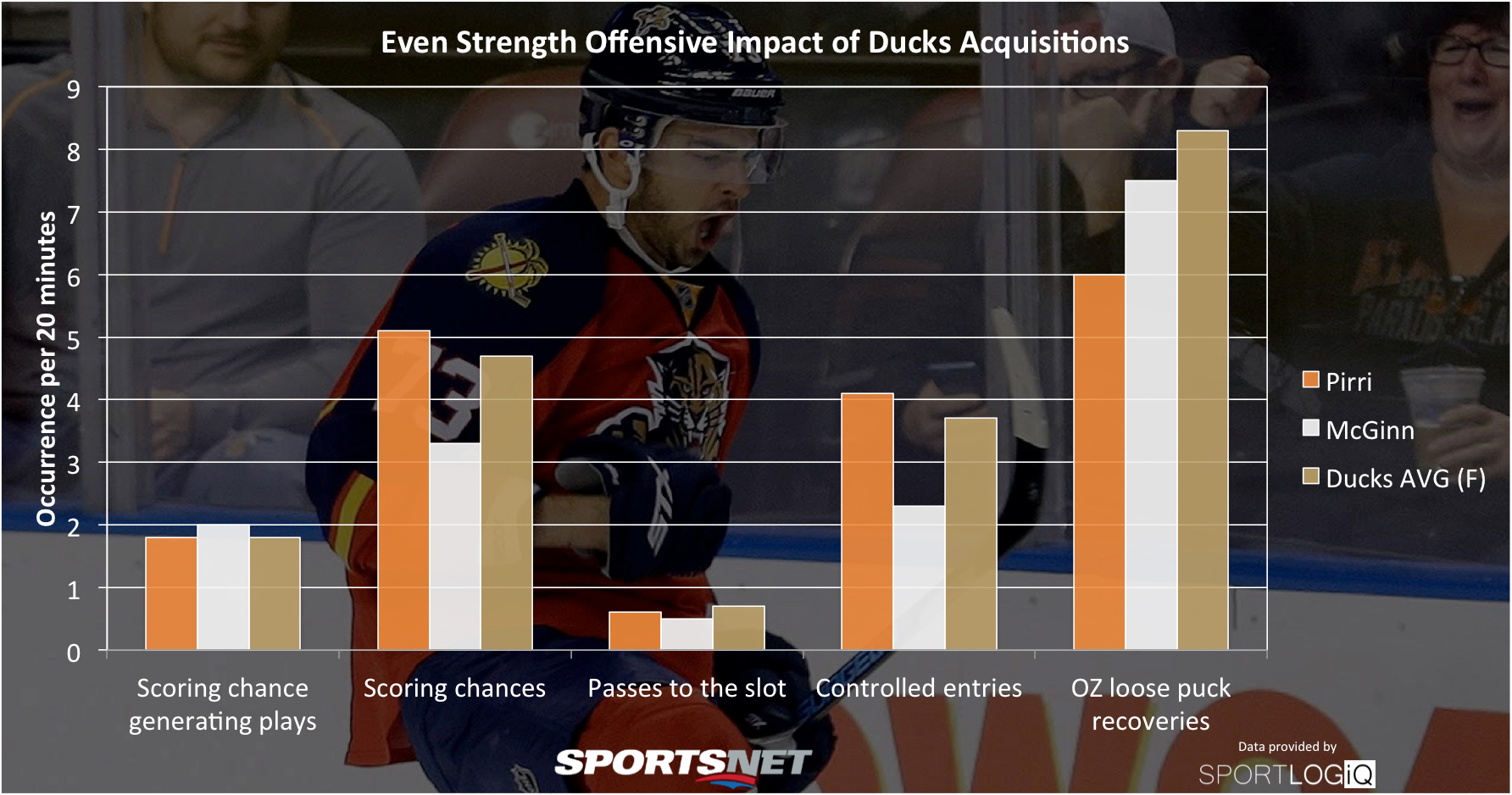 As opposed to the Blackhawks, the Anaheim Ducks were very conservative at the deadline, giving up just a 2016 sixth-round pick, and a conditional third-round pick. Yet they got decent value all the same, especially with Brandon Pirri.
A 20-goal scorer last season, Pirri isn't scoring at the same rate this season, but he's generating individual scoring chances at a top-nine forward rate, and generating chances for his teammates at a high-end second-liner rate.
Pirri is also a decent transition player, an area the Ducks could use some help in, as he prefers to bring the puck into the offensive zone with control.
Jamie McGinn is a bit of a different animal, as he's essentially a slot presence only. He's made his career by getting pucks on net from the inner slot area, banging home rebounds and deflecting shots past goalies, so he gets his scoring chances, but in terms of creating offence for others, he doesn't accomplish much.
Neither player is great on the forecheck, but Anaheim's forecheck was already among the best in the NHL, so it doesn't appear to matter. In fact, adjusting to Anaheim's system may be a good thing for a young player like Pirri, who could diversify his game.
LOS ANGELES KINGS: Kris Versteeg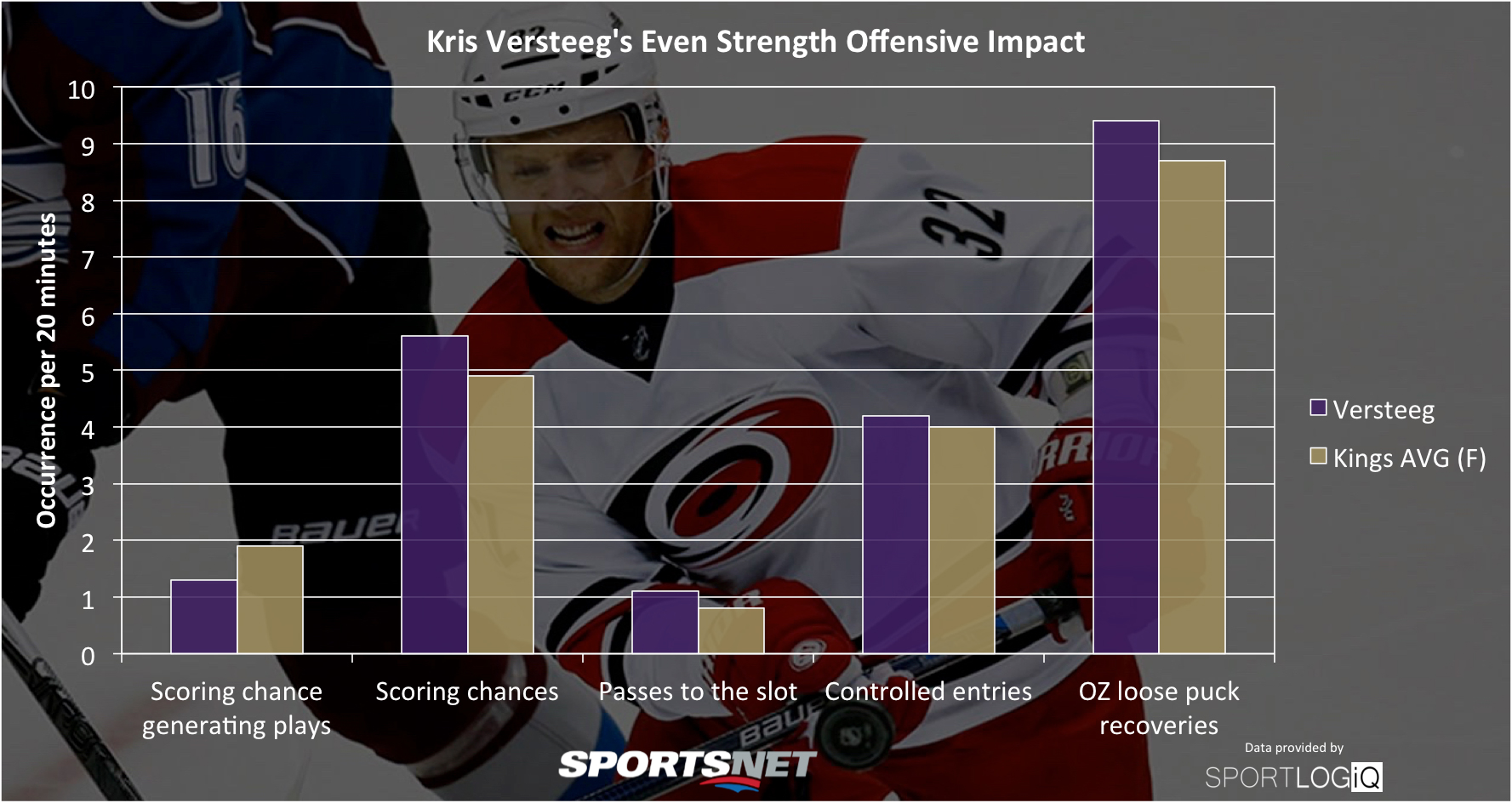 The Los Angeles Kings were also relatively conservative, giving up a struggling prospect in Valentin Zykov and a conditional fifth-round pick in exchange for Kris Versteeg, a seasoned playoff veteran who remains extremely underrated around the NHL.
Versteeg doesn't get many scoring chances himself, but he is easily a second liner in terms of chances created because of his playmaking ability. As it stands now, only Milan Lucic and Anze Kopitar on the Kings complete more successful passes to the slot than Versteeg.
Beyond being simply a playmaker, Versteeg is also an above average player in gaining the offensive zone, something at which the Kings are already good. Despite their reputation for being a dump and chase team, they're tied for fifth in controlled entries per 20 minutes played at even strength from forwards.
Most surprising about Versteeg though, is that he's a voracious forechecker, recovering nearly as many loose pucks in the offensive zone per minute as Tyler Toffoli. He should fit in extremely well with the Kings' relentless forecheck heading into the playoffs.
FLORIDA PANTHERS: Jiri Hudler, Teddy Purcell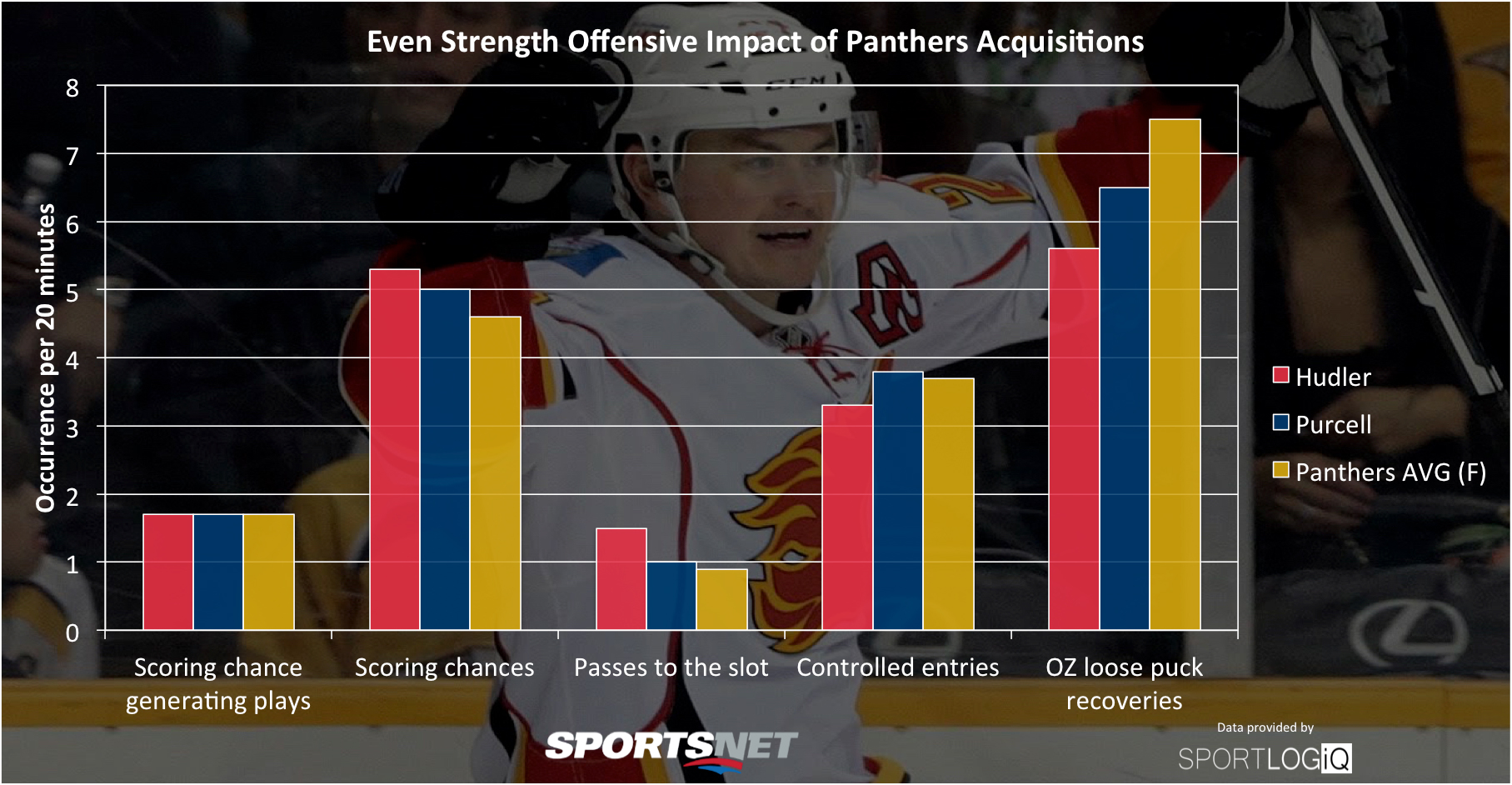 Unlike the other three teams we've looked at, the Panthers aren't big-name contenders this year – they're more the surprise upstart. However, they gave up fairly significant assets in their 2016 second- and third-round picks, and a fourth-round pick in 2018. They also sold off Brandon Pirri for almost no return, but they brought in two very effective playmakers to bolster their offence.
Neither Jiri Hudler nor Teddy Purcell set the world afire with their personal scoring chance production, but both are solid second liners in how much offence they create for linemates. Hudler specifically is among the league's elite passers, hitting the slot 1.5 times per 20 minutes, and is now one of five Panthers forwards to complete more than 1.3 successful passes to the slot per 20 minutes played at even strength.
What may be a bit worrying for the Panthers, though, is they may have too much of that skill style. Clearly their forward group will be able to execute dazzling passing plays, but they could use more finishers, and most of their high-end forwards are pass-first players.
Regardless, both Purcell and Hudler are likely better players at this stage than Pirri, with Hudler especially being highly creative. Plus, he has 77 games of playoff experience under his belt.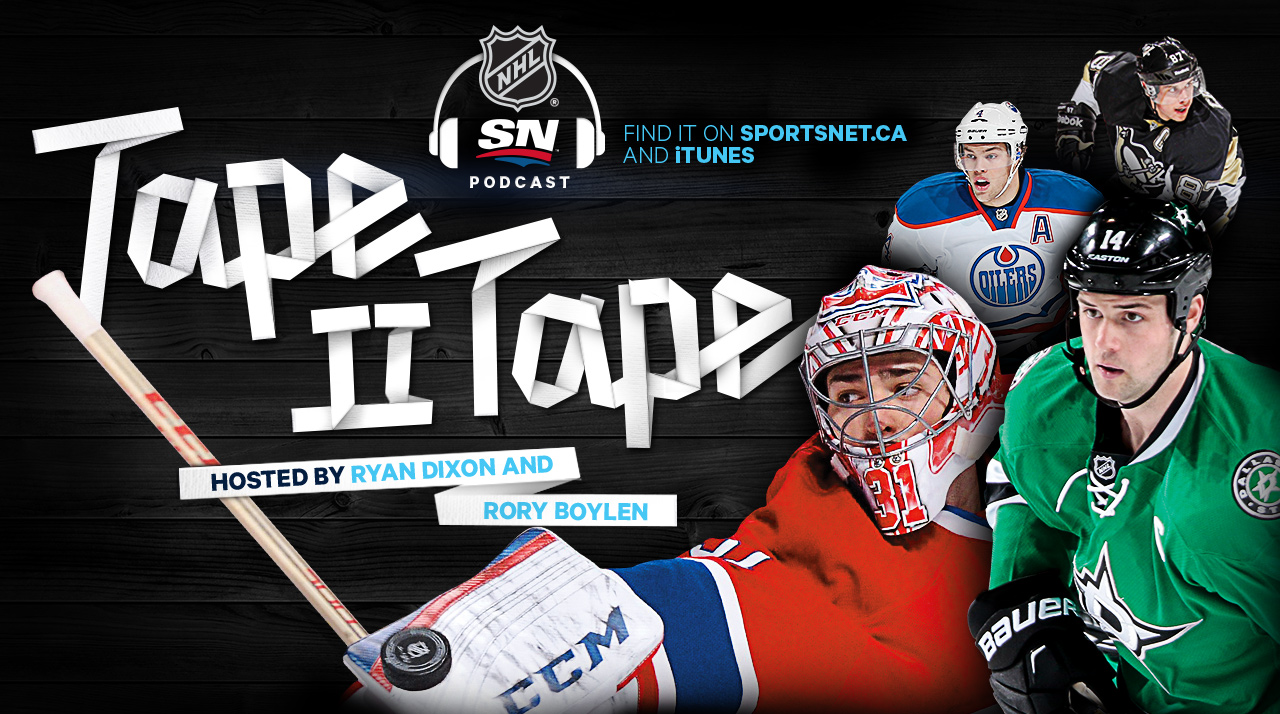 Tape II Tape offers hard-charging, wise-cracking infotainment that goes deep on pucks and always plays a 200-foot game. Catch a special trade deadline edition Wednesday