With five weeks left in the regular season, there's still plenty of jockeying left to be done in sculpting the playoff picture.
Even though the rock fight between the Minnesota Wild and Colorado Avalanche for the final wild-card spot in the Western Conference may be the only do-or-die situation left, there's a handful of smaller scale battles for positioning to be had.
The difference between having home-ice advantage or playing a Game 7 in an unforgiving environment is the carrot conspicuously dangling in front of many of those teams still fighting. The other more subtle wrinkle to be determined is the fit of the particular future Round 1 matchups.
While they've essentially already sewn up the top seed throughout, the Washington Capitals will be keeping a keen eye on the jostling going on below them. Despite presenting their own set of unique problems, I imagine they'd prefer to see the Detroit Red Wings as opposed to Sidney Crosby, Evgeni Malkin and the increasingly frightening Pittsburgh Penguins.
The St. Louis Blues would presumably take their chances with the Dallas Stars rather than having to immediately confront their demons in the Chicago Blackhawks.
All of that tinkering provides reason to maintain interest during this winding stretch between the trade deadline and the playoffs, and it could potentially swing a series or two down the road. But with roughly 65 games worth of information to work with, we can say with a certain level of confidence which teams can conceivably string together enough wins to be considered viable Cup contenders.
I think that list realistically includes somewhere between four and seven teams, leaving the door open for a couple of borderline squads, which is contingent on a handful of things falling into place. I don't include ultra competitive regular season teams like the Blues, Nashville Predators and New York Rangers, even though they'll surely be tricky outs.
New York will always be in the discussion because of Henrik Lundqvist's consistently heightened level of play in net. The fact that the Rangers have routinely lost territorial battles throughout the year is difficult to reconcile when you're picking between the league's very best.
The Usual Suspects: Chicago Blackhawks, Los Angeles Kings, Washington Capitals
With the Capitals on pace to finish with the fifth winningest season in league history, they've already made a compelling case for themselves with their play. This looks like the best team they've assembled around Alex Ovechkin since he came to town, from top to bottom.
The same can be said for the Blackhawks and Kings, who have selfishly combined to take home the Stanley Cup five of the past six years. There will be tricky hurdles to get over along the way, but at this point, no one that's been paying attention to the league's recent history would be remotely surprised to see the two of them once again going toe-to-toe for the right to represent the Western Conference in the final.
The Blackhawks shook off an early season malaise and patched up their biggest lineup holes by acquiring Andrew Ladd, Tomas Fleischmann and Dale Weise. Giving Jonathan Toews legitimate wingers to play with is an obvious plus, but the trickledown effect of allowing players like Andrew Shaw to move down into more suitable roles for their talents is just as important.
Los Angeles has been a well-oiled machine, suffocating their opponents in the neutral zone en route to putting themselves amongst elite company in terms of 5-on-5 play. History tells us this bodes well for their chances this spring: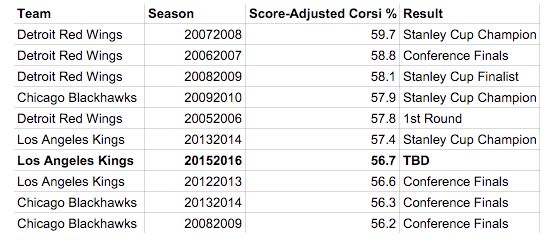 Stock is Skyrocketing: Penguins, Lightning, Ducks
While the Penguins, Tampa Bay Lightning, and Anaheim Ducks share the common theme of needing to fight through significant turmoil at various points of the year, they've all tightened up their play in recent weeks.
The Ducks were 1-7-2 in the first month of the season but didn't panic-fire their coach. By winning 18 of their past 20 games, they've dug themselves out of that early season hole. They've admirably compensated for their unfortunate run of shooting percentage by opting for more of a Kings-style volume approach. The Pacific division is still up for grabs, but the fact that it's even a contest at this point seems remarkable.
Both Pittsburgh and Tampa Bay's early season issues were more so self-inflicted, whether it be by poor coaching or by free agency drama. Amidst questions about what the future holds for Steven Stamkos and Jonathan Drouin, Tampa Bay has been playing the type of hockey we'd expected them to after last season's run. They've wrangled the top spot in the Atlantic division back from the Florida Panthers thanks to a much needed return to form from their devastating "triplets" line.
The Penguins are still an inherently-flawed team because of how dependant they are on just a couple of players, but are using the rest of their personnel better under interim coach Mike Sullivan.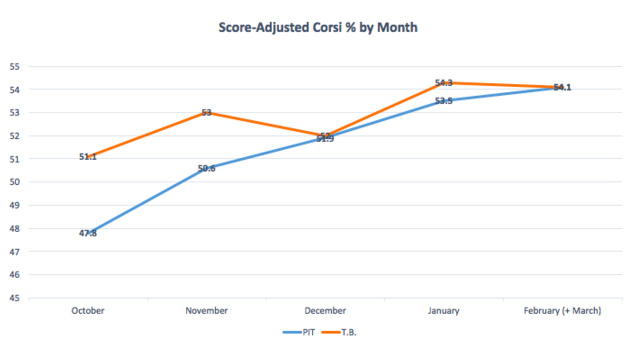 The Ultimate Wild Card: Dallas Stars
The Stars play the highest event style of five-on-five hockey when accounting for shot attempts, scoring chances, and goals scored.
The good has unmistakably outweighed the bad this season in Dallas. Only the Capitals have scored more goals, and accrued more points. No team has consistently been more fun to watch, with essentially all their games leaving the possibility for a dramatic tilt.
What makes them such a charming team to follow throughout the regular season could also prove to be their fatal flaw come the playoffs. While the sports cliche of "defence wins championships" can be a lazy, overused crutch, there's some merit here. Particularly when it comes to the ability to keep the puck out of your own net with at least a certain baseline level of competence, which the Stars have mightily struggled with this year. Here are the 40 Conference finalists since the 2006 playoffs (included are the seven prominent teams in the mix this season for reference):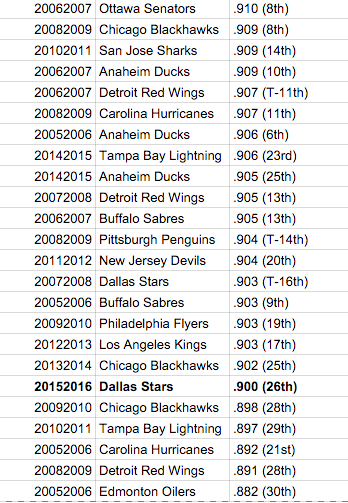 It's worth noting that of the five teams with worse performances in net than Dallas, four of them were actually led in the playoffs by goalies that didn't account for the plurality of those wretched stats. The Lightning and Edmonton Oilers both acquired Dwayne Roloson mid-season, who wasn't necessarily great, but at least provided respectable play that didn't submarine the entire operation in front of him.
The Carolina Hurricanes famously made the change to a young Cam Ward, who put together a 21 game hot streak that he's essentially made a career out of. Chris Osgood was an obvious liability for the 2008-2009 Red Wings, but the league average save percentage that year was .908 (compared to the .916 this season). That particular team was also a historically great five-on-five team, which alleviated a lot of those concerns considering the opposition nearly never had the puck in the first place.
For the Stars, there's unfortunately no obvious 'pull in case of emergency' contingency plan. No team is investing a large portion of their cap space to goaltending than they are this season, which presumably tied their hands and kept them out of the discussion for someone like James Reimer at the deadline.
Having a team that plays the way they do having a long run in the playoffs would be a great thing for the league. Both in the short-term from an excitement perspective, but also moving forward in allowing other teams to play a more free-flowing brand of hockey themselves.
Then again, as we've seen, all it takes is a couple of weeks of inexplicable and irreplicable goaltending for everything to come together. Antti Niemi has done it before and Kari Lehtonen used to be a perfectly serviceable option. Their uncanny ability to generate offence in overwhelming waves will give them every opportunity to do so.