Chris Tanev likely isn't the first name that comes to mind when listing critical members of the Vancouver Canucks. He's not flashy and doesn't add a lot of offence to a Vancouver blueline that's shy on points. He's not overly physical either, with only two minor penalties and just 16 hits to his credit all season.
But make no mistake: he is essential to the Canucks. What Tanev lacks in flash he more than makes up for in substance, providing Vancouver with extremely good defensive play now and the promise of growth for the future. All this at a very reasonable $4.45 million cap hit.
Consider, for example, what he has done for regular partner Alex Edler.
Edler and Tanev have spent the vast majority of the season together, playing more than 12 hours together at five-on-five, as opposed to just a couple hours apart. They've been leaned on in the toughest possible situations, matching up against top opposition lines more than any other defence pair on the team and starting three shifts in the defensive zone for every two they begin in the offensive end.
Despite being thrown to the wolves, they've been a very effective pair.
Puck possession numbers show their value in a very real way. The Tanev/Edler duo has a 48.2 per cent Corsi rating, meaning the Canucks only narrowly get out-shot when they're on the ice, even though these two players are taking on the nastiest minutes the coach can give them. In much easier minutes, the rest of the Canucks have just a 46.8 per cent rating.
Putting that another way, Tanev and Edler together are able to bridge half of the gap between a poor Vancouver roster and the league average, even while the coach assigns them to check the Ryan Getzlafs and Anze Kopitars of the NHL.
Even more impressive, with Tanev and Edler out on the ice together, the Canucks outscore their opponents by a narrow margin.
But Edler hasn't been anywhere close to as effective away from Tanev. His underlying metrics collapse and Vancouver's goals-against numbers shoot up, climbing from just over two goals against per hour to more than three.
Meanwhile, Tanev gets even better when he's away from Edler. In more than two hours apart, Tanev's Corsi number shoots up to a spectacular 57.5 per cent, and Vancouver's opponents haven't scored even one goal.
You may not immediately notice Tanev on the ice, but he's incredibly effective. Year after year, Vancouver's shot metrics shoot up the moment he steps on the ice. The Canucks do a good job of getting shots when he's out there, but more importantly, the opposition struggles to get into shooting position.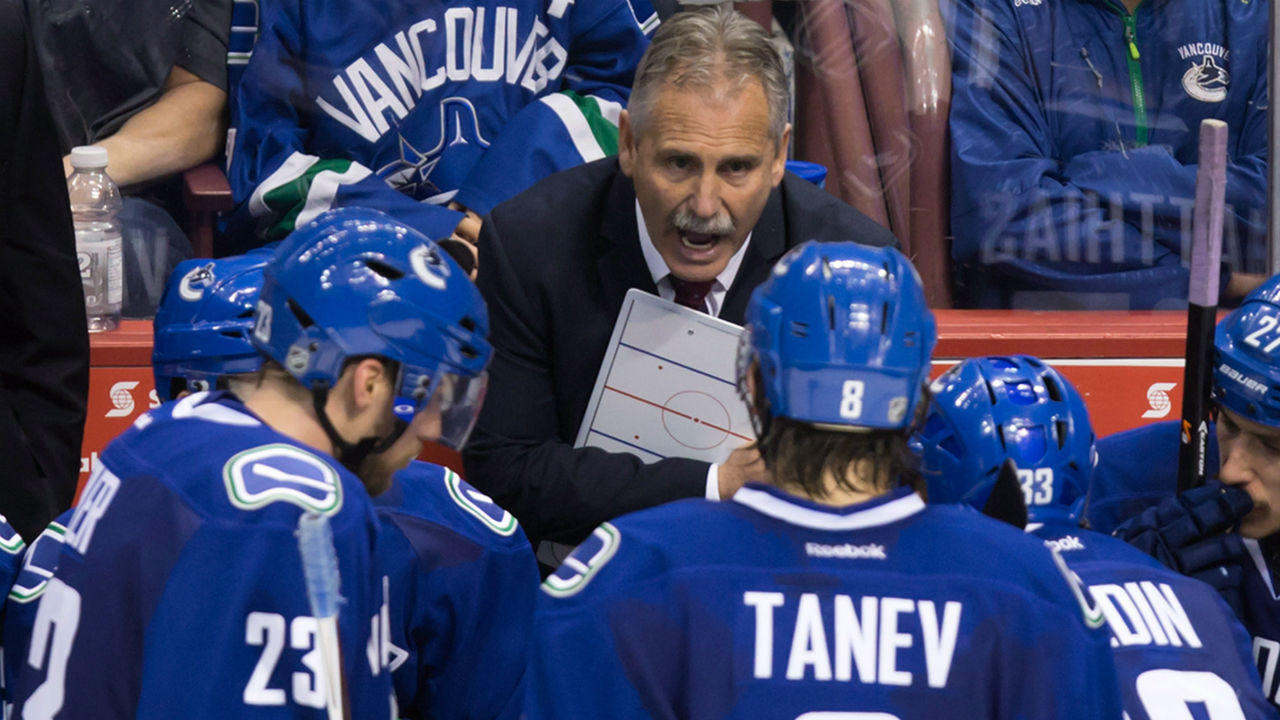 Over the last three seasons, Vancouver has on average allowed 28.9 shots against per hour, a total which ranks in the bottom-third of the league. The best team in the NHL over this span, Los Angeles, has allowed 25.7. With Tanev on the ice, the Canucks allow just 25.6.
Tanev is extremely mobile, highly intelligent and good with the puck. He rarely makes mistakes, as his low penalty minute totals attest. And really, his ability to go unpenalized against extremely good forwards ought to have him in the Lady Byng race. He'd be a key player on any team, but he's especially important to Vancouver because of the unique role he fills.
In effect, he is the bridge between two very different teams.
In part, Tanev belongs to an older version of Canucks, the Alain Vigneault-coached editions of the team that represent a high point in franchise history. Henrik and Daniel Sedin led those teams offensively and, of course, they still lead this one. Alex Edler and Dan Hamhuis play prominent roles on the blueline now, as they did then. Jannik Hansen, Alex Burrows and Chris Higgins are also holdovers.
A younger version of Tanev was there, too, playing games as a rookie for the club that went to the Stanley Cup final in 2011. But unlike most of those holdovers, Tanev is just 26 and still in the prime of his career.
As a result, Tanev meshes with the new young core better than any of the Vigneault-era holdovers. It hasn't been an easy transition for the Canucks, as they endeavour to turn over responsibility to a new core that includes Bo Horvat, Brandon Sutter, Ben Hutton and drafted prospects such as Jake Virtanen and Jared McCann. But having someone as reliable as Tanev is, and will continue to be, a major boon to this transition.
By any measure, Tanev is an exceptional, if unassuming, player who can be slapped on the ice in difficult situations – a sort of band-aid that can be trusted to stop the bleeding. There isn't one other defender on the roster that coach Willie Desjardins can send out with the same degree of confidence.
Tanev is crucial to the Canucks for all these reasons and also because he's a rare point of certainty of this roster. He's still in the middle of his prime years and signed for a team-high four seasons beyond this one. Where most players the Canucks have signed long-term are either in their 30s or of dubious effectiveness, Tanev will turn 30 at the end of his current contract, and likely be effective and reliable for the duration.
He is absolutely essential to the Canucks. If he's not the most important player on the roster, who else is?