Despite the fact NHL teams have been living with the reality of a hard salary cap for a decade, NHL general managers still willingly pay premiums for the "intangible" qualities they believe make some NHL skaters valuable beyond just the numbers. Whether it's playoff experience, physicality, or just plain "winning", there is often a lot of extra focus on players with a certain pedigree and reputation.
The disparity between a skater's real value and the interest they draw in free agency often grows from the added exposure that comes with extended playoff runs. Is Matt Beleskey truly a good value signing at a $3.8 million cap hit over the next five years? Perhaps he will be, but it seems unlikely that a skater who shot 5.3 per cent above his career shooting percentage last season will maintain that pace.
And just as a playoff run can boost a player's perceived value, a short or non-existent one can decrease value. Jiri Tlusty's Winnipeg Jets were pushed out of the playoffs in the first round by Anaheim and he barely eked out an $800,000 one-way, one-year contract from New Jersey as a 27-year-old UFA with second-line caliber stats. In fact, Tlusty had to refuse five separate tryout offers and lined up deals in the KHL.
The most prominent example of this phenomenon this past season was 28-year-old Cody Franson.
Like the majority of right-handed defenders, Franson has spent the vast majority of his career patrolling the right side of the ice. Unfortunately, after he was traded to a Nashville Predators team that had significant depth on the right side, Franson was put on the left side and immediately struggled to produce.
As shown in the hextally plot (courtesy war-on-ice.com) representing Franson's shooting percentage by shot attempt location over the past four seasons, he is far more lethal from his more comfortable spot on the right point, where his SH% is considerably above NHL average.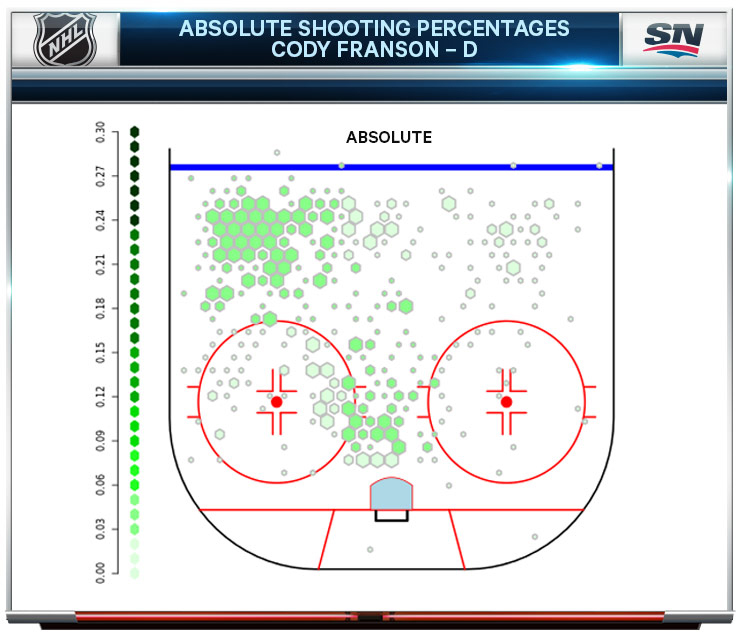 The problem is that because the perception of Franson is he's an offensive defenceman who needs defensive sheltering, this drop in production (four points in 23 games with Nashville) had many thinking it was a "bad" trade for the Predators. But this is far from reality.
Franson's possession impacts were still very solid and he actually led all Nashville defencemen in shot attempt percentage while on the ice after his arrival. Yet, despite being a reliable contributor on the blueline, his drop in offence led to him failing the eye test.
Eventually, Franson and the Buffalo Sabres agreed on a two-year deal with a $3.325 million cap hit. That's only a $25,000 raise for a UFA top-four defender with size who ranks eighth in road game hits and 26th in defenceman scoring over the past three seasons.
Early in his career, the knock on Franson was that he didn't use his size enough to punish his opponents, but it's an area he's vastly improved. His 240 hits on the road (we can ignore home hits to minimize score keeper inconsistency) puts him slightly behind the likes of Dan Girardi (261) and Brooks Orpik (296) – two bruisers who are massive black holes when it comes to possession.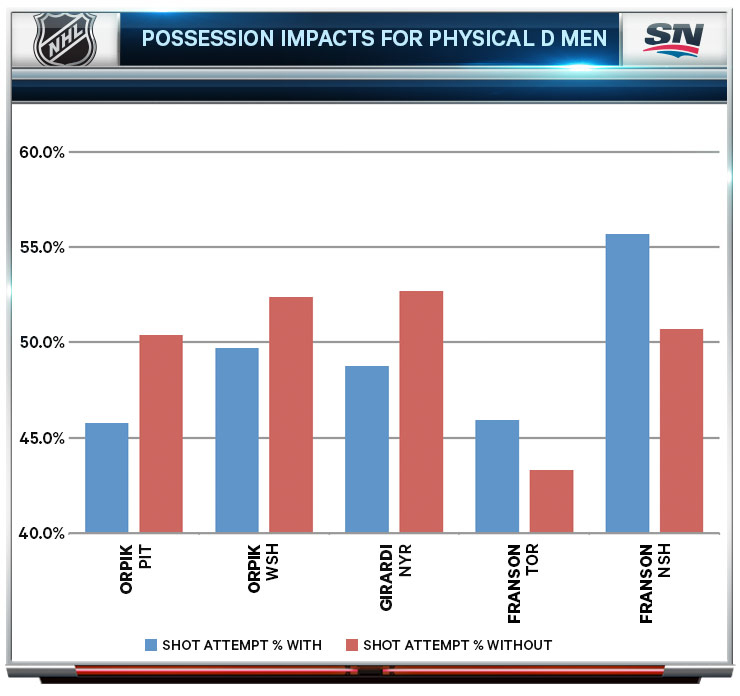 As the chart above shows, these two players drag down their teammates it terms of shot attempt percentage. In the last three years with Girardi on the ice at 5v5, the Rangers have taken 48.7 per cent of the shot attempts, but without him on the ice they get 52.7 per cent. During Orpik's last two years in Pittsburgh, the Penguins went from firing 45.7 per cent of the shot attempts with him on the ice at 5v5 to 50.4 per cent without him. And in Washington, Orpik had a similar negative effect.
But when it came time to get paid both the 33-year-old Orpik (five year contract, $5.5 million cap hit) and 31-year-old Girardi (six year contract, $5.5 million cap hit) got more money and term than the younger, more productive Franson.
If we look at just offensive production, Franson's 98 points since 2012-13 put him ahead of Ryan McDonagh (95), Brent Seabrook (92), Brian Campbell (91) and Matt Niskanen (91), who signed a massive seven-year contract with a $5.75 million cap hit and limited NTC last off-season with the Washington Capitals. Taking ice time into consideration, Franson's scoring rate actually ties him with Niklas Kronwall for 18th among NHL defenders who've played more than 1,000 minutes over the past three seasons (1.47 pts/60).
In particular, Franson is most dangerous with the man advantage where he ranks fourth amongst defenders with 300-plus minutes since 2012-13, producing 5.31 pts/60.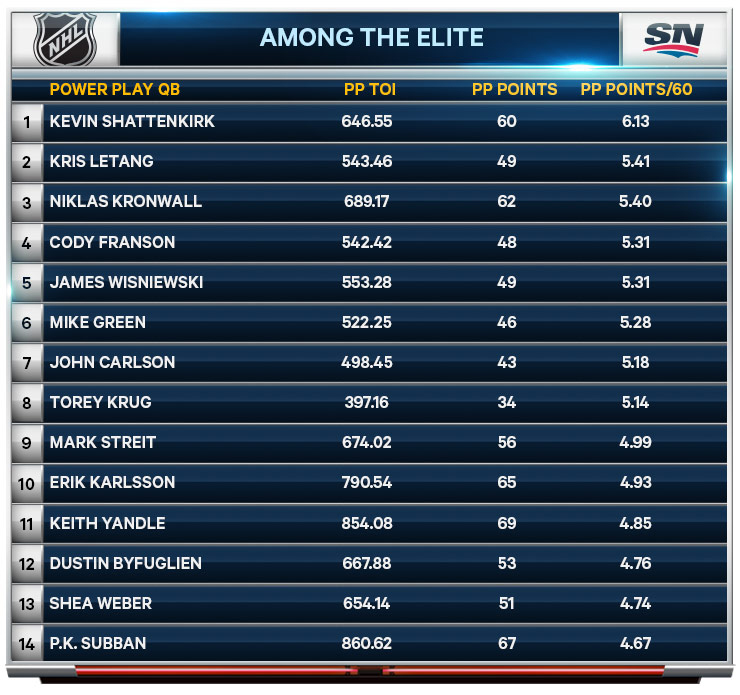 Recently, plenty of big-name defenders who are recognized for specializing in either offence or defence have signed longer, richer deals than Franson was able to get as a UFA. Yet Franson is the one with the better underlying numbers.
For comparison's sake, the following defenders will earn more against the cap than Franson this season: Rob Scuderi ($3.5 million), Luke Schenn ($3.6 million), Brad Stuart ($3.6 million), Luca Sbisa ($3.6 million), Mattias Ohlund ($3.6 million), John-Michael Liles ($3.875 million), Josh Gorges ($3.9 million), Justin Schultz ($3.9 million), Dennis Seidenberg ($4 million), Alexei Emelin ($4.1 million), Jonathan Ericsson ($4.25 million), Willie Mitchell ($4.25 million), Kyle Quincey ($4.25 million), Jack Johnson ($4.375 million), Nikita Nikitin ($4.5 million), Fedor Tyutin ($4.5 million), Francois Beauchemin ($4.5 million), Kevin Bieksa ($4.6 million), Jason Garrison ($4.6 million), Andrew MacDonald ($5 million), Zach Bogosian ($5.14 million), Dennis Wideman ($5.25 million), Jay Bouwmeester ($5.4 million), Matt Carle ($5.5 million), Tyler Myers ($5.5 million), and Marc Staal ($5.7 million) amongst others. It is difficult to justify paying Franson substantially less than any of those skaters.
Analytics has made a lot of inroads with NHL front offices over the past couple of years, but there is still a large amount of room for growth in terms of how teams factor the insights of their analysts into decision-making processes. The fact many observers agree Franson has analytical value was not enough to push teams to seriously compete for his services.
The eye test is still too big of a factor, and until teams find a better balance between the eye and the numbers, there will still be bargains to score.