VANCOUVER — It is an odd Toronto Maple Leafs team that practiced at Rogers Place here Friday afternoon, with a vibe you don't feel very often.
As they roll through the West with their injuries and copious call-ups, this roster is routinely referred to folks in press boxes across the National Hockey League as "an AHL roster." Its that intersection of an already weak lineup being decimated by injury, and a management team wisely making no effort to improve it.
Why paint a derelict house, when the wrecking ball is already booked?
Sure, there are always plenty of sellers at any NHL trading deadline. But even on those teams, there are always untouchables. The fans know it, the media knows it and the players know it.
With the level of tear down that's occurring with the Maple Leafs however, nobody here is sure. So nobody claims to be worrying about it. And maybe they aren't.
Staying means, as their own head coach admits, plenty of "pain." Leaving means you have to be going to a better club, because this one currently resides in 30th place.
Even the one consensus pillar of this rebuild, defenceman Morgan Rielly, will not admit to feeling secure.
"I hear that from time to time, but I don't really pay too much attention," Rielly said of the "pillar" comment. "While I'm here, I'm going to work as hard as I can, try to help this team as much as I can, try to be a leader…
"I hope to be in Toronto for a long time, there's no question. But I don't think there's one player in here who is untouchable."
"While I'm here." This is your franchise defenceman, starting a sentence with, "While I'm here…"
In a perverse way, it was like this in Edmonton back in 1988-89 after Wayne Gretzky was traded. There, not a single player could say they couldn't be moved, because if Gretzky could be traded, well, then anyone could be traded. It's different here, obviously, but in many ways the same.
So we went to the next Maple Leaf who, to these eyes, should be made a permanent part of this program: Jake Gardiner.
"We don't think too much about who's going where, or what's happening," the beefy Minnesota product shrugged. "(The Phaneuf trade) was just a complete shocker. Anything can happen. I can be gone, Morgan can be gone…
"It depends on the right trade, or what everyone sees going forward."
So, let's just agree for conversation's sake that in the wide scope of this deconstruction project, Rielly remains a Maple Leaf. It's a no-brainer, really. He might one day be a true No. 1 defenceman, a group that numbers about 15 for 30 NHL teams at the moment.
But what about Gardiner? Well, think of it this way:
What are teams always clamouring for at the trade deadline? What position are they always trying to stock up on, because as the old line goes, you can never have enough of them?
Exactly.
"He's a great two-way defenceman," Rielly said of the 25-year-old Gardiner. "He's grown a lot since his first year … and he's playing some great hockey right now. He's a leader on this team."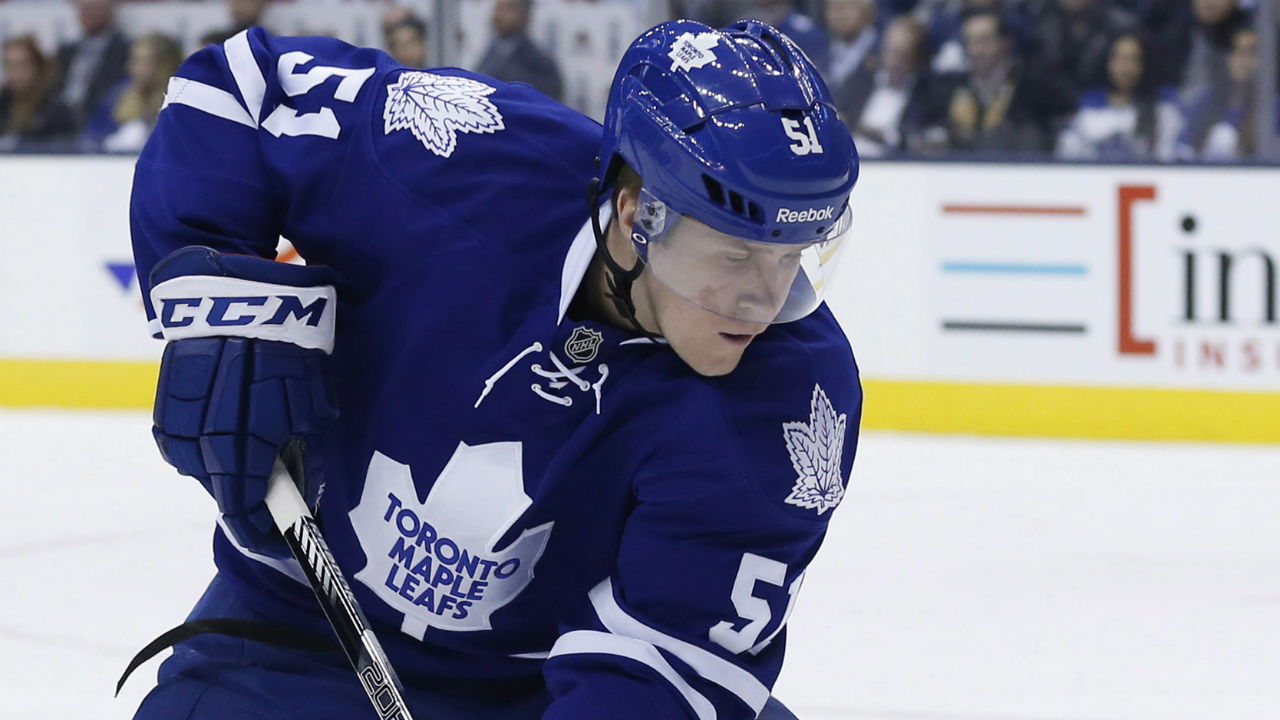 Consider that the Leafs have two of their Top 4 defencemen wrapped up as we hit the summer where the tear-down can begin to turn into a rebuild. Gardiner is 25, Rielly is 21. Many feel that Noah Hanifin should have been accrued at last year's draft as well, a group that just might include the head coach Mike Babcock.
You need look only as far as Edmonton to see what happens to a rebuild when a priority is not placed on the blue-line. Why on earth would Toronto trade one of those assets away?
"It's rare you can have a guy who moves the pill like (Gardiner) does," said goalie James Reimer. "He has some real, tangible attributes."
So Gardiner, like his old college defence partner Justin Schultz, didn't necessarily live up to his hype. Big deal.
"There is a lot of hype coming out of college," he said. "I'm still trying to get better. I've played almost 300 games now. I feel pretty comfortable."
Feeling comfortable in this dressing room, these days, isn't easy. The captain is gone, and every time the GM or coach says something nice in an interview, you have to wonder whether the old pump-and-dump is in effect.
Reimer, who has his own UFA issues to deal with, likes what he sees in Gardiner these days.
"If you can survive in this market you can survive in any market, right? This is the hardest market, per se, to play in," he said. "There's more pressure, more media, more expectations… For him to come out the other end and be a consistent competitor every night? He'll just keep getting better."
If the Leafs are wise, that will happen in a Maple Leaf uniform.