Nazem Kadri has one year to show Toronto Maple Leafs management his true value to the franchise. He has one year to prove he is worth the big payday he wants.
The Leafs are saving money this year by paying their young centre a cap-friendly $4.1 million. Kadri is gambling that his output next season, when granted a larger role, will push him into the upper echelon of NHL players. He's betting on his ability and skill to push the Leafs to pay him what he thinks he is worth.
His new coach has set the bar high and Kadri is hoping to leap over it.
Kadri's bet seems like a giant leap to many observers, who have consistently pegged him as a skilled player who lacks the drive and dedication to produce at an elite level. The oft heard refrain that Kadri will likely top out as a second line centre has more to do with perceptions of attitude and work ethic than significant flaws in his game.
If we take a more analytical approach to breaking down his impact in his previous three seasons, it becomes apparent that Kadri is already one of the more effective centres in the NHL. With more ice time, he has a decent chance of posting the top end numbers the Leafs are looking for.
First, let's compare some simple rate statistics most observers are familiar with. Kadri's production at 5v5 compares to a number of top centres around the NHL, and his ice time is far from inconsequential so these are reliable numbers:
It may shock people to read that Kadri not only fits easily into the top 30 NHL centres in terms of his even strength point production, but it's amazingly had to argue with his results when stacked up against his peers. Similarly, many may suggest his second line status implies he wouldn't be able to carry a larger load, but his 13.75 minutes per game at even strength ranks him ahead of a number of top performers such as Desharnais, Johansen, Thornton and Bergeron.
The view that Kadri can't handle top line minutes is also often built around the idea that he is a liability defensively and can't drive possession. Note that over the past three seasons when he was on the ice, Kadri's team had 47.30 per cent of the shot attempts, which places him ahead of Matt Duchene's 46.71 per cent, Sean Monahan's 44.75 per cent, and teammate Tyler Bozak's 44.74 per cent.
It also needs to be acknowledged that Kadri's numbers are depressed by playing on the poor possession Leafs teams of recent seasons.
One of the more interesting analytical tools to be developed recently at war-on-ice.com is a means of assessing how many goals above a replacement level player a skater contributes in a given season. Essentially we can use this to find NHL centres who have contributed comparably to Kadri over the past three seasons. The statistic weights shot attempt generation and suppression, offensive output, penalty differential and face-offs, to arrive at an overall impact measured in goals.
Here are Kadri's numbers for the past three seasons and his weighted average Goals Above Replacement (GAR) to illustrate.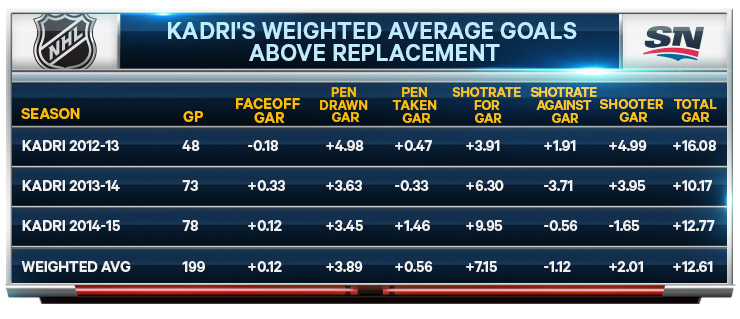 In a vacuum, that number may seem meaningless, but here are the weighted averages of some other top centres that suggest Kadri's numbers are more than that of a second line centre.
The above sampling includes Eric Staal and David Krejci's years as No. 1 centres on Stanley Cup winning teams in Carolina and Boston respectively, and Jeff Carter's six years in Philadelphia when he posted his best offensive numbers, including two 40-goal, and one 80-point season.
Kadri turns 25 in October. He is in his prime producing years and all indications are he is already in a relatively elite group of NHL skaters.
If Kadri does see significant point totals this season with more ice time, that doesn't really mean he is doing anything new. It may just mean we're witnessing more of what we've seen over the past three years, with more attention focused on him.
He has already shown over a significant time frame that he belongs amongst the top 30 centres in the NHL, and yet he has consistently played behind inferior skaters.
This season is the time for that to change, and for Kadri to take centre stage.
His next contract, and his future with Toronto Maple Leafs, depends on it.