TAMPA, Fla. – Zzzzzzzzzt!
A three-second, ear-popping blast of electric-blue, man-made lightning flares out from a spigot dangling over section 305 of Amalie Arena.
"Hit it!" commands the show's conductor to electrician Paul Wright.
Again, this time fizzling over Section 218: Zzzzzzzzzt!
"Mesmerizing," says John Franzone as he literally electrifies the rink Friday afternoon. "I'm still not used to it."
---
STANLEY CUP PLAYOFFS: | Broadcast Schedule
Rogers NHL GameCentre LIVE | Stanley Cup Playoffs Fantasy Hockey 
New Sportsnet app: iTunes | Google Play
---
Franzone, the vice president of event productions for the arena is the seasoned, overworked mastermind behind the 50 to 60 sting-pullers that put on the most impressive pre-game and in-game show in hockey. The kid from Long Island with screenwriting dreams has been producing live sports cinema for 28 years, and now he's got it down to a science.
So good is Franzone at what he does, the "r" in his surname should be optional.
Before his midseason trade to the Lightning, an injured Braydon Coburn came and watched Franzone & Co.'s show from a suite on the Flyers dads trip—a player getting a rare fan's perspective.
"I was blown away," Coburn says. "They've done and excellent job in that department and set the bar really high. There's lightning in the arena—that's the coolest thing."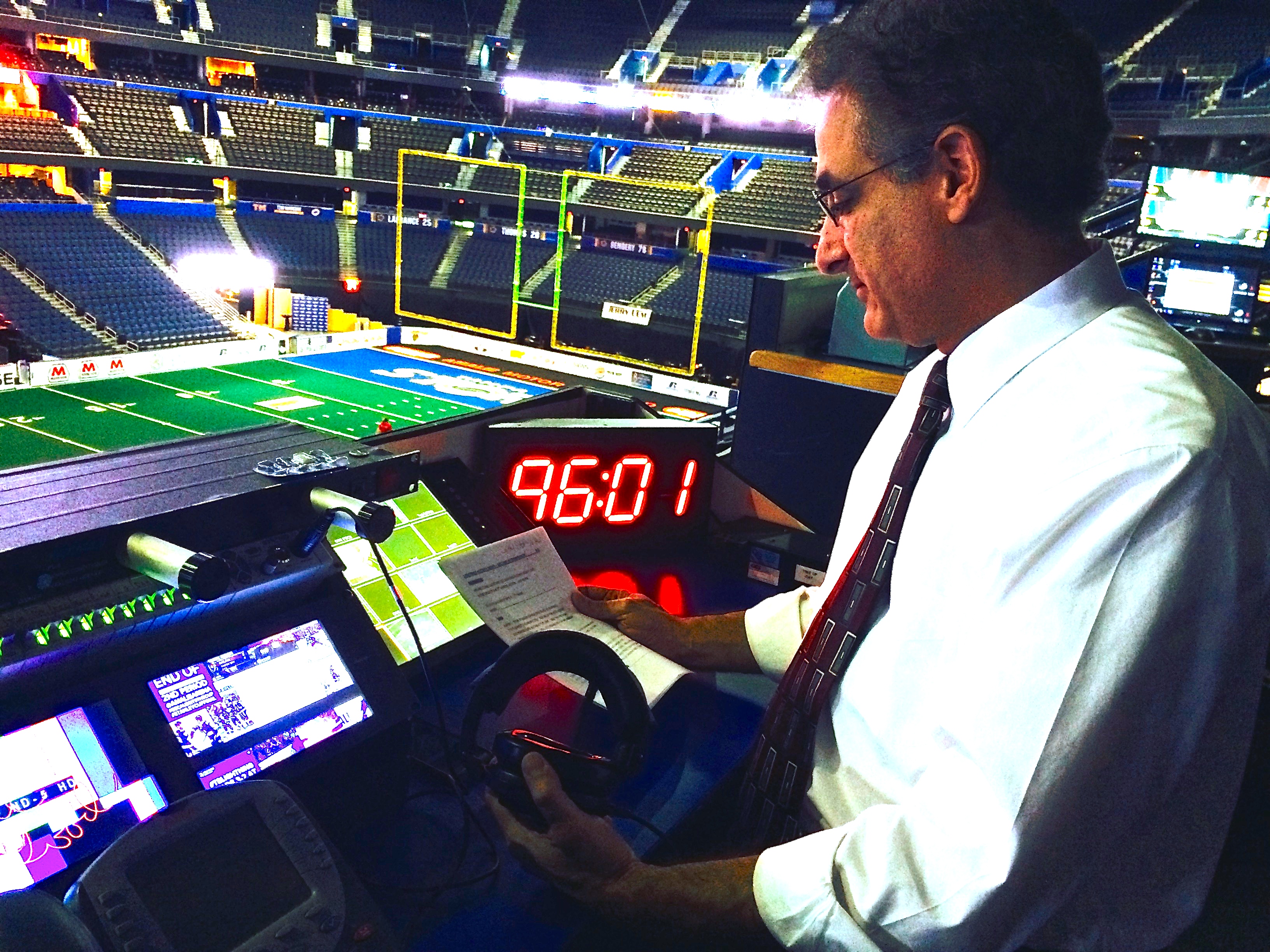 This year specifically, the effort of Franzone's crew has throttled people's emotions.
"I can't tell you how many texts and emails I've received where people have said, 'That was phenomenal. I had chills. I had goose bumps,'" says Franzone in advance of Game 5 of the Stanley Cup Final.
"Those are the two magic words in this whole foolish little industry of ours: goose bumps. If we can create that around a hockey game, then we've made a fan for life, or at least gone done swinging."
Sa-wing batter. Franzone started as intern working the Diamond Vision control room for the 1986 world champion New York Mets, then set aside his moviemaking aspirations when the Yankees called.
Major League Baseball had started erecting these gigantic stadium screens in the late '80s but had no one trained to run them.
"They gave the job to whoever could program a VCR," says Franzone. After a decade with the Yankees, he felt burnt out. Franzone took a gig with Disney; he wanted to start a family in Florida. Then the Devil Rays called, and he got back in the game. Ten years later, the Lightning made an offer.
Now Franzone is an Information Display and Entertainment Association (IDEA) hall of famer, mastering a symphony of live and recorded music, team-produced videos, flag-passings, contests, "T-shirt-shooting kids, the Lightning girls shaking it in the stands, the mascot… it's a party," he says.
And he's the type of host so busy making sure everyone else is having a blast, there's no time to relax.
"Baseball we can talk to each other like we're talking now: Strike 2! Get back to our conversation. Hockey you're on the clock full-time. You are anticipating what could possibly happen because you don't know when that whistle's going to be blown.
"It's a different animal, and I like it a lot better. I never thought I'd say that." The Mets guy is a Bolts guy. "I don't think I could go back to work in baseball because the pace is too slow."
---
From Indoor Lightning to L.L. Cool J
John Franzone breaks down 9 unique features of a Lightning game
Shocking blue tesla coils
"That was our ownership's idea. They wanted to throw some serious lightning in the building, so we throw about 100 feet of combined lightning. That's an indoor record. So it's about 25 feet in each direction from the two spigots."
Largest high-definition, centre-hung video display in the U.S. and Canada
"We put it in in 2012-13. A $5 million scoreboard [measuring 28 feet high and 50 feet wide]. Amazing. Sometimes I look at it and just go, 'Wow.' The toys we're afforded to play with is a testament to our ownership that they want us to put on the best show we can."
Personalized goal songs
"When I was in baseball, everybody had a different walk-up song. You come to hockey and it's one goal song. When I got here, Marty St. Louis had 'Louie Louie.' That was the only one that was different.
"My first year here was Stammer's first year here, and they all called the kid the Hammer. So the message from the locker room was, 'You gotta play "Hammertime" when he scores.' It just stuck. I guarantee you, that'll never change. Same situation when Cally [Ryan Callahan] came here: 'Goin' Back to Cali' was the song we played.
"Now Johnny [Tyler Johnson] has 'Johnny B. Goode.' If we can come up with 18 different goal songs, that'll be phenomenal. It's fun because the players notice it, too."
Ice-projected graphic displays
"For playoffs we've had an ice projection, and it's a remarkable show. We've got nothing but compliments though the playoffs, which is phenomenal. The best part of these Original Six matchups is the New York, Detroit, Chicago and Montreal folks had to come here and see our show. They're like, 'Wow, you guys do a phenomenal job.' It's nice to finally be recognized. I think we're the fourth-busiest building in the whole world. We're used to be hidden down here. Not anymore."
The mother of all organs
"It was by design [to make the organ visible]. Instinctively Tod [Leiweke, our CEO] and our ownership wanted to create an experience that harkens Original Six. The organ is such and intrinsic part of hockey, we wanted to create a sense of nostalgia. Sound does that. You hear a song from your childhood, you start waxing nostalgic. And we're able to bring new kids into that realm, balancing pre-recorded stuff with the organ. Because of its grandeur, the organ has 300 of its own speakers separate from our sound system. It's a beast. And the guy who plays it, Krystof [Srebrakowski], is a magician."
Life-sized Blades of Steel
"A couple years ago we [projected] Pong and air hockey onto the ice, and one of our staff, he's a Frenchie, he says, [in French accent] "You know, you should try to do the Nintendo.' I said, 'That'll never happen.' But I threw the idea to our kids in the graphic department. They seized it, and I'm amazed at the response. It's completely goofy, but what the heck? If you're a hockey fan in your 20s, you were eight years old playing that game, and here it is again in this realm, in a game that means something."
Embarrassing a penalized opponent by filming his entire time in the box
"We'll do that and we'll do box-in-box replay. That was a notion of Jorge Rosell, who's been on our staff for 10 years. He's always wanted to do it, and finally we figured out a way to do it. We had to learn this new board as we went along with it."
---


Download Sportsnet magazine now: iOS | Android | Windows
---
Astronaut Guy
"That's totally independent of us. That's from a sponsor. He said to us one day in a meeting, 'I have this astronaut suit. How do you want to use it?' I blurted out, 'If you have a genuine astronaut suit, all that guy has to do is walk down the aisle and people's heads are going to turn. We don't have to do a darn thing.'
"And we haven't. He's been his own thing, and it's better that way. It's organic. We have nothing to do with it other than to occasionally put him on camera."
Kid riling up crowd to 'Thunderstruck' with a glow-in-the-dark stick
"We used to start our show by shooting T-shirts into the stands. It was very trite, very boring. [In 2010], we wanted to position ourselves back into hockey. I said to my stage manager, Kelly, 'We gotta come up with a better way.'
"Then I was hit with the idea of pumping the thunder. We got with our youth hockey guy and asked if he could give us a kid that could do it on a nightly basis. Now, I was inspired by what I saw in Montreal and Minnesota—a kid came out with a stick and rallied the crowd. It's adapted from that, with our own spin. We've asked our fans to be the thunder. I said to one of my guys, 'We need a glow stick. We need an icon.' He figured out a way to do it inexpensively, and it's worked out."