While the Boston Bruins took a bit of the shine off him in his most recent start, Petr Mrazek has been having a phenomenal first season as starting goaltender for the Detroit Red Wings. His .930 save percentage is a big reason why the Wings are solidly in the playoff picture, despite a goal differential that has hovered at or around zero for much of the season.
Mrazek is tied for third in the NHL in save percentage among goalies with with 30+ games played, and he is tied for first in even strength save percentage at .942, with Cory Schneider.
The question for the Red Wings is whether this is the kind of play they can expect from Mrazek going forward in his career.
Even Strength save percentage is a better predictor of future success than all situations save percentage, but with Mrazek, we're still dealing with a relatively small sample.
One way we can look at how Mrazek is trending as a goaltender is to look at his save percentages by zone. We know that goaltenders who stop the highest percentage of shots from the red zone or inner slot have the highest likelihood of repeating good save percentages in all areas, as that area remains more consistent than others do.
First, we can look at the NHL's average save percentages by zone.
You can clearly see the importance for shooters to get close to the net, as getting inside the home plate area essentially triples the expected scoring rate of your shot on goal, and inside the red zone more than doubles the scoring rate of other slot shots.
So how does Mrazek stack up to league average?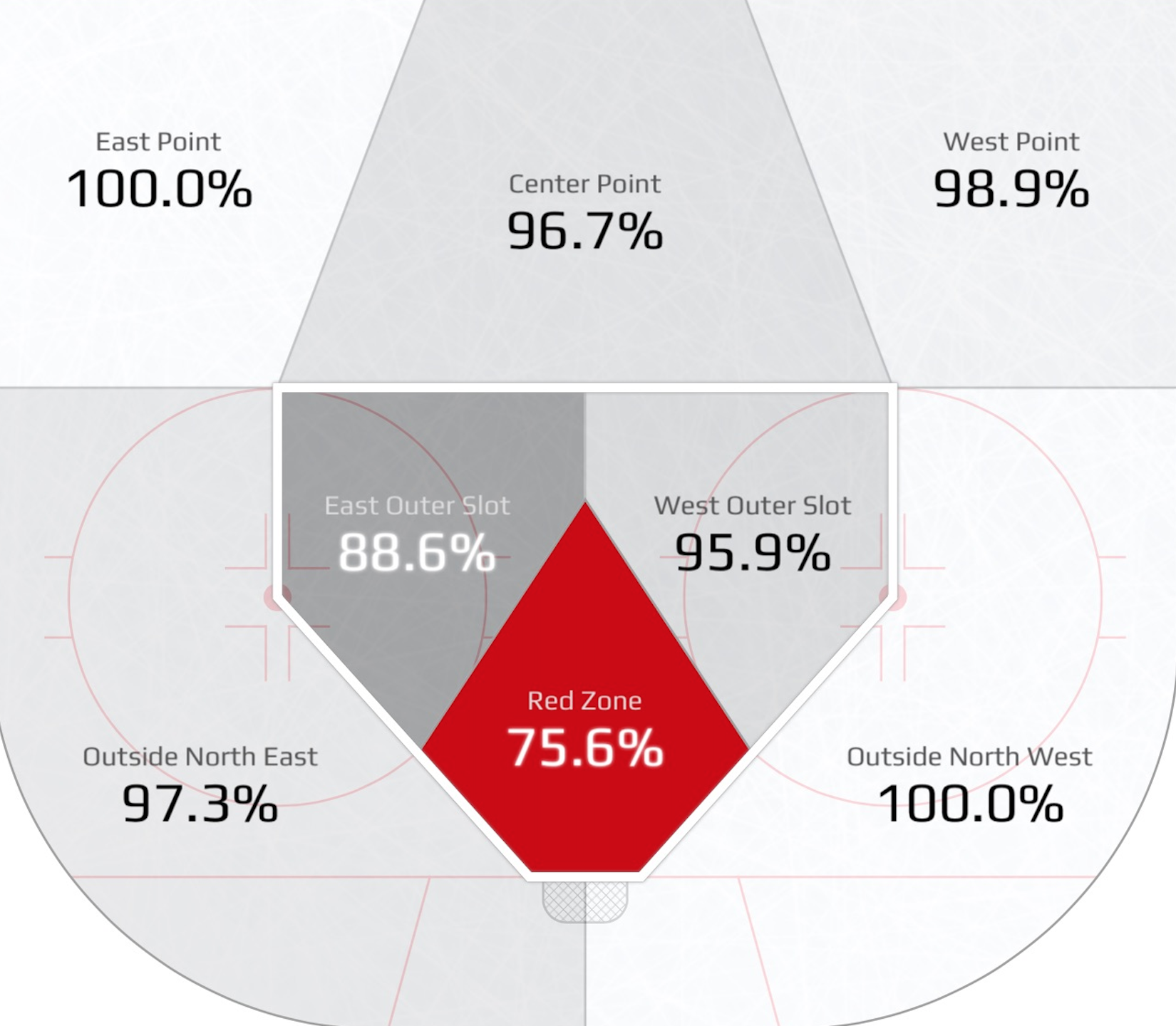 Surprisingly, in terms of stopping shots from the red zone, Mrazek is almost perfectly average. This would suggest that his extremely high level of performance this season isn't something you would expect him to repeat. However, the implication is not that he has been average this season, just that his level of performance isn't repeatable.
Mrazek's greatest difference over average goaltenders has been in the West Outer Slot, where he has saved 7.4 per cent more shots than expected, and he just hasn't been allowing shots from the perimeter to beat him.
If you want to beat Mrazek this season, you're going to have to get in close; you can't just shoot and hope from anywhere.
So what does that mean for the Red Wings in the playoffs? Is Mrazek destined to come back down to earth? Well, not really. These kinds of projections aren't useful for predicting a few games at a time; we're looking at long-term trends, where Mrazek projects as about an average NHL goaltender.
Mrazek may continue to be excellent for the rest of this season, and at 24-years-old he may even improve with years and time. What we do know right now is that Mrazek's performance this season is based more on stopping the easy shots than the hard ones, and goaltenders like Cory Schneider and Braden Holtby are significantly ahead of him in terms of expectations of performance.