One thing that Sportlogiq tracking allows us to do that we haven't ever been able to do before is qualify passing ability.
It might sound like an easy thing to do once you track passes, but it's actually rather complicated. Can you judge by volume, or maybe by percentage of pass attempts completed? Both are clearly important, but so is the type of pass a player is making.
If all a player does is cycle the puck and never attempt to find a teammate in the slot, is that player a good passer? There's also the consideration of different zones, it takes different skills to be a great passer in the neutral zone than the offensive zone.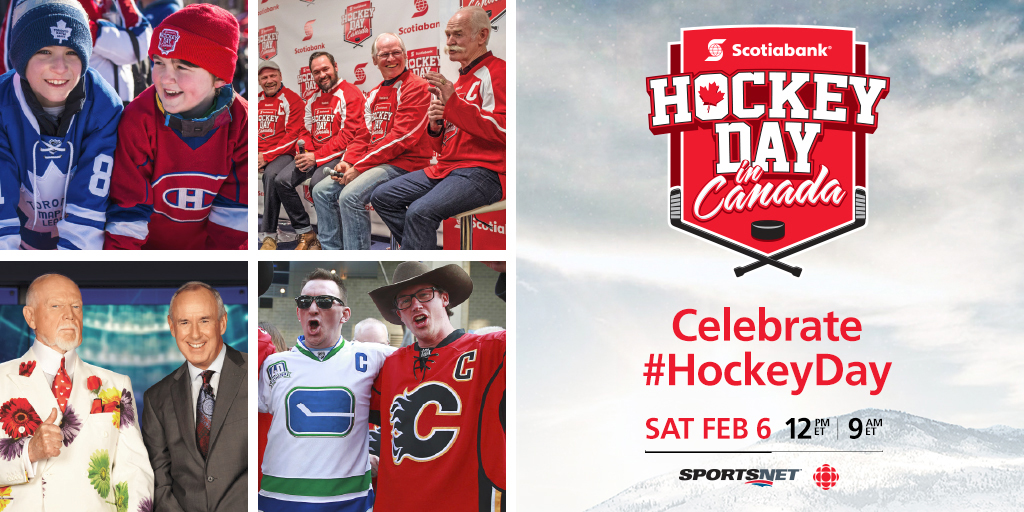 In order to break things down, I think it's important to note that there won't be a definitive answer to who is the "best passer" overall, it will be more likely to have a collection of best passers. I also decided to filter the results by zone, considering only players with 30+ games played, and looking only at forwards for now.
To qualify to be looked at as a top passer in a zone, players had to be within the top-five in successful pass volume. The idea is, if you're a good passer, you're going to be doing it a lot.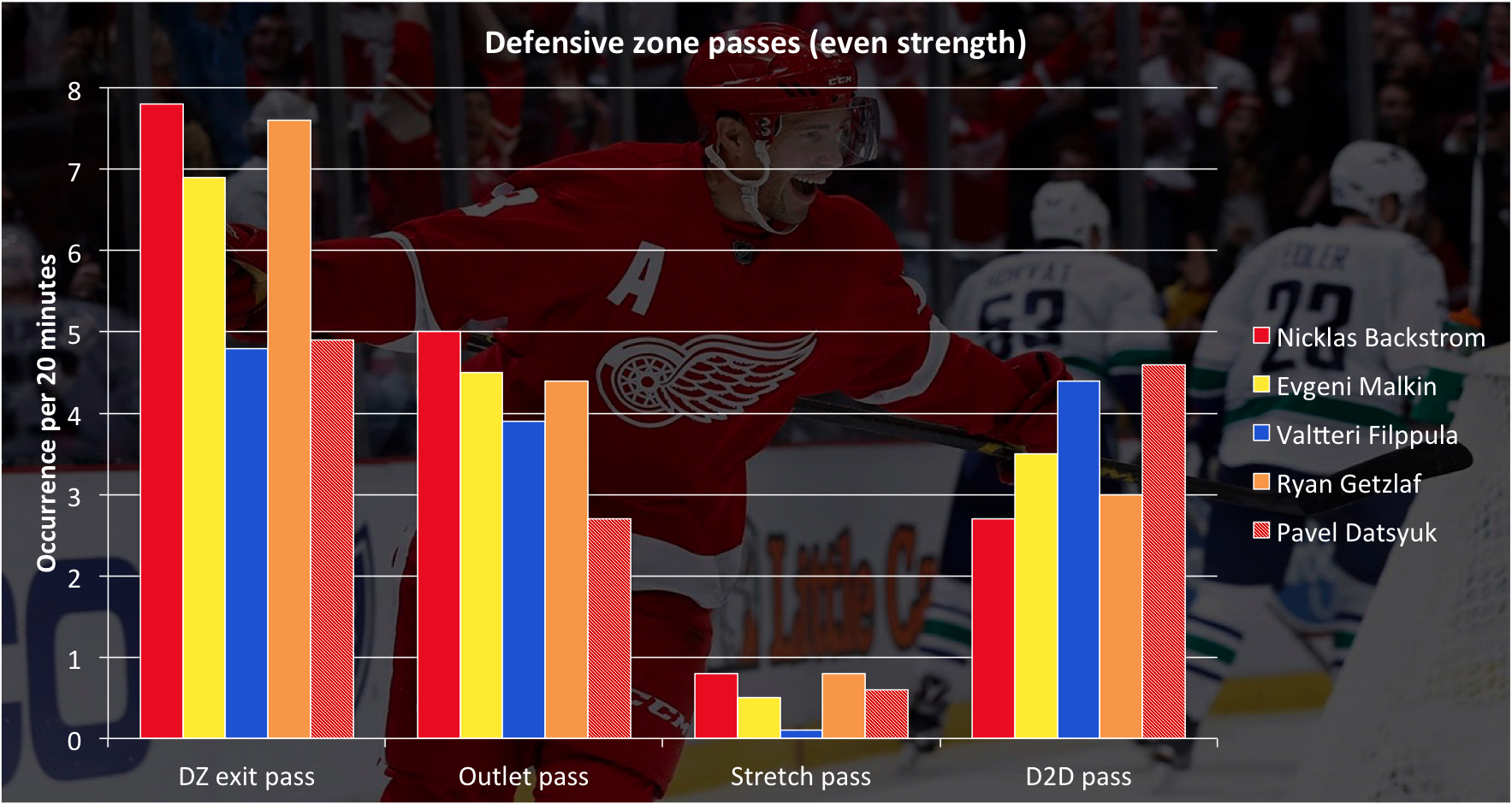 Some unexpected names show up as great in the defensive zone, namely offence-minded players like Ryan Getzlaf, Nicklas Backstrom, and Evgeni Malkin. None of those players are particularly lauded for their defensive play, but when they get the puck on their sticks they happen to make a lot of successful plays.
Valtteri Filppula and Pavel Datsyuk have solid defensive reputations, especially Datsyuk, but of all the players here it's those two who exit the defensive zone least frequently. What that should tell you is what is often repeated as truth, sometimes isn't. Datsyuk was likely much stronger in this area in his youth, and he's still very strong compared to most players, but the three super-elite passers in the defensive zone seem to be Backstrom, Malkin, and Getzlaf.
To separate those three, we can look at pass success rates, and we find that Backstrom and Malkin are nearly identical at 77.1 per cent and 77.3 per cent respectively, while Getzlaf lags slightly behind at 73.9 per cent. This would suggest that Backstrom and Malkin are the best defensive zone passers in the NHL among forwards.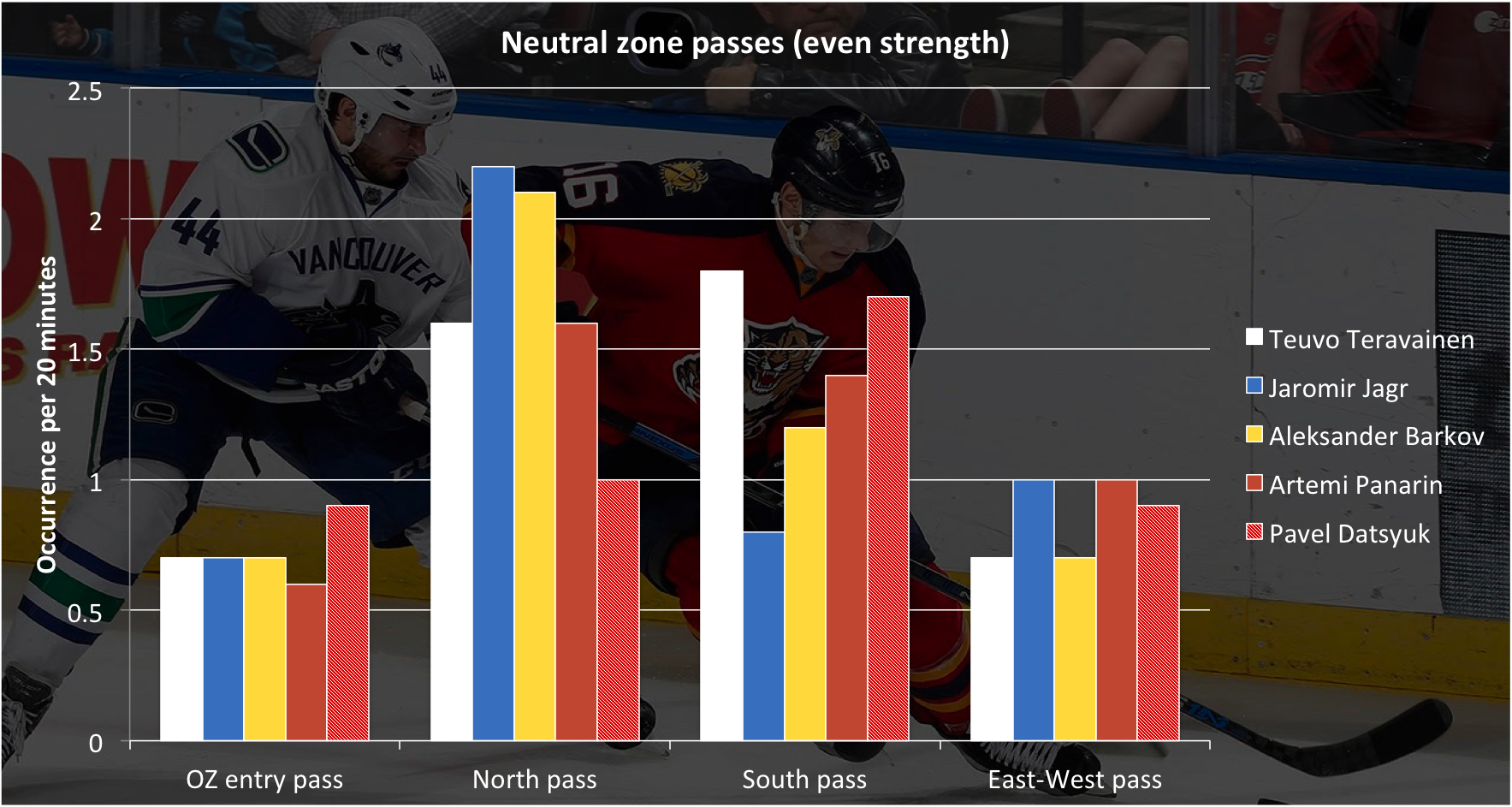 The neutral zone is a slightly different beast than the defensive zone, there's more puck carrying and less passing, and it's significantly easier to choke off plays. There are no real 'safe' plays to keep the puck in the neutral zone like going D-to-D in the defensive zone.
Here Pavel Datsyuk shows up again, the only player on both lists. Datsyuk's quick hands and absurd hockey sense clearly come into play here, as he leads the group in passes that find players as they enter the offensive zone. Those kinds of plays are extremely difficult to make, as you can tell by the very low frequency, and when they work they are very tough on defencemen.
The remaining top-five consists of two Chicago Blackhawks and two Florida Panthers, with another old-timer in Jaromir Jagr being very impressive, as he leads the group in pushing the play forward.
Young players like Artemi Panarin, Teuvo Teravainen, and Aleksander Barkov also show up, and while Teravainen and Paaarin get tons of press for their passing ability, Barkov is unheralded as usual, but right there with them.
This group is much more difficult to choose the best out of, partly because the margins are so small, and partly because all the pass types are relatively equal in value, however success rate may be the defining distinction of the neutral zone, and who else would lead that but Datsyuk? With an otherworldly 83.8 per cent success rate, Datsyuk is 4.6 per cent better than the next most successful in this group; Panarin, and 10.4 per cent better than the least successful; Jagr.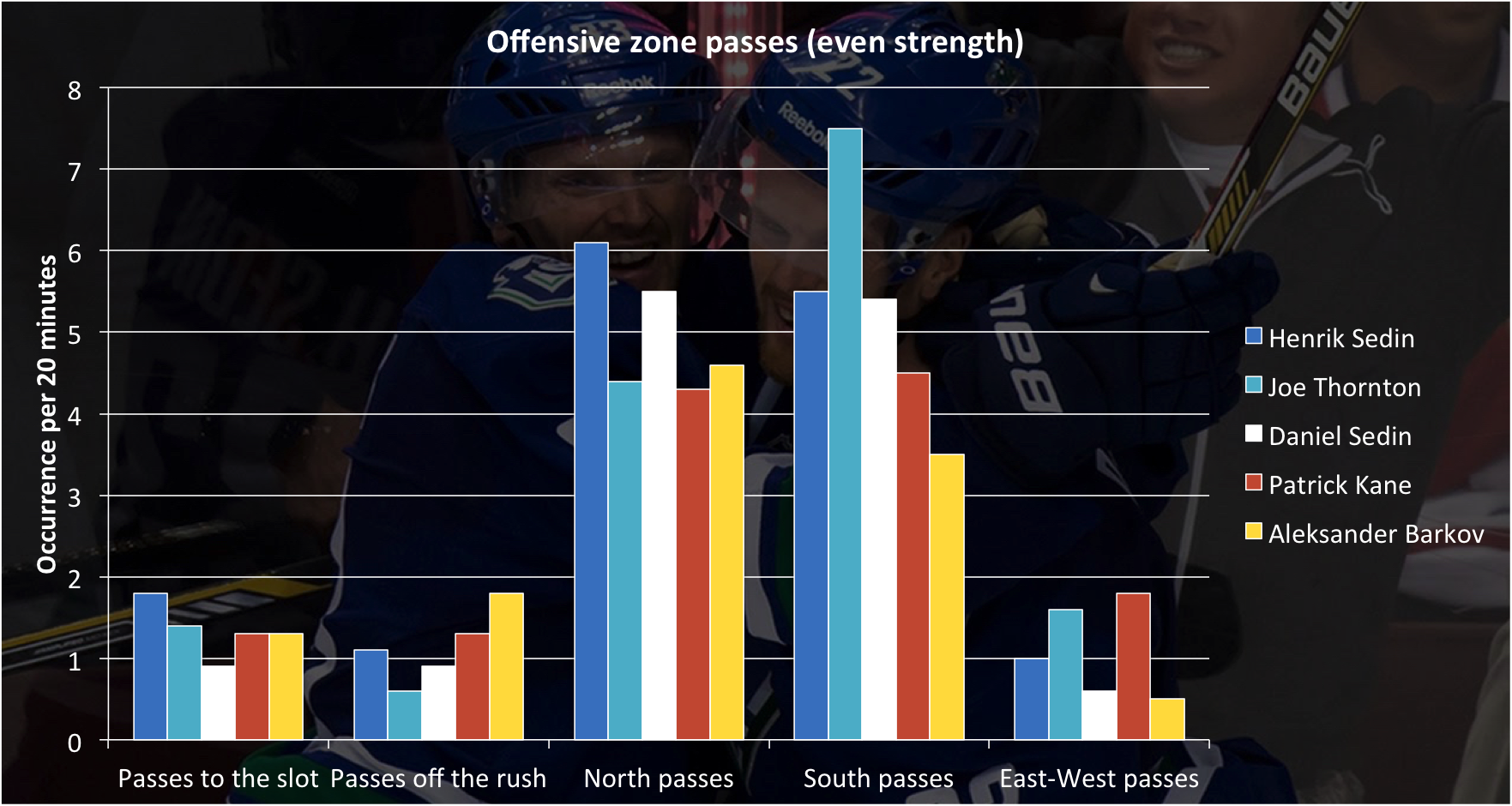 In the offensive zone, we once again have a different cast of characters, except for young Barkov. Barkov leads this group and the entire NHL in successful passes off the rush per 20 minutes, and is a leader in passes to the slot as well.
The true titans of offensive zone passing though, are the Sedin twins and Joe Thornton. Daniel Sedin is more about cycling the puck and getting into shooting position, as if anyone needed to be told that, while Henrik Sedin leads the NHL in passes to the slot, and north cycle passes. Essentially, if you're deep in the offensive zone, Henrik will find you with a pass.
Thornton on the other hand prefers to pass up to his defencemen to create space, and once he gets the puck back, he's either going to the slot, or going East-West. Thornton prefers to set up and break teams down with cycling passes and getting players out of position, rarely passing off the rush.
Then there's Patrick Kane, who cycles the puck much less than Henrik Sedin or Joe Thornton, but makes more plays off the rush, more East-West passes, and nearly as many passes to the slot. Kane is the passing version of a sniper, all he's thinking about all the time is getting the goalie moving on shots, and it's a big reason why he's leading the league in scoring.
What's perhaps most impressive about Kane though, is that he makes fewer of the "easy" passes than other great playmakers, but actually completes a higher percentage of them. Kane's 69.9 per cent pass completion rate in the offensive zone is 3.6 per cent higher than Thornton's, and 6.7 per cent higher than Henrik Sedin's.
That however, brings us back to the underrated Barkov; who somehow has a 76.7 per cent success rate on offensive zone passes. There is a gap in pass volume between the top-four and Barkov, but remember that he is seven years younger than the next youngest player on this list.
While it may be a three-way showdown between Kane, Thornton, and Henrik Sedin for the best offensive zone passer right now, but we may be witnessing the beginning of the best playmaker of the next generation of NHL stars in Barkov.