It is interesting that NHL historians tend to focus more on goaltender runs than scoring runs in the playoffs. Think 1986: Patrick Roy willed the Habs to the Stanley Cup. The 10-goal contribution from Claude Lemieux? Sidebar. During Montreal's miracle run to the conference final in 2010, Jaroslav Halak was deified. Mike Cammalleri's 13 goals in 19 games? Forgotten by the majority.
The perception that a goaltender can win by himself is much stronger than a scorer doing it alone. But in a short series, a player like Steven Stamkos is a terrifying reality for the 2014 Montreal Canadiens. Any time one player is responsible for 20 percent of a team's goals, he requires special attention. And if the Canadiens aren't diligent when it comes to the Lightning captain, their playoff run will be over fast.
Stamkos is the next generation of Brett Hull: more skilled and dangerous off the rush, but with a similar lightning release and the ability to drift unnoticed into open space. And their numbers are strikingly similar, especially when adjusted to account for different eras.
While reviewing Stamkos the past two seasons, I watched in awe as he drifted out of plays in the offensive zone only to appear and strike quickly on loose pucks, lateral feeds and rebound opportunities. Like Hull, Stamkos has the ability to hide in plain sight—a weapon the Lightning use with devastating effect with the man advantage.
Looking at Stamkos and his overall usage, nothing really jumps out in regards to his shot metrics. He isn't as high-volume a shooter as Alex Ovechkin, but that differential is likely because of the number of shots Ovechkin takes from the perimeter and above the faceoff circles. Without those shot deflators, Stamkos has been able to maintain nearly a 20 percent shooting percentage.
Looking at his overall metrics alone, he seems to lead a very balanced offensive attack with a slight imbalance to his shooting side on the right side of the offensive zone.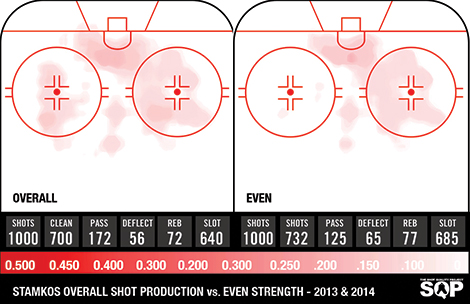 At even strength, Stamkos generally gained the zone from the right side—natural for a right-handed shot—and generated most of his opportunities from there. Interesting, though, is how his deployment changes his shot volumes. When set plays are added to his arsenal, his shot volumes shift. At even strength he is a threat off the rush, he gets to the slot with more regularity, deflects shots and jumps on rebounds. Almost 70 percent of his opportunities come from the home plate area and he relies less on lateral feeds (just 12 percent of all shot attempts). Still, even though more of his opportunities are clean because his shots are in the slot, he is able to maintain an extremely high shooting percentage at even strength.
On the power play, Stamkos's game shifts from creator/finisher to pure finisher. He no longer goes to the scoring areas in the slot to tip pucks or bang home rebounds. Instead he relies more on the system to get him the puck in positions to score, shading to the off wing and drifting in and out of open space waiting for his teammates to find him. I tracked Stamkos's position on power play shots registered by the Lightning the past two seasons. It's clear that tactically his game changes significantly with the man advantage.
Look at where Stamkos positions himself. He rotates through the left side and occasionally settles in the low left slot, but the majority of his focus is on finding open space for Victor Hedman and (before the Rangers trade) Martin St. Louis to locate him for one-timer opportunities. Stamkos's clean percentage of shots drops to 64 percent as he goes from relying on lateral feeds from 12 to 27 percent of the time. (It is very similar to the power play deployment that rejuvenated Ovechkin's goal-scoring ability.)
When allowed to shoot from this area Stamkos's success rate balloons to almost one goal for every four shots taken. He is a devastating weapon. The Montreal Canadiens have had weeks to prepare for the Lightning, and Stamkos on the power play should be something that they have game-planned to neutralize. The two players best suited to do that are Tomas Plekanec and P.K. Subban—it's Subban's natural defensive side, although he is also the player coach Michel Therrien uses the least on the penalty kill. So maybe Mike Weaver can continue his strong play and deal with this critical assignment, because Alexei Emelin playing his off side isn't up to the challenge.
It will be interesting to see if Therrien does something extreme with Plekanec, similar to how Randy Carlyle used Jerred Smithson to shadow Ovechkin on the power play early in the campaign. The penalty kill has been statistically strong for the Canadiens all season and will need to be this series considering that close to 40 percent of Stamkos's goal production the past two years has come with the man advantage.
If the Canadiens can tactically manage Stamkos on the power play and hard match Subban/Josh Georges against the Lightning's top line to avoid any Douglas Murray sightings, then their chances to move forward in the playoffs are greatly increased. If the plan to stop Stamkos is Carey Price and cross your fingers, the Habs will be one and done again.