Mainstream media versus the analytics crowd. It's a battle that's raged on for the better part of the last couple of seasons, neither side passing up an opportunity to fire a potshot at the other. This season the Toronto Maple Leafs provided a fantastic battleground for the two camps. For 50 games the Leafs were the team that defied fancy stats, and the mainstream media took great glee in making fun of Corsi and Fenwick and all that gobbledegook. Then, just as the analytics crowd predicted, the Leafs simply couldn't sustain the lifestyle they were leading and faded miserably in their final 30 games. Nerds revelled in victory.
I think the two sides can coexist. Some things can pass the eye test. I also believe that hockey-specific analytical stats should not be ignored and their track record so far is shockingly good. Why can't everyone just get along? Why can't great storytelling involve numbers to provide context? Why does everyone have to make fun of each other?
I'll tell you why. Because making fun of people is, well, fun. I like to make fun of everyone — including myself.
So, let's have some fun. For the purpose of this column (and because math frightens me) I will play the role of the evil mainstream media guy. The old school. While my friend from CanucksArmy.com, Dimitri Filipovic, reps the new school.
I'm going to tell him what I think I saw from the Canucks this past season, and he's going to let me know how much of an idiot I am with his fancy numbers and boring spreadsheets.
Today's topics: Vancouver's power play and David Booth.
CANUCKS POWERPLAY
MURPH'S NAKED EYE: This topic should be easy to agree on. There is nothing any sane person can tell me that will make me think the Canucks' power play was even half palatable in 2013-14. The only numbers I need to know are 39-for-257 — 15.2 per cent. Bloody awful. Somehow the Sabres and Panthers managed to score fewer power-play goals than Vancouver. I don't know about controlled zone entries, but I will guarantee the Canucks were awful at them with the man advantage. I've never seen a team employ the dump-and-chase system while up a man more often than the Canucks did in 2013-14. And let me tell you that dump-and-chase is No. 51 in the top 50 things Daniel and Henrik Sedin do. Makes one pine for the old drop pass in the neutral zone.
What's more, when the Canucks somehow gained the zone 5-on-4, they either passed it into the corner or missed the net with a point shot. Painful.
There didn't seem to be a ton of movement – player or puck – which made the Canucks easy to defend. The Sedins were the only players to whom opposing teams gave any respect and space, so whenever another Canuck had the puck, he was immediately attacked and usually turned the puck over.
I'm not saying a middle-of-the-road power play would've got the Canucks in the playoffs, but it certainly would've made things close.
DIMITRI'S NERDY EYE: You're right, it's kind of silly to play devil's advocate when you drop a number like 39-for-257. It's an even tougher pill to swallow for Canucks fans when you notice that their former power play guru, Newell Brown, went to Phoenix and turned a Coyotes squad that was 25th in the league in terms of power play percentage last year into a top-five unit this season.
There were serious flaws with the Canucks' power play this season, no doubt about it. I'd love to know why Dan Hamhuis spent as much time on the top unit as he did, and why on earth assistant coach Glen Gulutzan thought it was a good idea to have Hamhuis average more time with the man advantage than a Yannick Weber, who was presumably brought in for that phase of the game. The formations were questionable, and as you alluded to, the Cancuks' continued inability to enter the zone with controlled possession was startling. Yet despite how bad it was all season, we got a glimpse into how much worse it could be over the course of the 12 games Henrik Sedin missed.
That said, we do need to put their struggles into perspective. While the Canucks finished the year 25th in goals for/60 with the extra man, they still fired shots at the fourth-highest rate in the league. Now, the teams ahead of them in that regard were the Capitals, Penguins and Sharks. Do I think that an average shot on the power play for the Canucks is the same as one for those teams, given the disparity in the talent taking it? Of course not. But history has shown that teams typically wind up bouncing back rather effectively in terms of shooting percentage on the PP the season following one in which they were considered to be "unlucky."
I've gone ahead and attached a graph of all the teams since 2007-08 to shoot under 10% as a team on the power play. Beside that figure is how they fared the following season. The general conclusion: it tends to get noticeably better. While there are legitimate question marks about what the Canucks were doing on that front this past season, I don't think it's some sort of unsalvageable mess that will plague them until the end of time.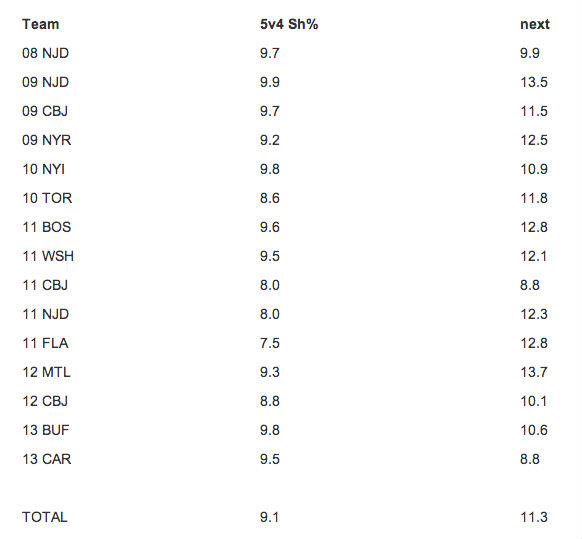 DAVID BOOTH
MURPH'S NAKED EYE: Call me crazy, but I like David Booth. Yes, even as a player. Is he worth 4.25 million per? No chance. But for some strange reason I do not think the Canucks should buy out the final year of his contract.
I mentioned this on Twitter last week, and more than a few people thought I may have come up with the idea while on an early-morning drive with Ryan Malone.
Anyhow, I realize that nine goals and 19 points is not great value, but I also believe signing someone to replace Booth for $2.5 million may be just as much as a gamble as Booth is. Sure, he's the forward where rushes can go to die, and I know he hasn't shown anywhere near the touch in Vancouver to make anyone believe he'll ever score 30 (or even 20?) again. But he's big and strong. He has the ability take the puck to the net like few Canucks forwards do. He's that hip word – a heavy player. And it just seems to me that whenever Booth was on the ice this season, the puck wasn't in Vancouver's end all that much. Perhaps it's no surprise Booth came on this season nearly one year to the day he broke his ankle. Which is the amount of time the doctor told him it would take before he started to feel 100 per cent.
David Booth being Vancouver's best forward every game next season would be a great thing for David Booth, but not great for the Canucks. I agree. But I believe there is upside here. Don't buy the man out. He's weird, and I like him.
DIMITRI'S NERDY EYE: I've come a full 180 on Booth in the past year or so. This will undoubtedly shock some people, but I do in fact dabble in watching hockey from time to time, and I think I've seen enough from Booth now to suspect that a shooting percentage regression simply isn't coming. With these sorts of things there are always extenuating factors to consider, and this is a player who has dealt with a laundry list of injuries. Those take their toll and eventually speed up the erosion process of a player's talent. I still suspect the Kevin Porter knee-on-knee, just as Booth was starting to get hot in his first year with the Canucks, was the one that's had the most lasting effect.
So while it's a good bet he'll never again approach the 23 goals he scored in 2010-11, that doesn't mean that he can't contribute value to his team. This is where we get a little geeky, but bear with me.
Booth spent just about 410 minutes at 5v5 with Zack Kassian this season, and the two made sweet, sweet music together during that time. The Canucks controlled 53.8% of all shot attempts when they were on the ice, which borders on elite. While all of that possession technically didn't start to come for them until it was too late in the season, they were still incredibly useful in hemming the opposition in its own defensive zone. Putting the puck in the net is considered the sexiest way to reach the ultimate goal (winning), but you could argue that preventing the other team from scoring on you is another way to accomplish the same thing.
The elephant in the room is Brad Richardson, who — while valuable as a penalty killer and depth centre — really was an anchor for those two. When Richardson took the ice with Booth, they controlled 53.6% of all shot attempts. But when Booth wasn't out there with him, he dipped down all the way to 43%. That's a massive dropoff, and one that certainly gives credence to the belief that Richardson is much more of a passenger than a guy driving the bus.
No doubt both Booth and Kassian would've generated more goals and points than they did if they'd been given a more offensively capable pivot than Richardson. Heck, even a Mike Santorelli would've paid massive dividends.
One final note on Booth: He had a plus-seven penalty differential, good for third on the team behind Daniel (+12) and Hamhuis (+11). I know, I know, it's not like getting the Canucks on the PP was of any use this season, but in the grand scheme of things, stats like penalty differential are considered gold nuggets because they've got all sorts of hidden value we never really used to think about critically.
Why wouldn't you roll the dice on him potentially getting lucky to start next season, scoring some goals, and reestablishing a little value for a contender to bite on him around the deadline? Seems like a reasonably savvy idea to get any extra second- or third-round pick.