The Winnipeg Jets are facing a tough decision right now. With Dustin Byfuglien signed, the Jets now need to make a decision on how much they're willing to spend on Andrew Ladd.
The Jets are a budget team by necessity, but losing their team captain, who by most accounts seems to want to stay in a market that has trouble attracting free agents, is a possible turning point for the organization.
Add to that the fact Ladd is 30 years old this year and looking for a long-term, high-priced contract (rumoured to be $36M over six years), and it's tough to imagine a more difficult situation for a Winnipeg team that looks to be building a competitor for the next five years or so.
These are the toughest kinds of contracts to agree on, because while Ladd has been a bonafide excellent first line winger every season since the Jets organization (then the Atlanta Thrashers) acquired him from the Chicago Blackhawks, he's at that age where his production could quickly fall off. And since Ladd is a very physical player, that decline could be even more rapid.
As a leader and first liner, what is Ladd worth going forward?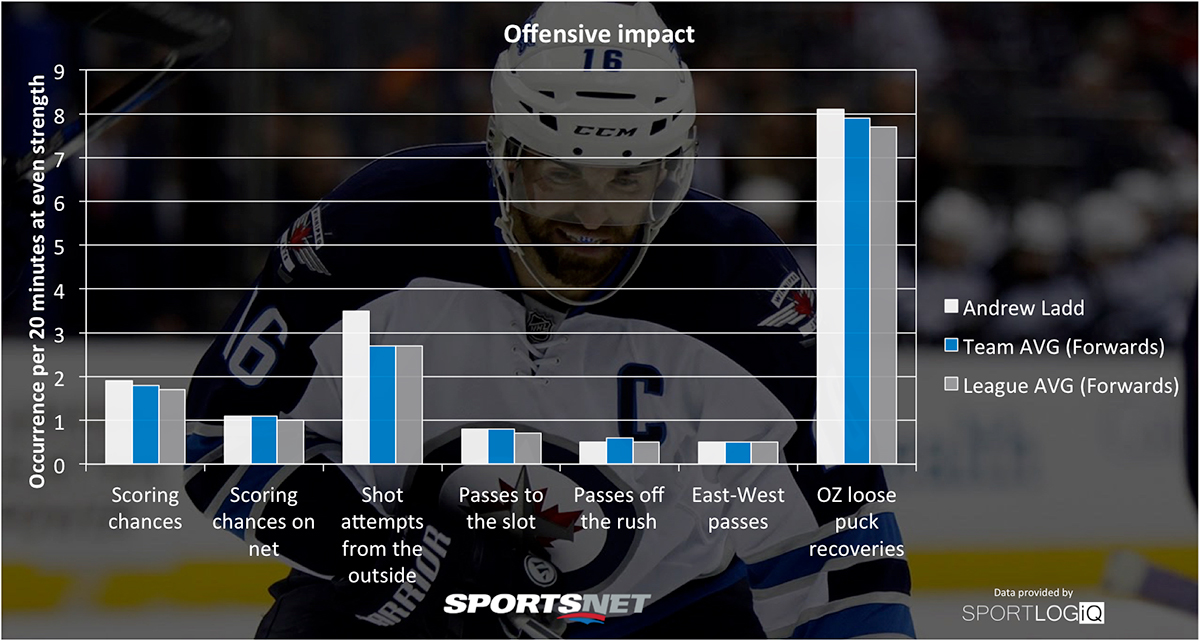 Offensively, this season Ladd hasn't stood out at even strength, though he is average or above average in almost every important category. It is slightly concerning that Ladd's scoring chances are so close to average, but he remains an excellent forechecker on a good forechecking team, and his passing is good enough to make an impact.
Going deeper into scoring chances, we can look at Ladd's shot attempt locations to get a more accurate view of his performance.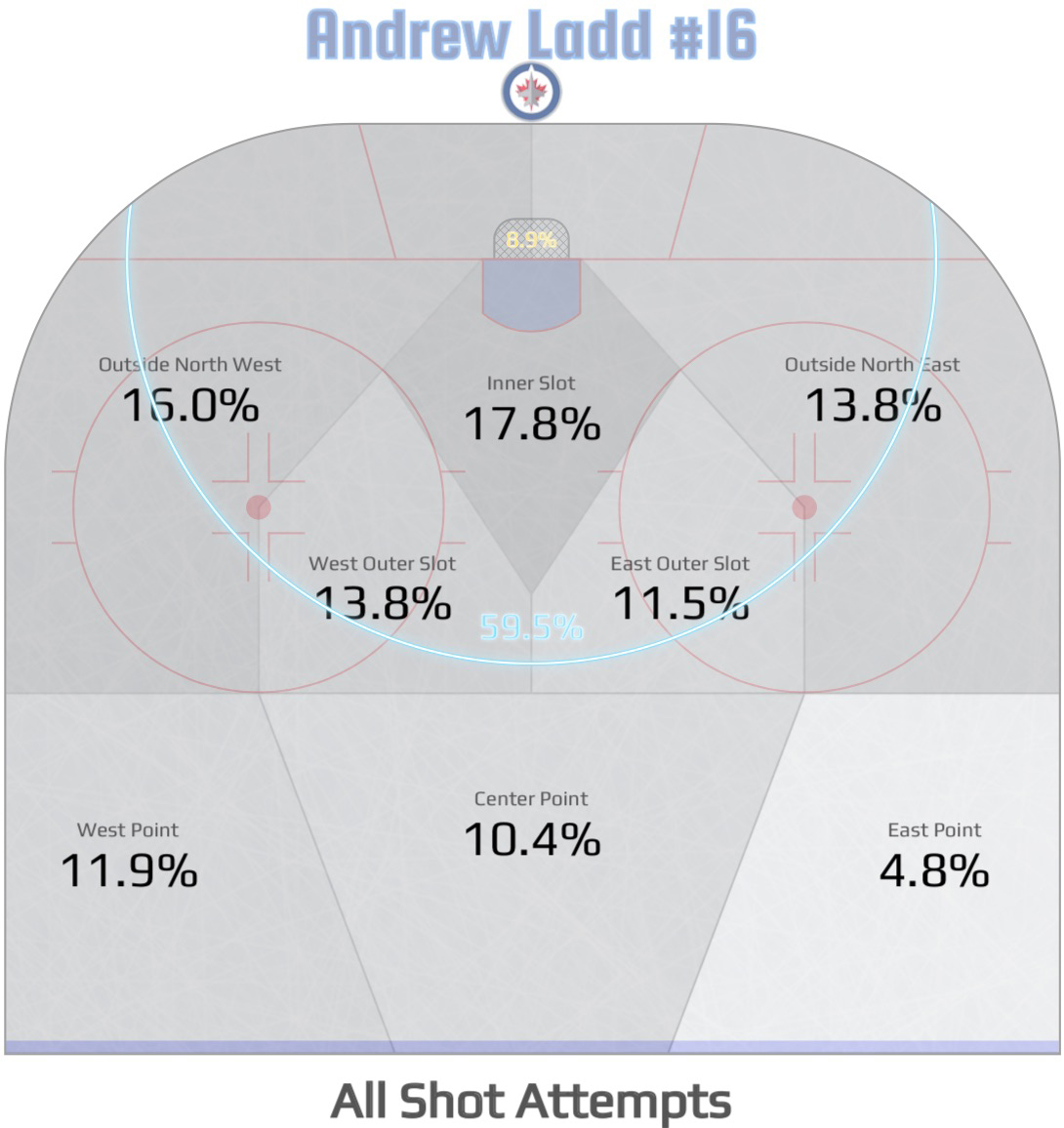 Ladd's shot location breakdown is by no means poor, though it is very average. His average shot distance is good for a goal scorer, though unless you have an elite shot, you'll want to shoot more from the Inner Slot area.
There are some troubling trends when it comes to Ladd as a goal scorer though, including the fact his personal shooting percentage has dropped year-over-year three seasons in a row. However, he isn't just a scorer, so we have to look at his value elsewhere too.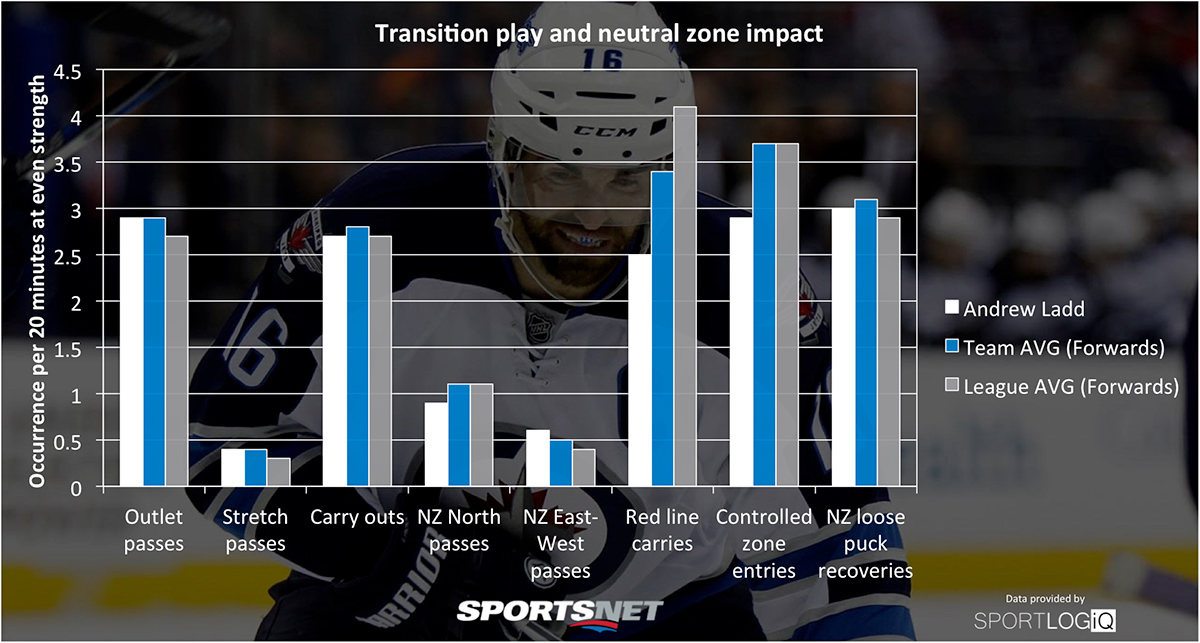 In terms of transitioning the puck up the ice, Ladd isn't a top player by any means. He prefers to dump or chip the puck around the ice and use his physicality to win it back, instead of using speed and stickhandling to break in with control. He is an effective passer in transition, but his puck carrying ability is not very strong compared to his peers.
This is not necessarily as bad as it looks because of Ladd's ability to win battles, but as he loses a bit of foot speed with age, it is the kind of warning sign that his effectiveness could wither away over the course of his next contract.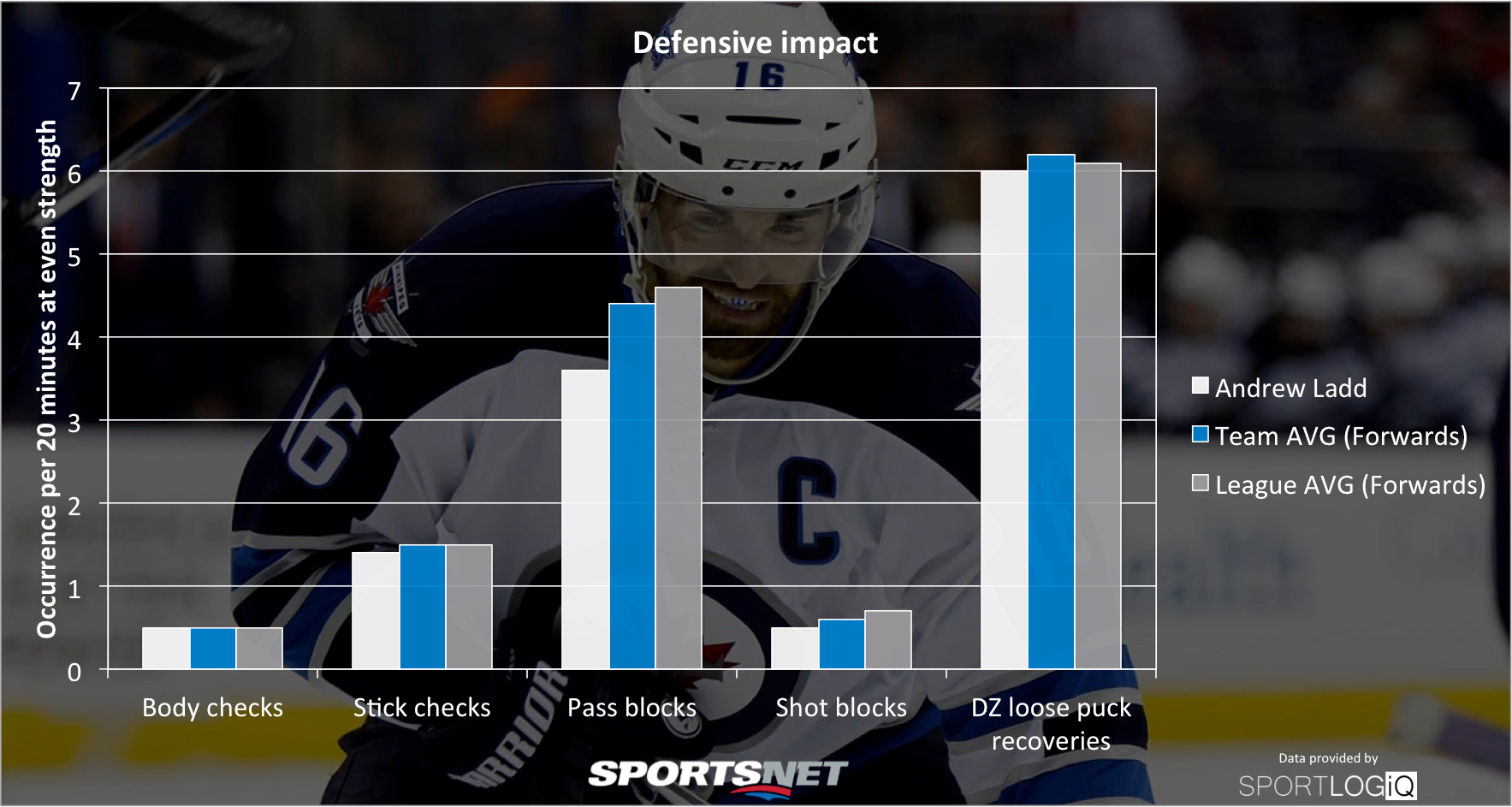 Defensively, Ladd is also looking more average than you would expect, with the most surprising bit being that he's below average in getting to loose pucks.
None of this says that Ladd is a bad player right now, just that there are some warning signs he may not age well. And if you're going to give him big dollars and term, this should be a concern.
Ladd is not as effective a player as he was in his prime, but he has a phenomenal reputation and is still a first line player. Teams could do much worse than adding a player like Ladd, and some teams play a style that would suit him perfectly, like the Anaheim Ducks for example.
It's a tough choice for the Jets, but trading their captain for a king's ransom may be the wisest decision they can make for their future, even if it sends the wrong message to the players on the team.