A broken tibia, specifically the top of the bone in the knee area, was not the way Max Pacioretty expected to begin his tenure as captain of the Montreal Canadiens.
Originally it was expected that Pacioretty would miss some time in the regular season, but he made it back in time for the start of the season without much of a problem. In fact, Pacioretty is pacing for a very similar season to last year's, around 64 points and 35 goals.
Yet it was apparent when you watched Pacioretty for the first two months of the season that his speed burst that people were used to seeing just wasn't there. Pacioretty wasn't slow by any means, but he wasn't blowing by guys and creating his own breakaways like normal.
That has changed a little bit recently, but what's surprising is how effective Pacioretty has remained while his acceleration has been hampered.
Pacioretty's skating is likely his second most impactful attribute after the release on his shot, and last season this led to him leading all Habs forwards in both controlled carry outs and controlled entries per minute played.
This season, however, Pacioretty is ninth among forwards in controlled carry outs, and fifth in controlled entries.
We can look at this another way as well, with a combined statistic called possession driving plays. This includes all plays that move the puck up the ice into the offensive zone, including outlet passes, stretch passes, neutral zone North and East-West passes, controlled exists and entries, and red line carries.
Let's look at Pacioretty's possession driving plays compared to his scoring chances year over year.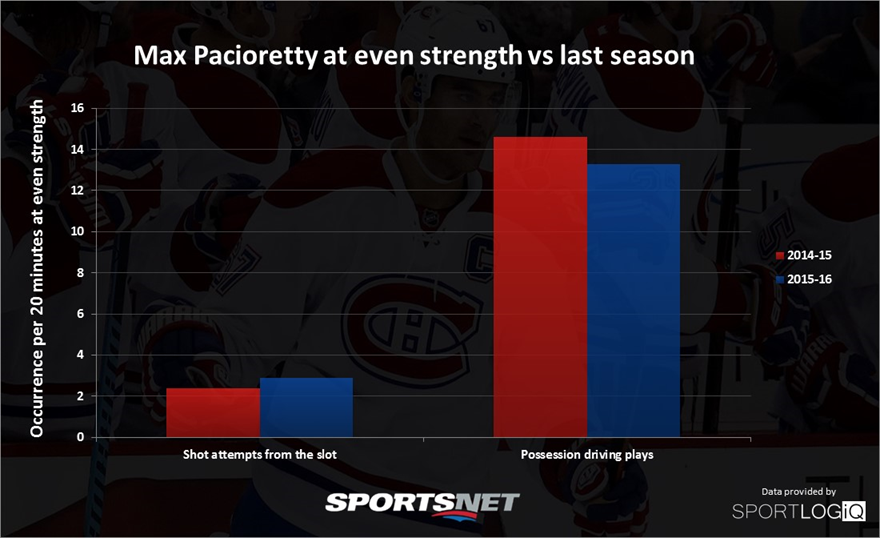 The drop in Pacioretty's possession driving plays overall isn't as steep as you would expect, but the Canadiens as a whole carry and pass the puck up the ice more frequently this year than last year by a significant margin. So much so that Pacioretty is way down at 8th among regular forwards in possession driving plays per minute.
It's undeniable that Pacioretty is carrying the puck less often, relying more on his line mates to drive possession, which worked well when Brendan Gallagher was in the lineup because he was leading the Canadiens in zone entries by a significant margin, but hasn't worked as well lately.
What is surprising is that Pacioretty has compensated, at least in part, for carrying the puck less by shooting from the slot a great deal more.
The gap may seem small to the eye, but in terms of individuals, only Vladimir Tarasenko (The high water mark at 3.4 shot attempts from the slot per 20), Alex Ovechkin, and Jeff Skinner, have more scoring chances at even strength per minute than Pacioretty does, and only Tarasenko, and Zach Parise have got a higher number of those shots on net.
The change in Pacioretty's style of play is extraordinarily unlikely to be permanent, but it remains impressive how he has been able to get around a hindrance to his mobility, partially neutering his second best asset as a hockey player.
If he is able to maintain the extra scoring chances once he feels his knee is 100%, he may be an even better player than he has been previously.