And the hits just keep on coming for the Calgary Flames.
As if their season didn't include enough disappointment along the way, the Flames are now heading into the trade deadline with a barrage of bad luck threatening to hamper rebuilding efforts.
Three recent injuries, coupled with a landmark suspension, are providing notable impediments to GM Brad Treliving's goal of salvaging something from this lost season. Topping the list is the Dennis Wideman affair, which has far more ramifications for the team than just losing its top powerplay defenceman.
The 20-game suspension, to be reviewed later this week by an independent arbitrator, likely put an abrupt end to hopes the team could trade the 32-year-old before Monday's deadline.
With one year left on a contract that comes with a cap hit of $5.25 million, the Flames would surely like to have swapped out Wideman and used that sort of money to re-sign pending unrestricted free agent Kris Russell.
Even though Wideman was fourth amongst NHL defenceman in scoring last season with 15 goals and 56 points, the addition of Dougie Hamilton turned Wideman into a powerplay specialist who otherwise skates on the team's third pairing.
Given his price tag and how far his production slipped this year (two goals and 17 points in 48 games) Wideman would likely have been a tough sell on the trade market, especially given most contenders are up against the salary cap. However, a few teams in the mix would love to improve their powerplay from the back end with a veteran like Wideman.
Unless the arbitrator reduces his ban for abuse of an official, Wideman isn't eligible to return to action until Mar. 14 – hardly an enticing proposition for potential suitors.
Both Sean Monahan and Johnny Gaudreau are in line for new deals in the neighbourhood of $7 million this summer, making it almost impossible to keep Russell, whose value on the open market has to be pegged in and around the $5.5 million annually inferior blue-liners Andrej Sekera and Jeff Petry inked last summer.
The only solution would have been to trade Wideman, which became a moot point Jan. 27 when he crosschecked linesman Don Henderson. You can bet the Flames are still hoping the arbitrator will allow Wideman to return before the deadline, potentially opening up a move.
Further complicating things for the Flames is the fact Russell has missed the last four games with a groin injury that would clearly have potential trade partners leery.
As respected and selfless a player as the club has, Russell is the consummate team guy who was arguably the best Flame in last spring's playoff series win over Vancouver.
As a second-pair defender who set the NHL's single-season shot-blocking record last year, the 28-year-old Russell is the epitome of what every team would like to add in the post-season: a heart and soul d-man who had 34 points last year and can do a little of everything.
His cap hit is low ($2.6 million) and his offensive upside and pain threshold are high, but being on the limp could have many GMs hesitant to pay full pop for renting him. After a rough start and early demotion, Karri Ramo proved conclusively this year he is an NHL goalie worthy of a healthy deal on the free agent market this summer.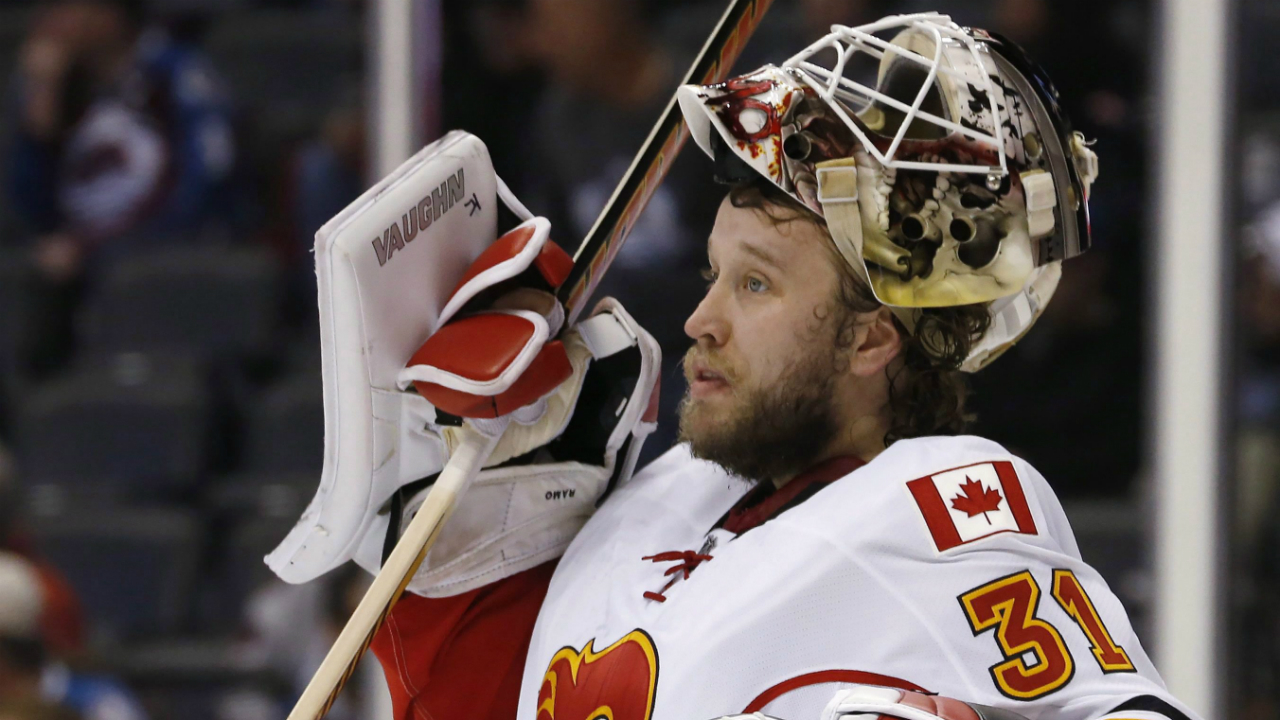 Calgary Flames goalie Karri Ramo. AP
He could have provided a playoff team with a solid backup at the deadline, but was lost for the season when he tore his ACL Feb. 11. Another bargaining chip lost for Treliving.
The latest injury came last week when depth defenceman Ladislav Smid suffered an upper body injury that will reportedly keep him out at least a few more weeks. Granted, it's unlikely the 30-year-old Smid and his $3.5 million cap hit next year would draw any interest elsewhere. It's just one less option for Treliving as he preps for a swap meet he's long been tabbed as a seller at.
The small bit of good news is Jiri Hudler has played much better the last month, potentially upping his trade value from a projected fourth rounder to upwards of a third or second round pick.
A player with David Jones' experience and size should command interest too.
Given Hudler's poor season it was always unlikely the rebuilding Flames would have the trade bait to make a major splash by Feb. 29.
The suspension and the rash of injuries certainly won't help.