After refusing to waive his no-movement clause in the summer and be exposed in the expansion draft to the Vegas Golden Knights (which he was fully entitled to do) Dion Phaneuf was traded from the floundering Ottawa Senators to the possibly playoff bound Los Angeles Kings.
A few things have changed for Phaneuf since he expressed his desire to remain a Senator, the biggest being that Ottawa went from the Eastern Conference Final to lottery position. It's also likely he was interested in going to Los Angeles so his wife, Elisha Cuthbert, can continue her acting career.
The Senators retained 25 per cent of Phaneuf's remaining contract, which carries a cap hit of $7 million total for three more seasons after this one, though his actual salary drops to $6.5 million per year the next two years, and $5.5 million in the last.
Having Phaneuf at a $5.25 million cap hit (after the retained salary) is better than $7 million, but at 32 years old and turning 33 on April 10, what can the Kings expect out of Phaneuf from ages 33-35?
To find out, let's look at what Phaneuf has been able to do over the past three seasons at 5-on-5, offensively, defensively, and in transition.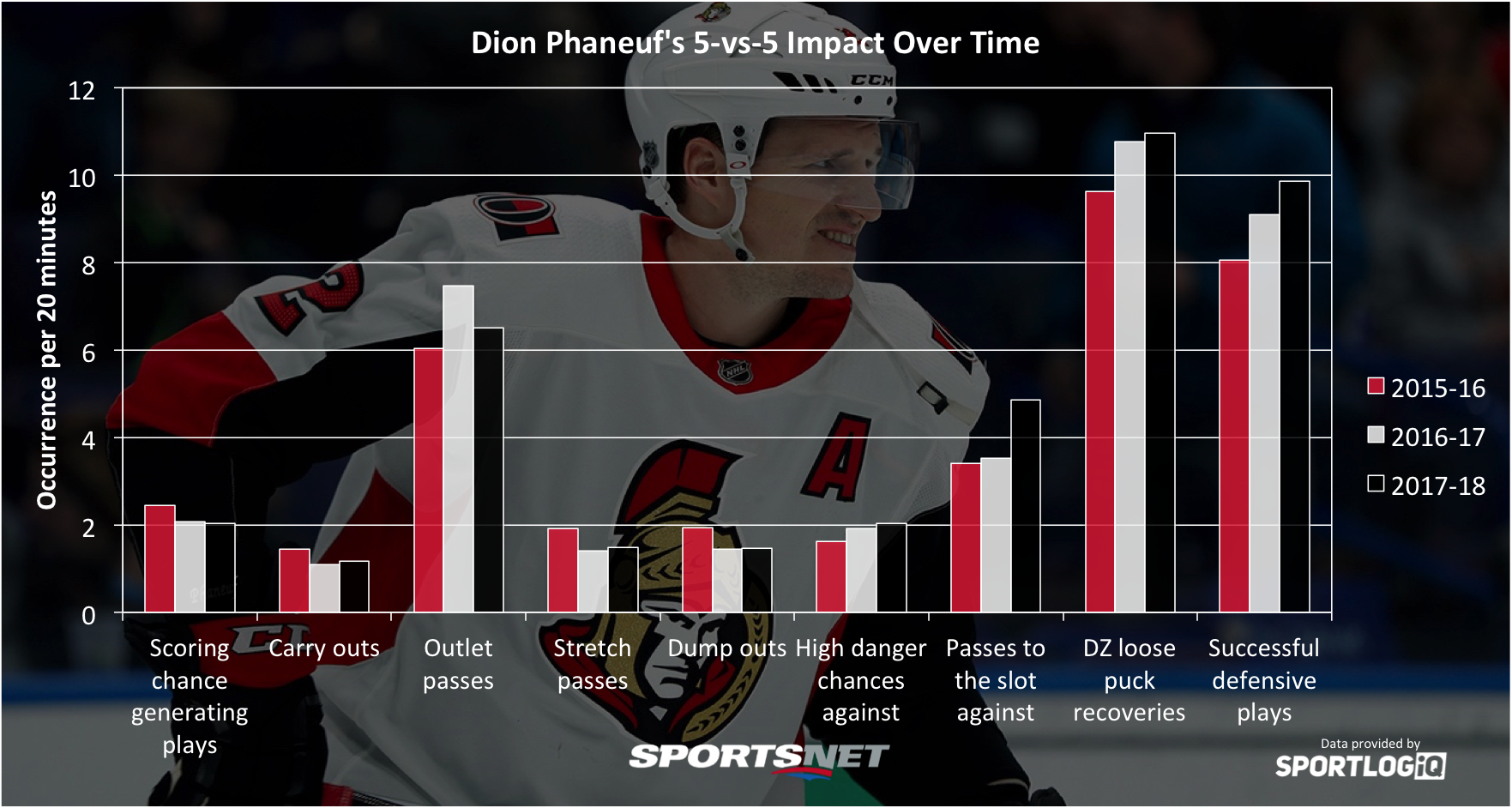 Year over year, there are a few trends that are a little worrying with Phaneuf. His teams have only outshot their opponents when he's on the ice once in the past six seasons, and the same goes for outscoring them. So we know before we get into microstats that he's not a huge play driver.
However, Phaneuf has seen his offensive involvement in creating scoring chances drop each of the past two seasons, despite the fact scoring chances have risen league-wide.
He carries the puck less often, and goes for stretch passes less often as well, which isn't necessarily a bad thing if he was having trouble completing those plays. He doesn't necessarily exit the zone with control less often than before, as those plays all together float between 9.17 controlled exits per 20 this season and 9.97 last season as lows and highs.
Phaneuf's defensive involvement has gone the other way, with big increases to his loose puck recoveries in his own zone, and how often he removes possession from opponents with successful defensive plays (stick checks, body checks, shot blocks and pass blocks).
Dimitri Filipovic provides entertaining and thoughtful dialogue about the game of hockey with an analytical edge. Not as nerdy as it sounds.
Phaneuf has also cut down his dump outs a little from the first year in the sample, but the issue is this change in play style, which looks more risk-averse, hasn't paid dividends in terms of defensive results.
It's true that Phaneuf has seen his non-neutral zone faceoffs go from above 50 per cent in the offensive zone two seasons ago down to 44 per cent in the O-zone this year. And since scoring chances are up across the league, there's some expectation of more chances against, but it looks like the bigger problem Phaneuf faces is that he simply spends too much time in his own zone.
High danger chances against have gone up almost 27 per cent from two years ago, and passes to the slot against while Phaneuf is on the ice have risen by 43 per cent, a staggering number that indicates a lack of mobility to close off passing lanes.
With all that said, the Kings have historically been very adept at closing off passes to and through the slot, so going from a defensively porous team in Ottawa to a proficient one in Los Angeles may help, but the Kings aren't as focused on defence as they were under Darryl Sutter, so it will be interesting to see how things shake out.
It's always possible that a player can surprise and excel in a new situation, but the stats we have available makes that look pretty unlikely this time.