Note to Jonathan Bernier: if you've lost the Glenn Healy riding, you've lost the election.
Healy, of Hockey Night in Canada and the NHL on Sportsnet, was one of the early backers of Bernier when it became clear he was acquired by the Toronto Maple Leafs to wrest the starting goaltender's job. Healy continued to back Bernier over James Reimer through all the back and forth, to-and-fro that has marked the Leafs goaltending picture these past two seasons. Healy was adamant – as indeed many of us were – that the Leafs had to commit long-term to Jonathan Bernier as their No. 1 goalie.
---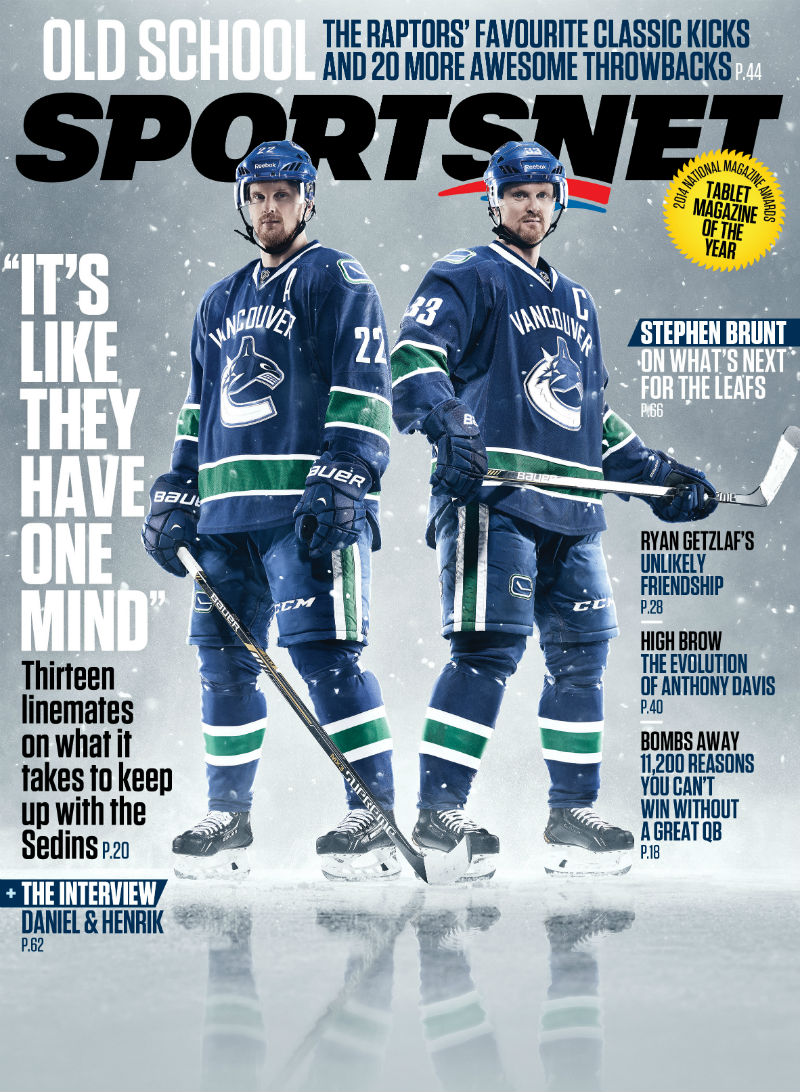 ATTENTION Rogers and Shaw customers.
Already enjoying Sportsnet ONE? Now get access to digital editions of Sportsnet magazine at no extra cost.
---
Now, like many of us, Healy is not certain that Bernier can be the guy to backstop the Leafs through the playoffs. Now, Bernier's name is being mentioned as a trade possibility at the deadline. That doesn't mean Reimer is any better; far from that — it means that it's hard to hitch your wagon to either of these goalies. And my guess is nobody saw this coming, that even when the Leafs started to fall off the precipice, there was a feeling Bernier would somehow be okay.
It's true that the Leafs goaltending is the fourth or fifth-most pressing issue facing this team. But it's an issue nonetheless, and that has to be particularly disheartening for a front office that never saw this one coming.
FIELD OF DREAMS
It was really a non-starter for president and chief executive officer Paul Beeston to get everybody all worked up at Thursday's State of the Franchise function when he suggested the Toronto Blue Jays would take a shot at landing the all-star game.
First, it will in fact be Beeston's successor who carries the freight. And the Rogers Centre surface is an issue. Baseball won't play the all-star game on artificial turf, and it won't likely grant the Blue Jays the game on good faith. In other words, a grass field would have to be in place before the Blue Jays would get consideration, and that surface won't be down until 2018 at the earliest.
Another wrinkle was added this weekend, when baseball commissioner Rob Manfred told ESPN's Jayson Stark that he favours opening the all-star game to a bidding process, like the Super Bowl. The game has traditionally alternated between National League and American League cities, although it has also been used as a reward for cities that have built new facilities. It has been a stick wielded by the commissioner's office, too, as is the case in 2016 when the San Diego Padres will play host to the game after Manfred's predecessor, Bud Selig, yanked it out of the hands of Peter Angelos and the Baltimore Orioles. Since this season's game is in Cincinnati, it will mean consecutive years in NL ballparks. Stark reported that the Miami Marlins and Washington Nationals have effectively been told that they will receive games in the immediate future — and you can bet a newly-renovated Wrigley Field will get a game, soon.
Beeston's successor would be wise to aggressively play the all-star card, though. Perhaps he can use the financial rewards from the game to gin up support at the ownership and maybe even civic level for a significant upgrade of the Rogers Centre or — dare we say it? — a new, downtown ballpark. Yep, I just wrote that.
WHAT I LEARNED
The things you learn in a week of hosting a sports talk-show:
"The way I'm looking at it today it would be Russell. I think he's the ideal two-hole hitter … he sees a lot of pitches, gets on base, and uses the whole field. If Reyes gets on, he'll give Reyes a chance to do his thing. He has a good feel for the game."
(*)Toronto Blue Jays manager John Gibbons says he will use Russell Martin in the No. 2 spot in the batting order, manned last season by Melky Cabrera. Full segment
"He was the one guy when Andrew Friedman came in that the owners said: "He's not going anywhere."
(*)Yasiel Puig's star is still clearly on the ascendency. Los Angeles Times baseball writer Bill Shaikin describes how president of baseball operations Andrew Friedman was told by Los Angeles Dodgers ownership that Puig was off-limits for trade consideration. Full segment
"There's clearly principles which have always been there … trying to find a competitive advantage and do something with it. Go back to the 20s and the Yankees and a couple of other teams invented the concept of the G.M. … in the 30s, you had smart front offices like the Cardinals and Yankees coming up with the farm system concept … the best teams have always been at the forefront of figuring out changes."
(*)Dan Levitt, co-author of "In Pursuit of Pennants: Baseball Operations from Deadball to Moneyball," discusses a core principle of successful Major League front offices. Full segment
QUIBBLES AND BITS
(*)With Victor Martinez's availability for the start of the season in jeopardy, the Detroit Tigers have had discussions about acquiring switch-hitting Dioner Navarro from the Toronto Blue Jays, according to major league sources. Navarro, who hit .272 with eight home runs and 18 doubles as a left-handed bat for the Blue Jays, is considered the Blue Jays' top trade asset, but the team has signalled it won't move him unless it gets a pitcher in return;
(*)Remember how I sang the praises of NHL Players' Association executive director Donald Fehr a couple of weeks back? Well, a source with the NHLPA chided me for being over-zealous in burying NHL involvement in the Olympics. "We think we can do both the World Cup and Olympics," I was told a day later – and, well, fair play to them. But the praise of Fehr and the stability he's brought to the NHLPA holds. Look at what NHL commissioner Gary Bettman told the Associated Press in an interview released this weekend: "It's not a coincidence that in the last decade-plus we haven't had a World Cup because we haven't had anybody to deal with on a long-term stable basis at the union … the fact that we're not in a situation where there's a strong union, which I believe is important and a good thing … we can pursue mutual goals and objectives." See … Gary Bettman agrees with me;
(*)Devan Dubnyk has done more than saved the job of Minnesota Wild head coach Mike Yeo, For now. Dubnyk is 7-1-1 since joining the Wild on Jan. 25, including four shutouts. No other goaltender to debut with a team in the expansion era (1967-68) has recorded four shutouts in his first nine games with his team;
(*)Jonas Valanciunas was on the bench again. But this time it didn't matter. This time it was right and proper that Amir Johnson and James Johnson were on the court in the final minute of Sunday's win over the San Antonio Spurs, when the Toronto Raptors showed the type of half-court decision-making that Dwane Casey ought to show his team before the playoffs. There have been many sub-texts to the Raptors last two wins — Friday's 123-107 win over the Los Angeles Clippers was the second time in franchise history that they've won a game by 15 or more points after trailing by 15 or more points at the end of the first quarter, something no other franchise has done more than once in the shot-clock era — after back-to-back sub-par outings against the Milwaukee Bucks and Brooklyn Nets. But the way they played in the final three minutes on Sunday might be the most telling;
THE END-GAME
In the good old days, there used to be a suggestion that the NBA fixed its draft lottery, and given the way the league's games are often officiated, well, who the hell couldn't resist having some fun with it. Just wondering, though … if the Toronto Maple Leafs were to end up winning a lottery for Connor McDavid, you think any conspiracy theorists would emerge? Asking for a friend …