It will either be a juggernaut one day that will return the Stanley Cup to Northern Alberta, or the Edmonton Oilers will go down in National Hockey League history as the team that did the least with the most.
 
Mercifully, the Oilers have to turn this project into the former, do they not?
 
After winning the 2015 NHL Draft Lottery from the three hole — converting on an 11.5 per cent chance to dance past Arizona and Buffalo into top spot — 29 other NHL markets groaned Saturday evening as the Oilers won the right to the No. 1 pick at the NHL Draft for the fourth time in the past six years. It's an embarrassment of riches in Edmonton with Connor McDavid now on the way, riches with which Oilers management has accomplished little thus far.
STANLEY CUP PLAYOFFS: | Broadcast Schedule
Rogers GameCentre LIVE | Stanley Cup Playoffs Fantasy Hockey
New Sportsnet app: iTunes | Google Play
 
"We're all sitting here in Switzerland (at the Under 18 World Championships)," said Edmonton general manager Craig MacTavish. "(Director of Player Personnel) Bob Green, (V.P. of Hockey Ops) Scott Howson and I are all in the same little corridor here in Switzerland. It's 2:15 in the morning, and I am lying in bed with my Ipad, watching the lottery.
 
"I'll tell you, you've never seen three men in (their pajamas) dance like that."
 
Though he would not confirm it, MacTavish will draft the junior phenom McDavid, who racked up 44 goals and 120 points in just 47 games with the Erie Otters this season. He will join Taylor Hall (2010), Ryan Nugent-Hopkins (2011) and Nail Yakupov (2012), all first overall draft picks in Edmonton's lineup.
 
"Whether or not it's the Oilers that are selecting me — I mean, anything can happen on draft day, you never know — that's an unbelievable organization and it'll be a true honour to be able to go there," McDavid said after the lottery.
 

McDavid will almost certainly play for the Oilers in the 2015-16 season. Even though management has sworn that the days of rushing prospects in Edmonton is over, that mindset likely does not apply to generational players.  
With the team moving from Rexall Place into their swank new downtown arena the following season, and with McDavid as a drawing card, perhaps MacTavish can finally collect the goaltending and defensive additions he requires to build a playoff contender in Edmonton, after nine consecutive seasons out of the post-season.  
"It's going to be great for everyone in Edmonton," gushed MacTavish. "It accelerates the performance level of the team for sure. We're trying to stockpile as many great assets as we can, and hopefully build some chemistry going forward where we can have some success. This is going to significantly improve that."
Erie plays Sault Ste. Marie in an upcoming OHL semifinal, which pits McDavid against future teammate Darnell Nurse on the Greyhounds blueline. MacTavish has always sworn against trading any of his young talent, but we asked the question: Will he now dip into that pool that also includes Hall, Nugent-Hopkins, right winger Jordan Eberle, or centre Leon Draisaitl and Nurse, each of who turn pro next fall?  
It doesn't sound like this lottery win has shifted MacTavish's loyalties one bit.  
"The players that we've brought in and drafted are worthy of our support," MacTavish said. "They've endured as much as anybody, or maybe more. I'd like to get through to the other side of this with all of those guys on the team."
This changes everything in Edmonton, a club that finished 28th this season, after finishes of 28th, 24th, 29th, 30th and 30th going back six years. They still need a goaltender and two top pairing defencemen, but now MacTavish will surely be more free to deal the Oilers' second pick in the first round — which came in trade from Pittsburgh — as well as one or both of the Oilers' two second-round picks.  
Edmonton is also in the market for a new head coach, unless MacTavish opts to stick with interim head coach Todd Nelson. Well, the field of candidates just widened, as the thought of three centremen under the age of 22 in Nugent-Hopkins, the 6-foot-3 Draisaitl, and McDavid may well entice a higher grade of coach.
---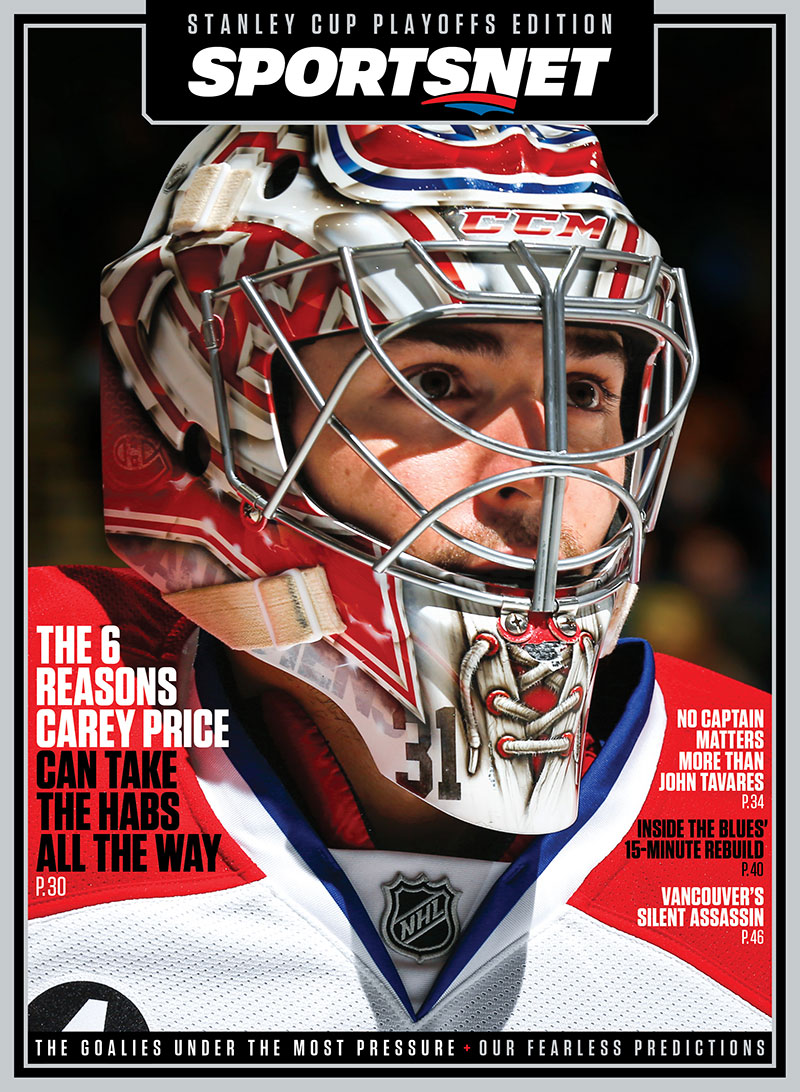 Sportsnet Magazine Stanley Cup Playoffs
Edition: The six reasons why Carey Price can take the Montreal Canadiens all the way. Download it right now on your iOS or Android device, free to Sportsnet ONE subscribers.
---
 
"That's a good question," MacTavish said. "It certainly improves our circumstance, not just with respect to coaching, but with respect to climbing out of this thing and playing great hockey.
 
"Nuge is fast-tracking," MacTavish said. "The thing I'll say about Connor is, he's not only the most productive player out there, he is the most dynamic. We haven't seen a player with that electrifying a skill set in quite some time. So we'll have the pleasure of piecing it all together."
 
This isn't even the first time Lady Luck has shone on Edmonton at the Draft Lottery. In 2012 the Oilers were second, but their number came up and they moved ahead of Columbus into first place. The top two picks that year were Yakupov and defenceman Ryan Murray — both good players, but neither touted anywhere near as highly as McDavid, commonly referred to as a generational player.