The afternoon start time for the 2015 Winter Classic is likely to be pushed back, according to Sportsnet's Chris Johnston.
The issue with the start time is weather-related. Forecasters are projecting the weather in Washington to be around five degrees Celsius at 1:00 p.m. ET (when the game is scheduled to start), but the glare from the sun is what could delay the start time at Nationals Park.
---
Watch Episode 4 of Road To the Winter Classic, Jan. 6 at 7 p.m. ET on Sportsnet Ontario. MORE: Winter Classic Live
---
This would not be unprecedented as the 2012 Winter Classic in Philadelphia at Citizens Bank Park was delayed for two hours and a game earlier this year at Yankee Stadium was delayed close to 100 minutes.
According to The Canadian Press, some of the Washington Capitals' players will wear eye black to help deal with the sunshine.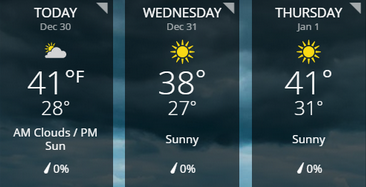 (courtesy of the Weather Channel)