The 2016 World Cup of Hockey rosters have been announced, and although there has been a ton of controversy surrounding some of the players not named, what we're looking at today is the approximated strength of each roster.
Using Sportlogiq's 2015-16 season data, we can combine the named players to create team averages for a variety of statistics, getting an idea of where those teams will be strong, and where they'll be weak. However for simplicity's sake we'll focus mostly on scoring chances.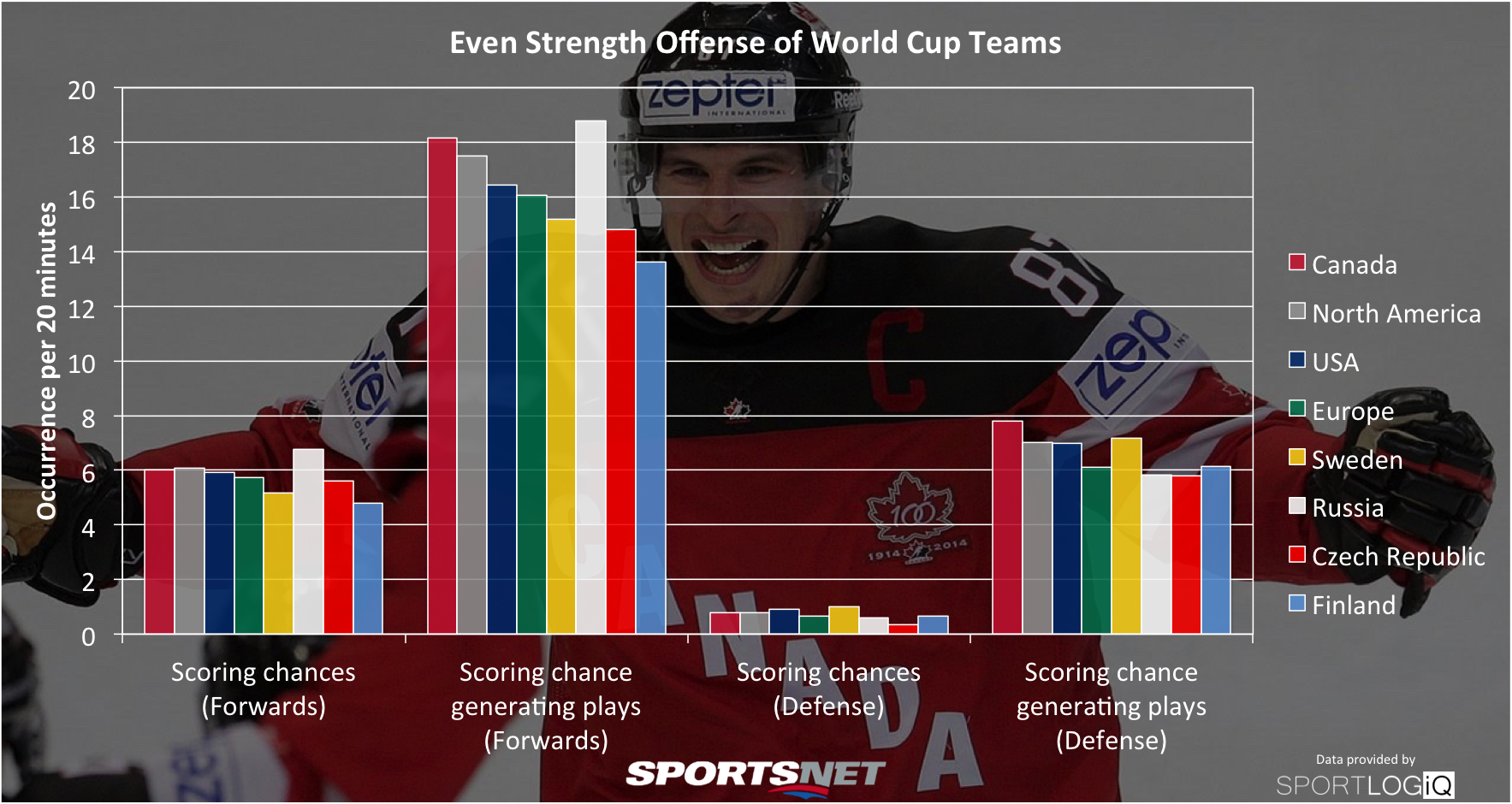 Canada
It shouldn't be surprising that Canada brought an extremely strong, balanced team, even if it could be argued that they didn't bring their best possible team. Team Canada has a nice group of forwards who almost all produce individual scoring chances at a first-line rate, save Ryan Getzlaf and Joe Thornton, who focus more on passing than shooting.
Canada's defencemen are also the top group in the tournament, however the defencemen projected to play on the third pair, like Brent Burns, are by far the best offensive players. This roster doesn't really have much for weaknesses compared to others, with the only real worry being misallocation of talent.
North America (U24)
Inexperienced but stacked with talent, Team North America looks like they could be a real threat in this tournament. Loaded with excellent point producers, the Under-24 team is actually the second highest rated forward group in individual scoring chances after Russia (whose calculation comes with a few grains of salt, but we'll get to that), and third in scoring chance generation.
The squad of defencemen is also surprisingly strong offensively, ranking third in scoring chances and scoring chance generation. Something to look out for is the fact that they have very few players known for defensive awareness on their roster. The likelihood of playing a run-and-gun style could put extra stress on their inexperienced goalies, even if their presumptive starter is a couple wins away from a Stanley Cup.
United States
The Americans had perhaps the biggest controversy of any team with their snub of Phil Kessel, but their individual scoring chance numbers aren't as low as you would expect based on some of the forwards they chose. Thanks to players like Joe Pavelski, Max Pacioretty and Blake Wheeler, the U.S. is right there with Canada and North America on average, even with Justin Abdelkader's third-line numbers dragging them down.
Team USA has the most aggressive defensive group, generating the most individual scoring chances, but they are pretty weak defensively, with a lot of players who take risks and aren't able to get back in the play. A lot of defensive stress will be placed on Ryan McDonagh, who is coming off a poor year, and Ryan Suter.
Europe
A lot of people expected Team Europe to be the weakest or at least one of the weaker teams in the tournament, but up front at least, that doesn't seem to be true. A nice mix of veteran international hockey players like Marian Hossa, Marian Gaborik, and Anze Kopitar with younger players like Leon Draisaitl and Tomas Tatar gives Team Europe a surprisingly strong group offensively.
Where it falls apart for Europe is their defensive depth, where they have one top guy in Roman Josi, and two solid top-four defencemen in Zdeno Chara and Andrej Sekera, but the rest are uninspiring.
Sweden
Shockingly, only Patric Hornqvist, Filip Forsberg, and Carl Hagelin produced scoring chances at a first-line rate among Sweden's forwards, as Tre Kronor seems to be favouring an aging core over their young players. As a result, they appear to be one of the weakest offensive teams here.
However, outside of Niklas Kronwall, they have the most mobile group of defencemen in the tournament, and likely the most dynamic. The main strength of Team Sweden will be their transition play because of this.
Russia
Unfortunately with Russia, we don't have data on a number of their players since they're from the KHL. Those players are also likely to be the weakest players on the team, so their lack of inclusion in the dataset lifts the averages of the team up significantly. With that said, this Russian team is stacked at forward, boasting three of the five best scoring chance generators in the tournament.
Their weakness is undeniably their blue line corps, which is likely to get weaker since Slava Voynov will not be allowed entry into Canada for this tournament.
Czech Republic
Once a hockey power, the Czechs look like one of the weaker teams in the tournament. Their biggest weakness will be their defence, where unless Michal Kempny impresses in a big way, the best of the bunch looks to be Radko Gudas, who is a good player, but not a top-pairing guy.
The Czech blue line has very little ability to drive scoring or possession. Their biggest strength may be their young players surprisingly. Tomas Hertl, Ondrej Palat, and David Pastrnak are all excellent and only improving. They could shock some people if not taken seriously.
Finland
Continually surprising in international tournaments, Team Finland is in the midst of a renaissance at the junior level and just a bit above, but those young players aren't yet proven at the men's stage. Some aging veterans drag this group down significantly on offence, but as always the Finns will be a tight checking team.
The main strength of the Finnish squad may be their young defence, led by Sami Vatanen, Rasmus Ristolainen, and Olli Maatta. This group is surprisingly balanced offensively and defensively. Finland's squad may not be dynamic, but they're stronger than they appear.