It's late July in Canada. So of course we're talking about the next big hockey tournament.
The World Junior Summer Showcase takes place in Kamloops, B.C. from July 28 to Aug. 4, the first step in setting rosters for the 2019 World Junior Hockey Championships in Vancouver and Victoria from Dec. 26 to Jan. 5.
This tournament is the beginning of what climaxes each January as the must-watch WJHC, with four countries (Canada, the United States, Sweden and Finland) pooling their best U20 players. They'll watch those players in Kamloops and throughout the first of their schedules before inviting some — but not all — of them back for December camps.
"This week is a tremendous opportunity for our players, and an important step for our scouting and coaching staff," said Scott Salmond, Hockey Canada's senior vice-president, national teams. "The chance to play against Finland, Sweden, and Team USA will aid in our evaluation process as we look to put together a team of the best junior players who will represent our country in December."
Here's a primer on what's up in the 'Loops starting on Saturday:
[relatedlinks]
• Canada and the United States will send two teams each, and the four sides will play in an expanded field with Finland and Sweden on Monday and Tuesday. Then, Canada and the U.S. will pare down to one team each, and begin a proper, four-team round-robin beginning Thursday.
• The Canadians: Let's start in goal with Michael DiPietro, the Vancouver Canucks third-round pick in 2017, who sees this as his chance to tend the nets this Christmas in the building he hopes to call his NHL home.
"This is something I really want," DiPietro told the Vancouver Province. "I want to be the starter. I want to win gold here in Vancouver and that's my goal for Christmastime, and I'm not going to let anyone get in the way of that."
Jett Woo, another Canucks prospect, will man Canada's blue-line along with Oilers first round pick Evan Bouchard, who will very likely play at least eight or nine NHL games in Edmonton this season.
Up front, a couple of Ottawa picks — Shane Bowers and Alex Formenton — join a group of Canadian forwards that features 11 first-round picks, including Oilers left-winger Ryan McLeod.
There are only two draft eligible players for 2019 on the Canadian roster: goalie Matthew Welsh and forward Joel Teasdale. Tim Hunter, the former Calgary Flames body guard who coaches the Moose Jaw Warriors, will coach the Team Canada juniors.
• The Americans: Good news for ticket sales in Vancouver, likely the sexiest name on the U.S. roster is Quinn Hughes, the shifty defenceman drafted seventh overall by the Canucks in June. The discussion on whether Hughes stays in Vancouver this fall or returns to the University of Michigan will begin in Kamloops, with an entire province weighing in as the jury.
Montreal has a drafted goalie here in Cayden Primeau and a first-rounder in forward Ryan Poehling, while Edmonton (defenceman Phil Kemp), Ottawa (forwards Brady Tkachuk and John Gruden) also have prospects on the American roster.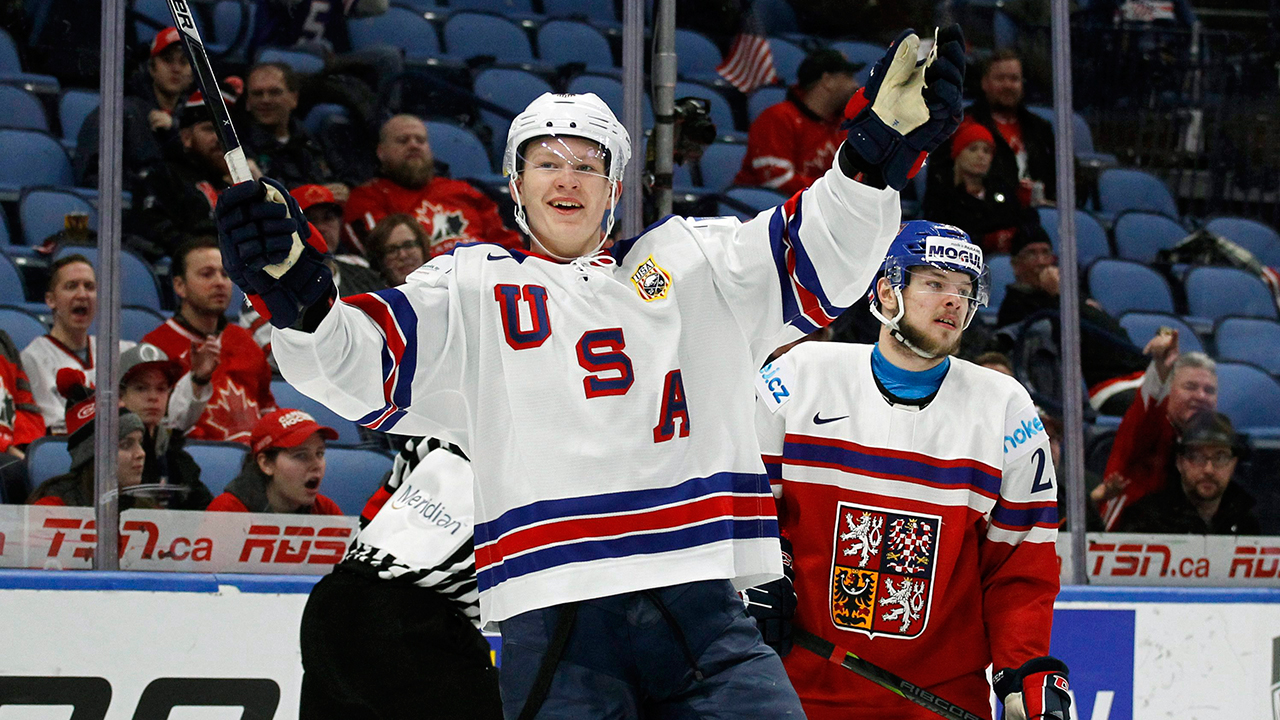 Ottawa Senators first-round pick Brady Tkachuk will represent the United States at the upcoming World Junior Summer Showcase in Kamloops, B.C.. (Jeffrey T. Barnes/AP)
• The Swedes: There is no Rasmus Dahlin on the Swedish roster, but fellow blue-liner Adam Boqvist (eighth-overall, Blackhawks) is here. So are fellow first-round picks Nils Lundkvist (Rangers), Filip Johansson (Wild), on a Swedish roster that is half the size of Canada's or the United States, but always strong.
Jets fans can get a look at forward David Gustafsson, while Habs draft Jacob Olofsson is slated to play, but otherwise the Tres Kronor are light on Canadian drafts.
• The Finns: The Suomi roster has been harder to track down, but two names that are reportedly not on the list are 2018 Montreal draft picks Jesperi Kotkaniemi and Jesse Ylonen. They seem like sure things for the Christmas tournament — unless Kotkaniemi is skating with the Canadiens — so we can only assume the Finns are using this Kamloops tournament for what it is: a showcase to round out the roster.
Canucks fans do have someone to watch though with 2018 fifth-rounder Toni Utunen expected to play, after captaining the Finns' U18 team last season.