For a long while now, the Carolina Hurricanes have been a popular pre-season pick to squeak into the playoffs and do some damage among the analytically inclined section of the hockey community. They've been a positive shot differential team for six straight seasons and recently have been among the best Corsi teams in the league.
As someone who cut their teeth in the hockey writing world around the time Corsi was coming into its own as a relevant statistic to measure performance, one of the biggest names in the data-driven hockey world at the time was Eric Tulsky.
Tulsky was hired by the Hurricanes first as a consultant, then named a full-time hockey analyst in 2015, and has since been promoted to Vice President of Hockey Management and Strategy.
A lot of people who started writing about hockey with a statistical analysis bent around the time that Eric was rising to prominence have a rooting interest in his success, and I'd count myself in that biased group. Eric is not only extremely intelligent, but also funny and engaging, so it's natural to root for him. I think that may have actually had a lot of people betting on the Hurricanes before the team was ready to compete.
Senior Writer Ryan Dixon and NHL Editor Rory Boylen always give it 110%, but never rely on clichés when it comes to podcasting. Instead, they use a mix of facts, fun and a varied group of hockey voices to cover Canada's most beloved game.
This year though, the Hurricanes not only finally found their way back into the playoffs for the first time in a decade, they ousted the reigning Stanley Cup champions in the first round in a fairly convincing performance. Now they're close to putting another higher seed on the edge as they head home to host the New York Islanders Wednesday night with a 2-0 series lead.
So the Hurricanes fooled us for several seasons with good but incomplete underlying numbers, but they're now delivering on the promise that has been clear since around the 2015-16 season. What has changed for them to go from playing structurally well but not being competitive, to actually competing in the Stanley Cup Playoffs?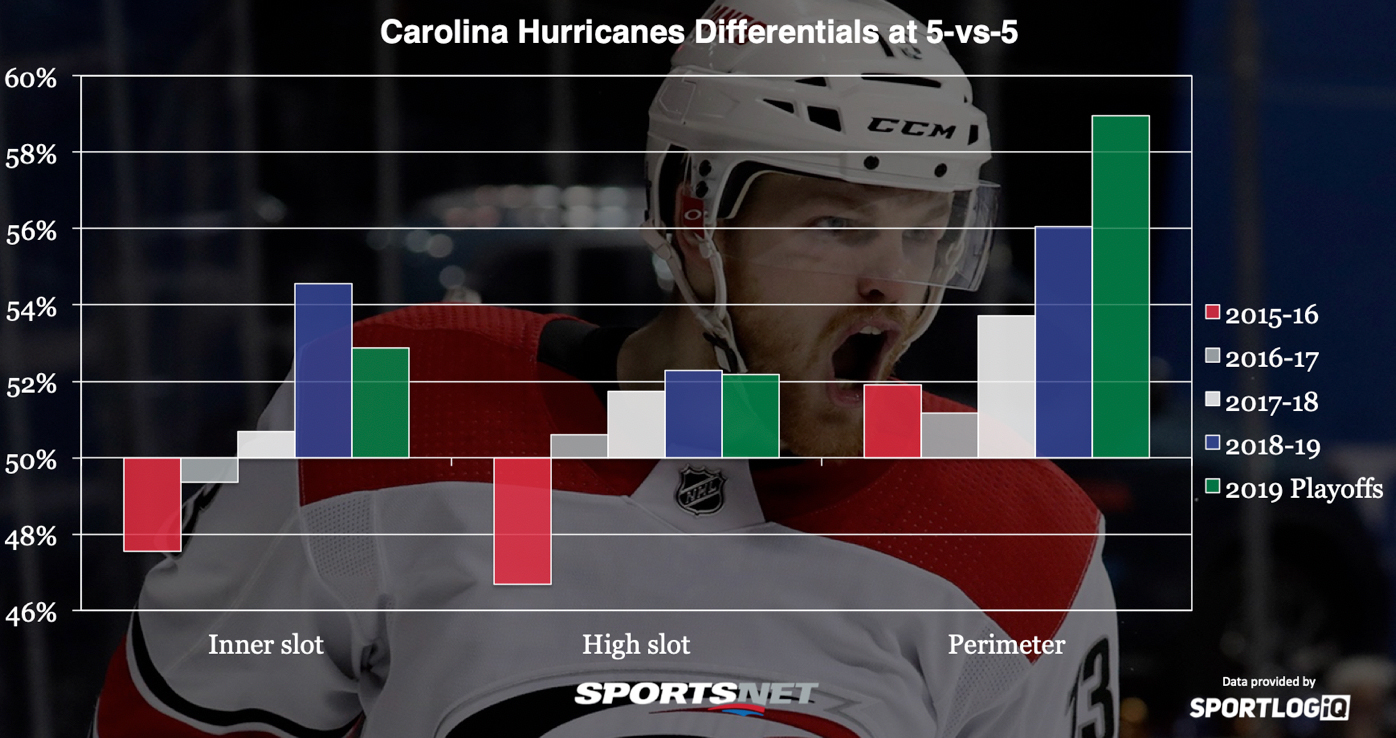 While the overall shot attempt numbers have been strong for a long time, it wasn't possible for the Hurricanes to simply flip the switch and control shots from all areas of the ice. There has been an incremental, linear progression each season in both controlling quality shots and shots overall.
Not all of this is going to come from strategy, obviously. The Hurricanes have overhauled their roster in recent years with the additions of Sebastian Aho and Teuvo Teravainen, along with Nino Niederreiter this year, and some veteran presence in Justin Williams.
They've also improved their defensive group both with additions such as Calvin De Haan and Dougie Hamilton, and with Brett Pesce and Jaccob Slavin growing into prime age NHLers.
It's important to note that even with smart people behind the scenes it took the Hurricanes several seasons to claw themselves out of the red in quality chances, and now that they've done it, things are moving forward more rapidly than ever.
Eddie Olczyk: 'It's been the perfect storm for Carolina'
April 29 2019
Last season was the first year where the Hurricanes managed more high danger chances or inner slot shots than their opposition at 5-on-5, and it was very close: they controlled just 50.69 per cent of them.
After proving they could do it and shifting their roster more towards offence, along with head coach Rod Brind'Amour's more aggressive coaching style, this season they jumped up to controlling 54.6 per cent of those opportunities. That was one of the best marks in the league and it helped propel them to victory over the Washington Capitals despite losing the playmaking battle, something the Capitals truly excel at.
Of course, there's another big factor in Carolina that has turned them into a strong team after constantly being on the outside looking in: Goaltending.
Neither Petr Mrazek or Curtis McElhinney are big names in the goaltending world, but they've provided the Hurricanes with stability in net that hasn't existed there for a long time. Just look at them compared to the previous few seasons of Hurricanes goalies.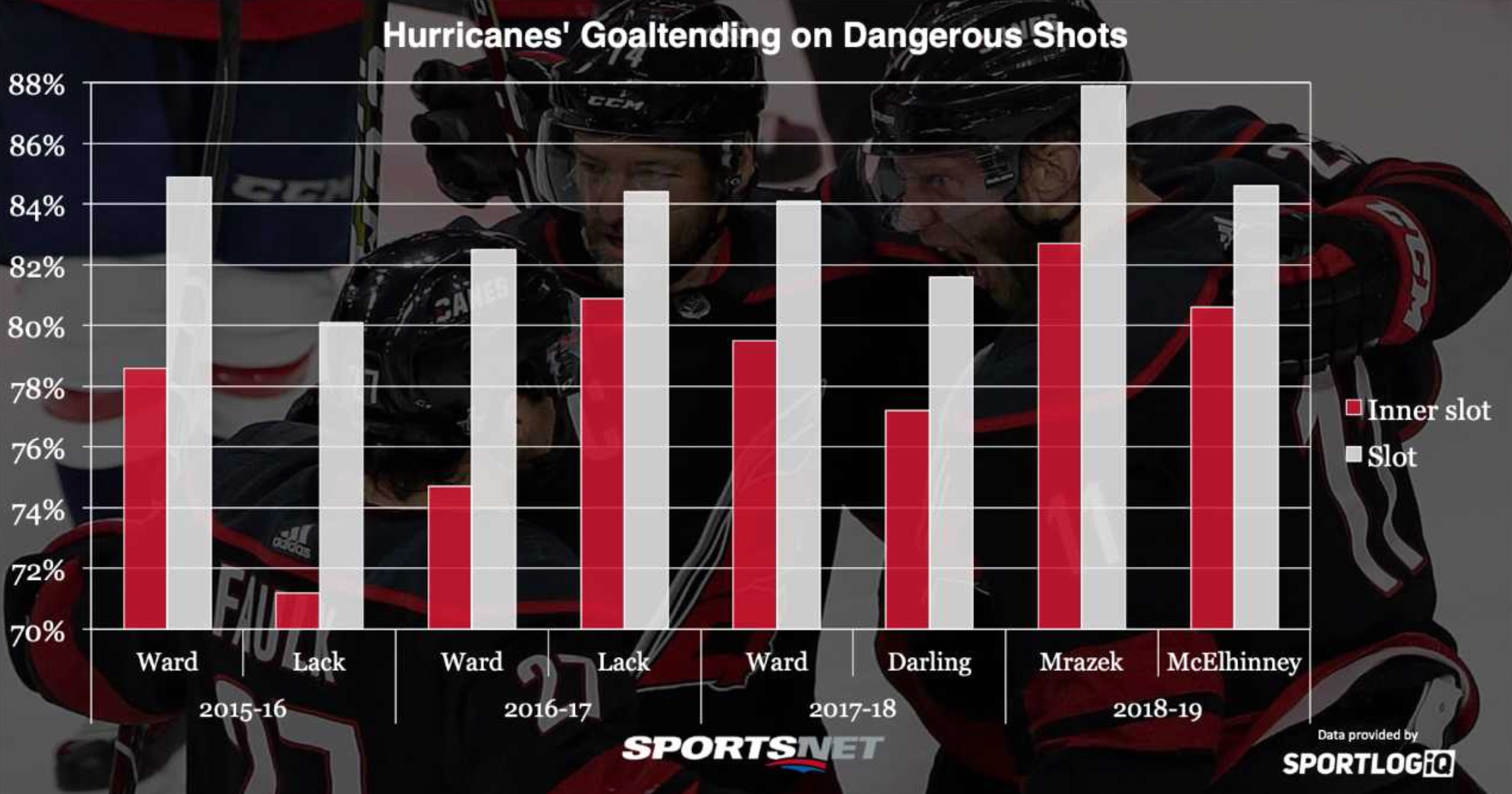 Knowing that over this time period save percentage around the league has actually dropped, it's pretty amazing that Mrazek has posted the best numbers of any Hurricanes goaltender in five seasons, and McElhinney has arguably been the next best on dangerous shots, fighting it out with Eddie Lack from 2016-17. But McElhinney played nearly twice the minutes that Lack did that year, so I would give him the edge in that one.
Mrazek and McElhinney didn't have spectacular seasons — it's just that they weren't a problem and that's really all it takes for a good team to push for the playoffs. Both are capable of giving superb performances and that's obviously nice, but it's the consistency in not blowing games that matters most.
Rod Brind'Amour: Curtis McElhinney and Petr Mrazek are so key for us
March 16 2019
With consistent goaltending from both guys operating in a platoon environment, the Hurricanes were able to take some more risks offensively and score at a higher rate without worrying about what would happen if they messed up and the play came the other way.
The good underlying numbers the Hurricanes posted in previous years weren't just noise, they were a signal that Carolina had serious promise. However, a lot of us in the analytics community bit too early on the broad strokes numbers when it was the slower, incremental improvement that made the Hurricanes what they are now: a dangerous playoff team that may even become a Stanley Cup contender.