It shouldn't be controversial to say the Calgary Flames are playing over their heads right now. A 12-2-1 record is hotter than any modern NHL team can run over the long haul and at some point it's going to come to a stop.
Nevertheless, the Flames should not be dismissed as a fluke. This is a dangerous team that should be a handful for whichever opponent it meets in the post-season, even if an awful lot has gone almost too well for them over the past month and a half.
Calgary's goaltending, which has been shaky all year, has stabilized. Mostly it's been Brian Elliott, but the tandem as a whole has a .938 even-strength save percentage since the start of the winning streak. That's 17 points better than the team's average on the season, which is probably closer to reality. Only Washington can claim a team save percentage above .938 for the full year.
Flames shooters have also started finding the mark, scoring on nearly 10 per cent of their even-strength shots over this run. Again, only the Capitals have a better full-season percentage than what the Flames have done over their past 15 games. Especially notable is Micheal Ferland, who has almost doubled his career goals count over this run as the gunner on Johnny Gaudreau's line.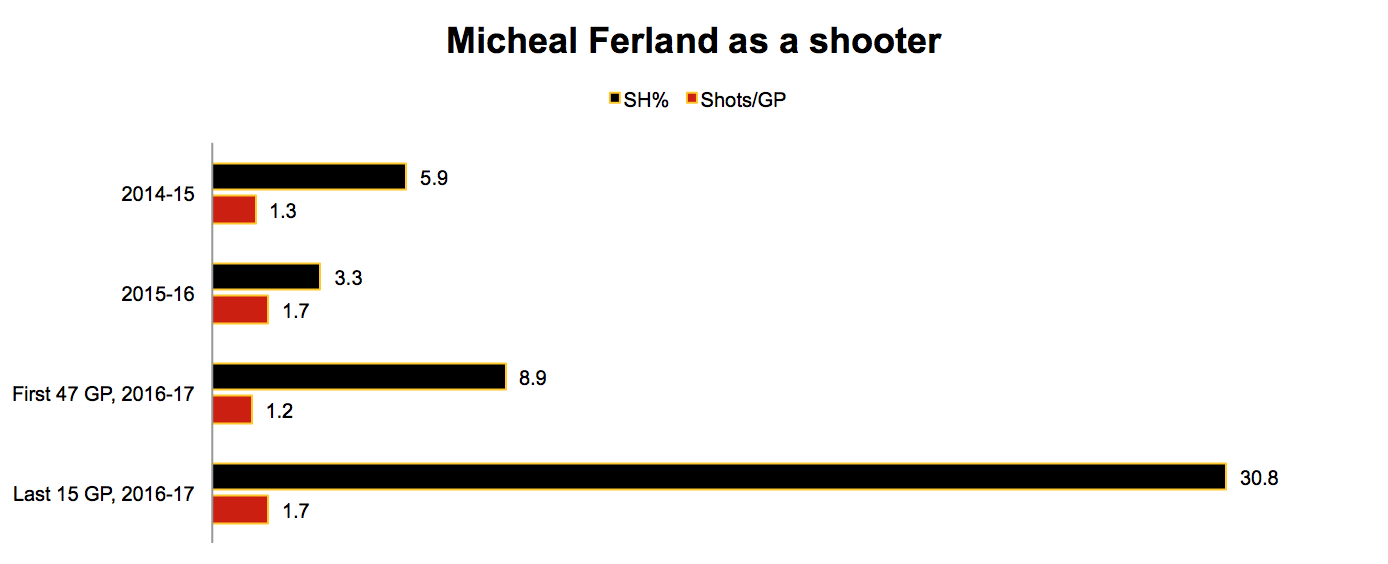 Then there's the overtime record. Calgary has played 15 games that went beyond regulation all year, with a disproportionate share of those games and wins coming during this winning streak:
• OT/SO record, first 51 games: 5-3
• OT/SO record, past 15 games: 6-1
Some of these trends are bound to not continue. Yet even when these effects fade away the Flames are still a formidable NHL club.
Calgary started the year as an average puck possession team. There were highs and lows, but taking score effects into account the net result prior to January 1 was just the tiniest bit under 50 per cent by Corsi or Fenwick. That kind of team can win with good special teams or an incredible goalie, but it's always in danger.
Since flipping to 2017 though, it's been a different story. Even before the Flames went on their current run, they started to do an increasingly good job of out-shooting the other team. Eventually that turned into wins. Since the turn of the calendar and again adjusting for score, they've owned 52 per cent of all shots at even-strength, a total which ranks sixth in the NHL over that span and has them neck and neck with the division-leading San Jose Sharks.
There's even room for growth in some areas. The power play was clicking along at well above 20 per cent just before the Flames started this streak, and has contributed just six goals (15 per cent success rate) in the past 15 games.
Additionally, some of the recent good news stories should continue, albeit in a reduced form.
Both Elliott and Chad Johnson have been quality goaltenders for most of their NHL careers. It's not unrealistic to expect one of the two to give the Flames competent play, which is mostly what's happened this season. Outside of a brief window in early January, one of the two has always been capable this season.
Even in October, when it looked like goaltending was going to cost Calgary its season, Johnson was decent immediately and the problem was that the team didn't go to him quickly enough.
Ferland almost certainly won't keep scoring at his present rate, but his linemates Gaudreau and Sean Monahan were uncharacteristically bad at the start of the season. Whether or not Ferland sticks, the team's best offensive unit should continue its resurgence.
It will take careful handling for this roster to stand the rigours of the post-season. This summer's acquisition of Troy Brouwer has backfired spectacularly and he's dragged down the third line with him. The defence is also iffy. Michael Stone's been competent so far, and as long as that holds the Flames can run out two solid defence pairings, but certainly not three. Those are vulnerabilities opponents can and should exploit.
Nevertheless, this is a team moving in the right direction. After missing the playoffs in six of the past seven seasons, Calgary will be back. This shouldn't be a one-off, either; unlike in 2014-15, the Flames finally have a foundation to build on.