The rumours of Travis Zajac being Toronto-bound have been swirling the past few days following Elliotte Friedman's remark in his 30 Thoughts last week that more than one NHL executive thinks Lou Lamoriello would love to get his hands on the Devils centre. Fast forward a few days and Rich Chere of the Newark Star Ledger was throwing around names like Nazem Kadri and James van Riemsdyk as potential targets for New Jersey.
From a contract perspective, trading either would make very little sense for Toronto. Zajac is 30 years old and has six years remaining at a cap hit of $5.75 million. Kadri is five years younger and a pending RFA on a one-year deal at $4.1 million, while JVR is 26 with three years left at a cap hit of $4.25 million. Kadri and JVR are essentially in their production primes offensively—both could produce 60 or more points this season. Zajac appears to be on the down slope of his career, but we should examine who his contract comparables are (sidebar: Dustin Brown's deal with Los Angeles is easily the worst contract of this group).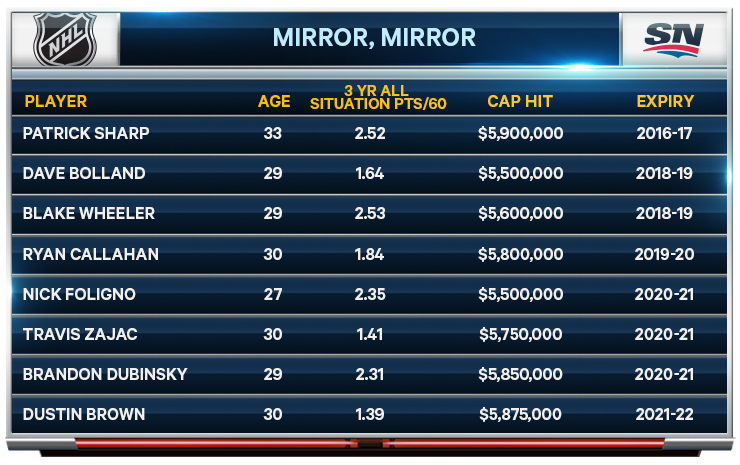 Zajac hasn't topped 50 points since he had 67 as a 24-year-old in 2009–10. Last season, he registered a paltry 11 goals and 25 points in 74 games, continuing a severe downward trend that has seen his production decline by over 50 percent from his peak contribution. This despite leading Devils forwards in ice time with an average of 19:04 per game and playing predominantly with offensive players like Mike Cammalleri and Jaromir Jagr at even strength last season.
A great way to illustrate the distinction between the three forwards is the rate at which they've generated individual scoring chances the past six years. JVR's rise has been accelerated by playing with a top-10 offensive talent in Phil Kessel, but Kadri's production has been similarly exceptional. Zajac saw a spike in performance late in 2013–14, but last year was the worst he's shown offensively since he was a rookie.
Essentially, Zajac has been cast into a top-line role as the defensive conscience alongside superior offensive skaters. In terms of offensive production, the Leafs centre that most closely resembles Zajac over his career is Tyler Bozak.
The difference between Bozak and Zajac is that, unlike Kessel's long-time sidekick, Zajac has actually been effective defensively and excels from a possession standpoint. On a Devils team noted for its shutdown abilities, Zajac has had the most significant impact on 5v5 shot suppression by any current skater over the past two seasons.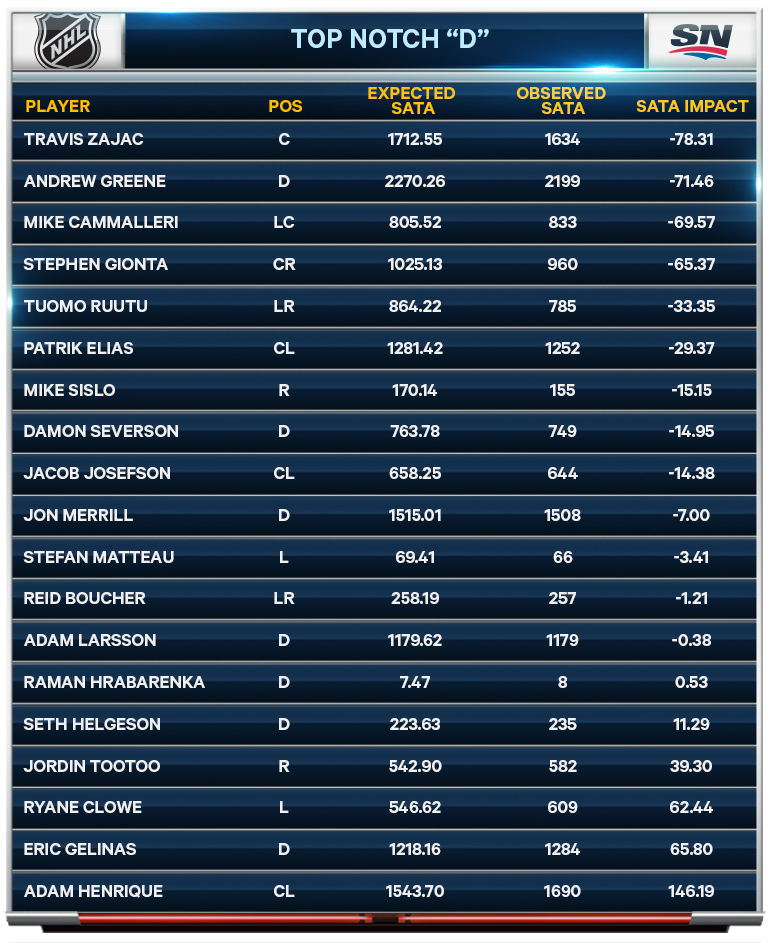 A Bozak-for-Zajac exchange appears more palatable, until you factor in that Bozak's cap hit is $1.05-million lower than Zajac's and his contract expires three years earlier. Zajac's defensive acumen would be great, but isn't remotely worth the cap commitment to an aging skater in significant offensive decline. The only way the Devils should be able to find a willing partner to take on Zajac's absurd contract is if they retain a significant portion of it in a trade and/or ship out draft picks and prospects to sweeten the pot.
The closest comparison is Glen Sather's 2009 fleecing of Montreal that saw Scott Gomez land with the Habs. Not only did Sather get out from under the remaining five years of Gomez's contract, he managed to land Ryan McDonagh and Chris Higgins in the process.
If the Leafs hope to avoid being fleeced to that degree they should avoid Ray Shero's overtures and the siren song of an overpriced veteran centre who plays good defence.
---

On print and digital newsstands now: iOS | Android | Windows
---