The text message that appeared on Kaleigh Fratkin's phone on May 1 came as a surprise. The first-ever Canadian to sign in the NWHL wasn't expecting everything to happen so fast.
"Tonight there is an email that will be going out for people that are a 'yes' or 'supportive,'" the text read. "Would you be considered 'supportive'?"
The message of those who are "supportive" dropped Thursday, and it was huge and impactful and brave and forward-thinking, with a #ForTheGame hashtag, to boot. It comes with the backing of legends, like Billie Jean King. It comes with the support of big influential companies in hockey, like Bauer. It comes with the endorsement of the biggest names in the women's game, like Marie-Philip Poulin and Kendall Coyne-Schofield and Hilary Knight and Shannon Szabados and Noora Raty and Brianne Jenner.
The message, as you no doubt know by now, is that more than 200 pro women's hockey players — from Canada and the U.S. and Europe — will "not play in ANY professional leagues in North America this season until we get the resources that professional hockey demands and deserves."
Without a doubt, there isn't a female hockey player on earth who doesn't think the best in the women's game deserve more pay and medical coverage and practice time and just about everything that comes with the pro experience.
Fratkin is certainly in that camp. But before she responded yay or nay as to whether she'd join the movement, the 27-year-old defenceman from Burnaby, B.C., a two-time NWHL all-star, had some questions of her own. Like: Is there definitely going to be a new league? Who's running it? What's the pay structure? Where will teams be based? How many teams will there be?
All of them went unanswered, and so Fratkin texted back to that message on Wednesday night: "If forced to make a decision this quickly without information, I'm a no. Not supportive because there's so many unanswered questions."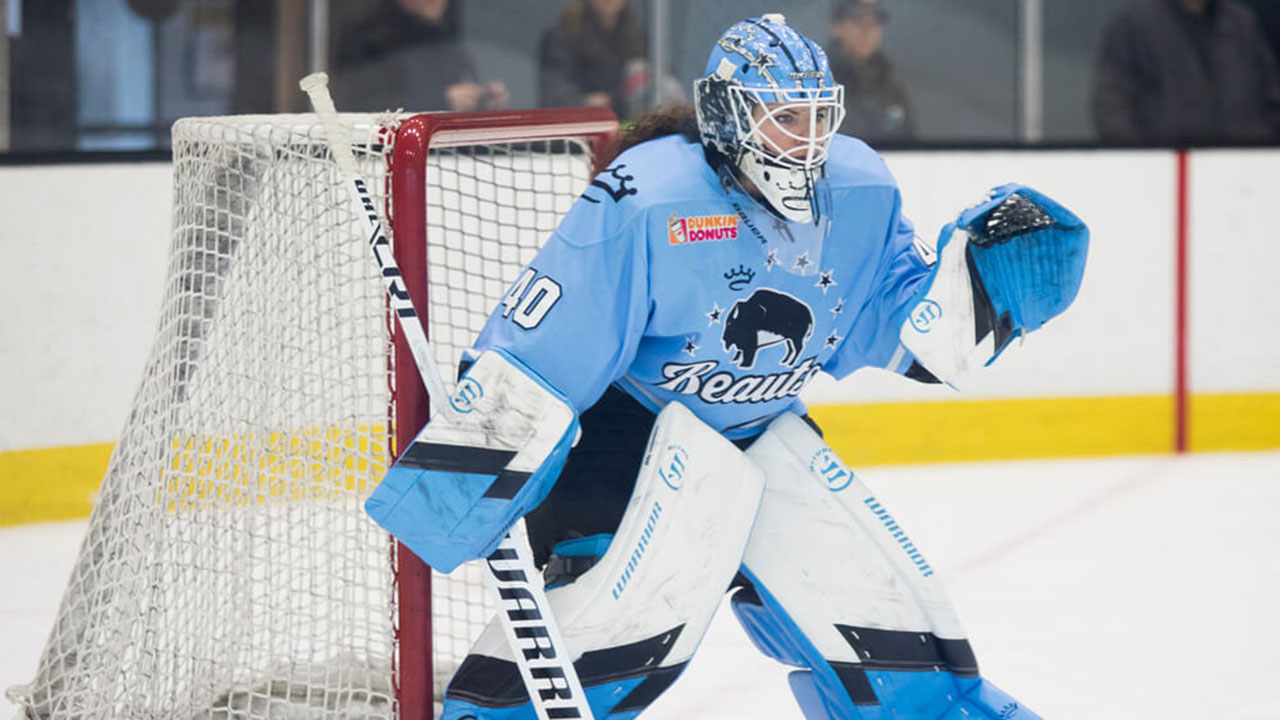 Players are unified in what they want: One incredibly strong league, the best ever. It's just that there are different ideas on how to get there. And Fratkin is far from alone in wondering whether choosing to potentially sit out a season until presented with a better option is the way to go.
The majority of NWHL players didn't send out the #ForTheGame message on social media on Thursday, and we're not just talking third-liners with no chance at playing in a five-team women's hockey super league who are questioning the plan. Jillian Dempsey is the NWHL's all-time leading scorer and the captain of the Boston Pride, and she didn't send out that message on Thursday. Madison Packer, who had the fifth-most goals in the league last season, didn't either.
Fratkin says some players sent the message, but don't necessarily stand behind it. "This whole movement happened really fast. I think a lot of people didn't get a ton of information and just felt like they had to do it. They felt pressured."
NWHLPA director Anya Battaglino adds there are many more all-star calibre players who aren't on board with potentially sitting out a season and sacrificing what's been built in the NWHL, but they haven't yet been vocal about it.
Former Team USA captain and 2018 Olympic gold medallist, Meghan Duggan, says the NWHL isn't the answer going forward. Duggan, a former NWHL player who wasn't medically cleared to play this season, is among the 200-plus players behind the #ForTheGame movement, which she calls "exciting" and "trail-blazing."
"Clearly based on the stance players have taken, [the NWHL] is not the best option right now," Duggan says. "I think that the NWHL and the CWHL obviously have kind of continued to show us through some of the ups and downs over the years that they're not viable long-term options.
"As players we're excited about where the future can go," Duggan adds. "It certainly can look like a handful of different things, but we really want to be able to develop and play in a league that has a business model established for a long-term viable single women's professional hockey program in North America."
Certainly, the NWHL is trying to be that league with the answer. On Thursday, just a couple hours after the players' message dropped, the NWHL sent out details for player salaries next season. This includes an increased team salary cap, from $100,000 to $150,000, and a split revenue share from any sponsorship dollars. In other words, if a company ponies up $100,000 toward the league, $50,000 goes to the players.
"That they're willing to do a 50/50 revenue split with players, that's something that shouldn't be overlooked at all," Fratkin says. She points out the NWHL recently held a conference call for all players — prospective, current, former — to discuss the league's future, and potential sponsorship opportunities that were in the works. "As players, that's exciting," Fratkin says. "It was great news until everything else came up [on Thursday.]"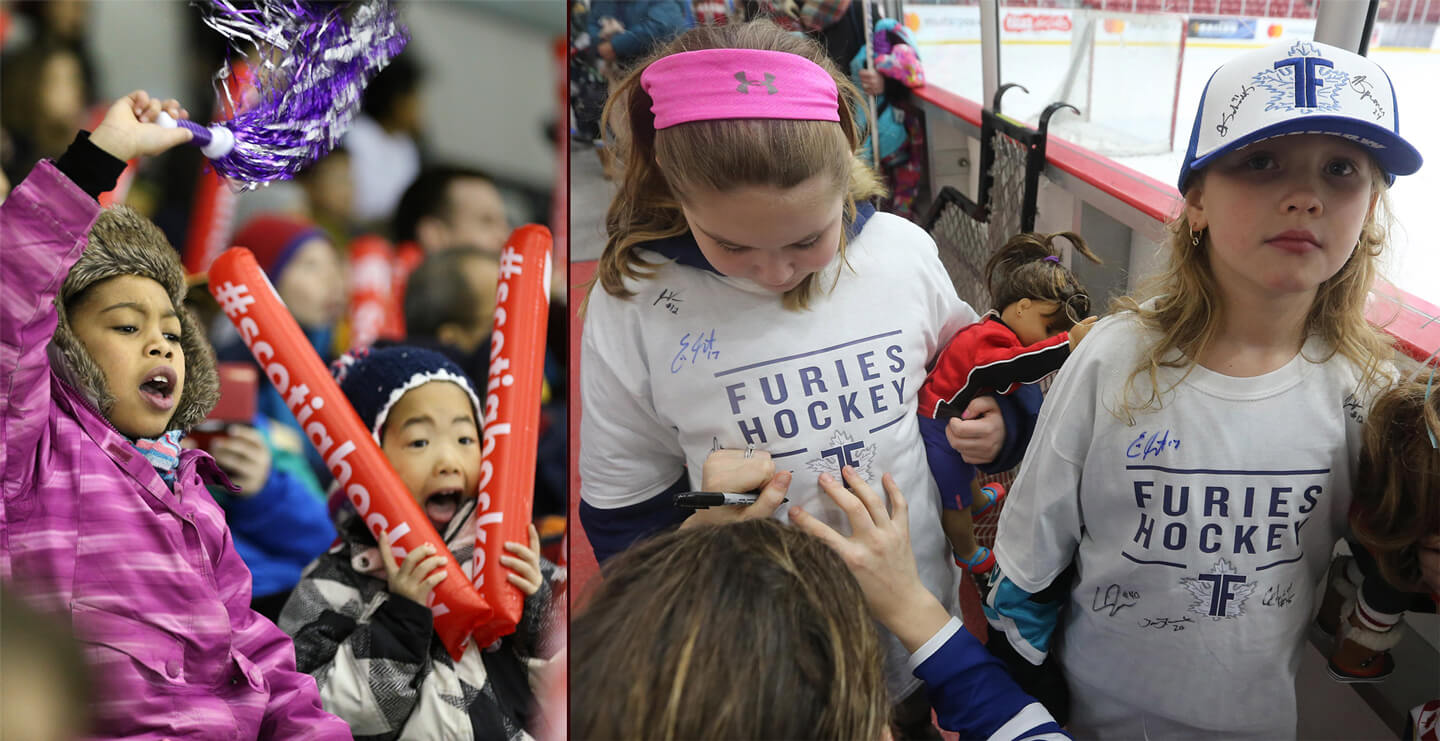 The worry among those who didn't initially jump on board with the #ForTheGame message is that players are relying on rumours about potential NHL involvement for the 2020-21 season, that they're risking sitting out a season and potentially destroying the NWHL with the hope that the NHL will step in. There's also the matter that in 2020, the NHL will potentially have something big on its plate, with the CBA set to expire.
The NHL's involvement is still, seemingly, a question mark. Deputy commissioner Bill Daly told Sportsnet in a statement that the league was aware that more than 200 players were planning to announce they would potentially sit out a season in search of a better deal, but that the NHL wasn't involved "in any way."
"We will have to explore and understand what it means to the bigger picture and in the longer term," Daly wrote. "The NWHL is an existing organization with a business and future plans. We have always supported their objective of creating a professional option for elite women hockey players. And we have no interest in, or intention of, interfering with those plans. So, I don't anticipate any further reaction or announcement from the NHL pending us understanding the situation better, including plans for next steps."
Fratkin says any information she heard about the announcement to sit out the season was "around the premise that if there are no leagues and women's hockey folds altogether, then the NHL would step in." In other words, an attempt to take the NWHL out of the picture so that the NHL takes over.
Duggan stresses that the message Thursday wasn't to force Gary Bettman's hand. "I don't think we're trying to force anything or make magic happen," she says. "We're trying to take a stand and a step to show the world that where women's hockey is at right now is not where we want to be. By not playing I think it shows there is a clear need for something better. We will work together towards that one viable league."
For now, the only existing league in North America is the NWHL, since the CWHL abruptly folded and officially shuttered its doors on May 1.
Battaglino says the NWHLPA was "widely left in the dark" on the message that came out Thursday, that she's been working with the legal team to hammer out improved player contracts for next season. She's frustrated, because many of the league's best players are opting to sit out without ever having come to the PA first. "None of the spearhead leaders of this counteractive movement gave me any actionable wants, like, 'We will not play without this salary minimum,'" Battaglino says. "There was never a clear-cut, 'This is what we want,' and the office denied it. [The NWHL contract] has been rejected before it was ever even presented."
Battaglino says for the first time ever, the lawyers representing the NWHLPA wrote the player document contract. "The NWHL is taking our verbiage, which is huge, because we control the narrative," she says. "And now they're [the #ForTheGame group] screaming something else? It's nonsense.
[relatedlinks]
"If all that energy and support was thrown into creating the best platform in the NWHL, regardless if they like the NWHL or not, that same attraction and revenue would come to women's hockey in a positive light. But here we are."
Here we are, the landscape of pro women's hockey mired with questions, as it has been for quite some time. Certainly you have to figure the NWHL's plan to expand to Canada — to Montreal and Toronto, in time for next season — will be set back.
You also have to wonder what potential sponsors are now thinking: Will they throw money behind the NWHL if it's not the only pro women's North American league in town, or even if it is, but players like Knight and Szabados and Poulin aren't playing in it? Only time will tell.
Of this, there is no doubt: "Our mission is to grow the game and work towards what's best for the game," as Duggan puts it.
It's how they'll arrive there that's to be determined.
"For some reason, we can't all get on the same page," Fratkin says. "The statement shows, everyone wants what's best for the sport — we all do. But is this best for the sport? Destroying the only league that's left? Is that what's best, to destroy another league in hopes — in hopes — that the NHL starts a league?"
Next season, if the puck drops in the NWHL, Fratkin will be there. "My plan isn't to sit out," the Boston Pride defender says. "I think it would be a disservice to the sport."