TORONTO – Team Canada was storming through the tournament and seemingly on a crash course with destiny.
It had played to such a high level that victory seemed all but assured on home ice. Even with a must-win game against Russia looming on the horizon, there was a feeling of invincibility in the air.
Sound familiar?
It's a description that fits Saturday's semifinal at the World Cup of Hockey, but we're actually talking about the gold medal game from the 2008 IIHF World Hockey Championship. There are some helpful lessons to be found from that Sunday afternoon at Quebec's Colisee Pepsi, especially with so many now expecting Canada to win here at Air Canada Centre.
Well, at least for those willing to connect the dots between the two.
"I don't remember a whole lot about it to tell you the truth," said forward Ryan Getzlaf, a member of both teams.
"I remember the celebration," said Jonathan Toews, who was there as well. "That wasn't fun to watch, especially on home ice. It would have been nice to win; it was just a couple unfortunate bounces."
It was a loss in the most heartbreaking fashion imaginable.
There appeared to be no reason for concern after seeing Team Canada go undefeated through the tournament and carry a 4-2 lead to the third period of the final game. But Russia rallied despite failing to convert on two late power-play chances, with Ilya Kovalchuk tying it up five minutes from the final buzzer and nearly leaping into the first row in celebration.
Then Rick Nash accidentally cleared the puck over the glass from his own zone early in overtime and Kovalchuk took advantage of the extra space afforded by a 4-on-3 power play to score the golden goal.
The Russian players jumped up and down all over the place. Alex Ovechkin skated to centre ice and dug up a toonie that had been frozen there by the Canadian ice crew for good luck (he later had it made into a necklace). Some of his teammates planted a flag pole in the hole he left behind.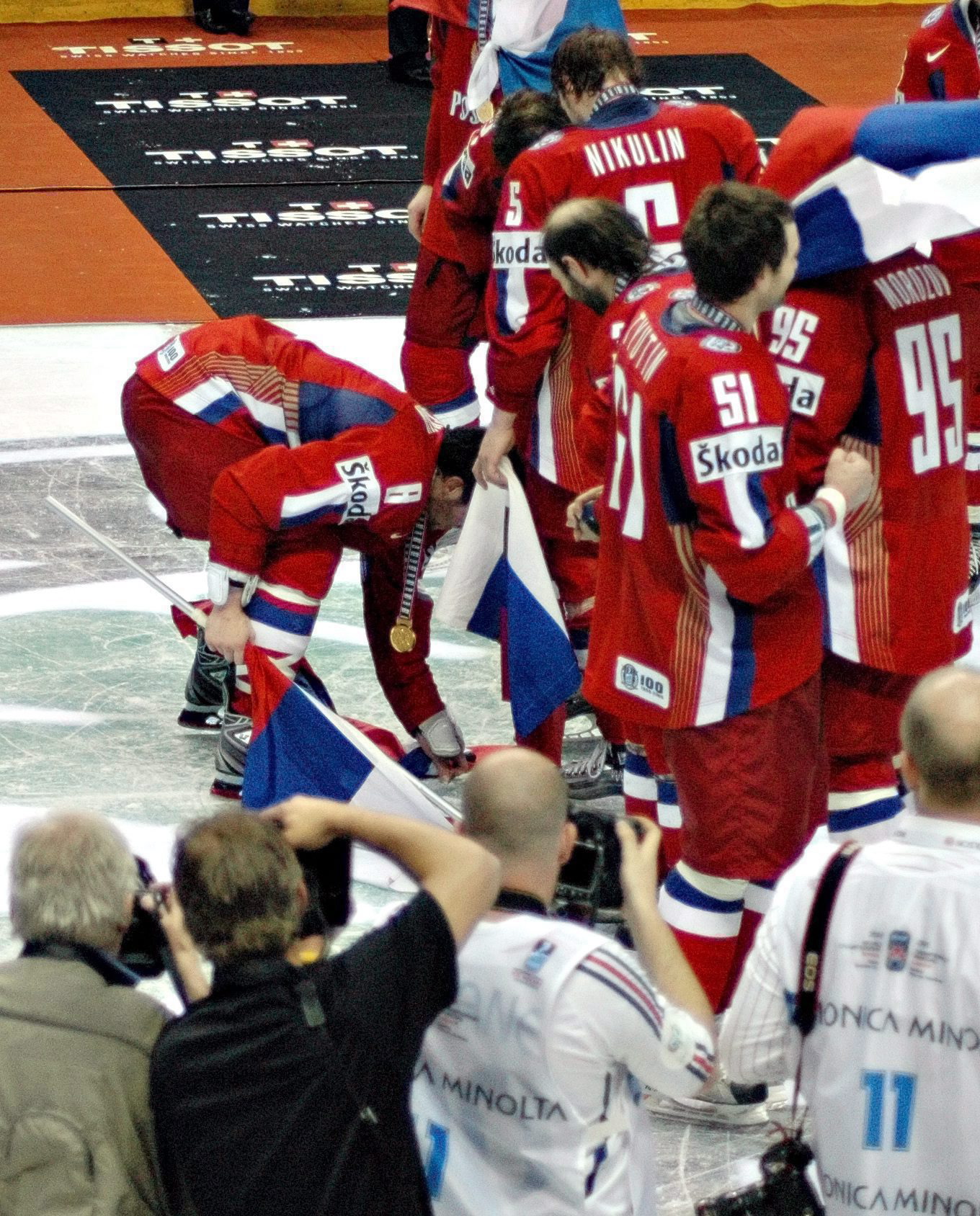 That's the kind of thing Toews is referencing when he talks about the "celebration" – one that carried into the Russian dressing room, where Ovechkin wept into his national team sweater while the party raged around him.
Even though that tournament isn't classified as best-on-best like this one, both teams featured extremely strong lineups with it being held in North America for the first and only time ever.
"That was a pretty good team," said Toews. "A lot of guys went to the world championship; it was almost a great preview of what our Olympic team would look like [in 2010] so it was tough to lose that one. At the same time, it was a good learning experience. I think the guys that were a part of that team were definitely ready for the opportunity in Vancouver and we came out flying in that tournament.
"But yeah – you can't win them all, I guess."
It feels like a prescient thing to keep in mind with Team Canada now seemingly bringing certainty to a sport usually known for its unpredictability. Even with a 13-game win streak in best-on-best competition, anything is possible.
Entering Saturday, Canada is one hot goalie, one uncharacteristic mistake, or one flat effort away from going home empty-handed.
That's why they've devised such a detail-oriented, puck-possession game.
"I don't like surprises," coach Mike Babcock explained Friday. "Not on Christmas, not on my birthday. So I don't want any tomorrow. I want it under control."
In Russia, the 2008 world championship is remembered as that country's greatest hockey triumph. The Soviet Union won the 1981 Canada Cup and numerous Olympic gold medals, but the big victories have been few and far between since the USSR split apart.
Evgeny Kuznetsov was 16 years old and recalls watching his country's gold-medal win on TV.
"I saw Kovalchuk score in Quebec and I was a little guy," he said. "I almost cried."
Andrei Markov was part of that team and this one, remembering the 2008 victory as being "special here in Canada."
For Toews, the silver from Quebec City is the only medal of that colour in his collection. Team Canada is an incredible 44-1-1 with him wearing the sweater – with the only other loss coming against Team USA during the preliminary round of the Vancouver Olympics.
Still, he doesn't look back on it with anger.
"It's still a great accomplishment, it's still a great opportunity to be a part of," said Toews. "You like to win every time, but it's not realistic. I don't think you ever want to come second in a game like that. It's probably even worse against the Russians because there definitely is a rivalry there.
"I'm glad you brought that up; it's a good memory and I'll be thinking about that tomorrow, for sure."