The World Cup of Hockey has finally arrived, with camps open and pre-tournament games under way as of Thursday.
This will be the first true best-on-best international tournament since the 2014 Olympic Games and, depending on whether the NHL decides to go to South Korea in 2018, quite possibly the last for a while.
Whether it's the World Cup or the Olympics or the old Canada Cup, these big international tournaments are always fun. You never know quite how things will play out, with upsets, injuries and breakout performances combining with a compressed scheduled to create a sense that nothing can be taken for granted.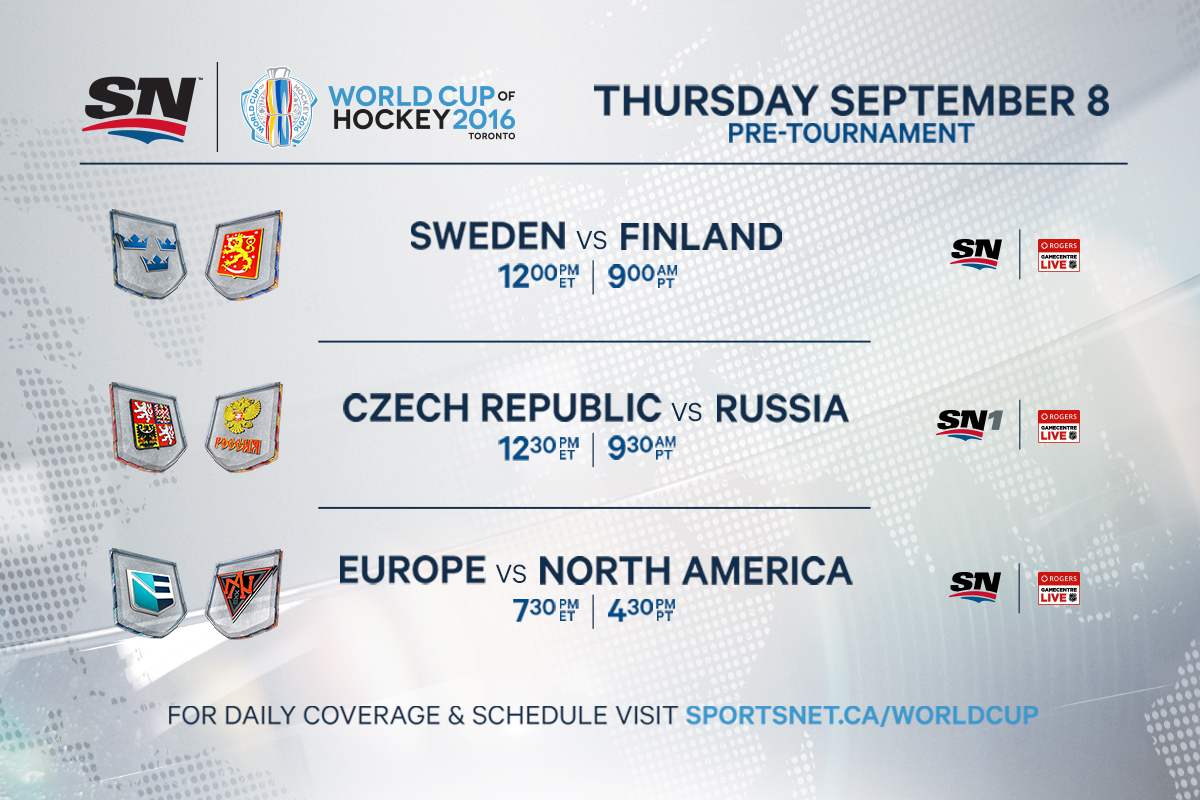 And yet, there's a certain familiarity to be found. Once you've been around long enough to live through a few of these things, you start to realize that there are some recurring characters that seem to show up each and every time.
So today, let's look at 15 of those people – players, fans, coaches and beyond – that you can count on crossing paths with at every major international hockey tournament.
1. The player from your favourite NHL team who plays for another country
This one's always a bit tricky. You like this guy – heck, he might even be your favourite player – but for the next few weeks, you can't cheer for him.
When it comes to international hockey, country comes first—even if only temporarily. You might have this guy's jersey hanging in your closet, but for now, he's the enemy.
But that raises a host of ethical questions. Are you still allowed to want him to do well? As long as he's not playing against your country that night, then it should still be OK, right? After all, you don't want him to come back to the NHL in the middle of a prolonged slump.
Then again, if he heats up he could end up knocking your country's team out of the playoff round, so maybe not. Besides, maybe a bad tournament would give him something to prove for the season. Well, unless it wrecked his confidence…
It's confusing. In the end, you'll usually settle for just hoping he doesn't get hurt. Ideally, he'll stay healthy but not play especially well, which you can then blame on the coaching staff not using him properly.
2. The player from your country that you usually hate but will grudgingly cheer for
Ugh. You can't stand this guy, with his diving and whining and cheap shots and that face that just makes you want to see someone punch it. When it comes to NHL action, you'd never root for him.
But this isn't the NHL. This is international hockey, and national pride comes first. So for just a few weeks, you'll put the past aside and cheer this guy on. Maybe not all that loudly, but you'll do it.
It might leave a bad taste in your mouth, but that's just the kind of sacrifice you're willing to make for your country. Not all heroes wear capes.
3. The player from your country that you usually hate and will never cheer for
No. Just… no. Not this guy.
Look, you love your country, and would do almost anything to support it. But there is a line, there has to be a line, and that line must be drawn right here.
(An entire nation is looking in your direction right now, Brad Marchand.)
4. The NHL coach/general manager/owner who complains incessantly about the whole thing
No matter how much everyone seems to be enjoying the tournament, you can count on this guy to show up at some point and be the black cloud hovering over everything.
This tournament is disrupting the season or training camp! Somebody might get hurt! The players are going to be tired when they're done!
Your reaction to this guy's appearance will depend entirely on whether he works for your favourite team. If he doesn't, you'll roll your eyes and mutter something about excuses being for losers. If he does, then you'll immediately be gripped by a fear that the season is already lost, and wonder if there's any way the tournament could just be canceled before it's too late.
5. The fan who turns out to be an amateur historian
These fans love to show up at sports bars or as the friend of a friend who comes over to watch the game. At least at first, they're usually tolerable and maybe even vaguely interesting. They can rattle off all the Canada Cup winners off the top of their head, and they even remember that Rendez-vous 87 thing.
They seem a little too excited to pull out that whole "the Miracle on Ice wasn't actually the gold medal game" tidbit that everyone already knows, but you let that slide because they're able to explain what was up with that messed-up shootout in 1992.
So they're fine… at first. But pretty soon they've gone a little too far down the rabbit hole and are lecturing you about how Canada lost a bronze medal in 1964 on a rules technicality and how things were so much better back when the Plaxton boys were running up the score in St. Moritz., and the whole thing just starts to feel like a homework assignment.
They don't stop talking, but eventually your eyes glaze over and you just tune them out completely. This usually happens right around the time they say the word "Spengler."
6. The player you've never heard of
Always an awkward moment.
I mean, you're a hockey fan. You pay pretty close attention to this stuff. You'd think you'd know the key players from each of the world's top hockey nations. And yet here you are, watching some guy play top-six minutes for an international powerhouse, and you'll be damned if you have any idea who he is.
Note: This guy has roughly a 90 per cent chance of scoring a big goal against your country at a crucial moment.
7. The player whose nationality it turns out you had wrong all this time
There's nothing quite as humbling for a hockey fan as realizing that you don't really know which players are from which countries, and have just been making bad assumptions based on how their names sound.
Wait, you mean Aleksander Barkov isn't Russian? Are we sure John Carlson isn't Swedish? Was Mark Streit always Swiss? Shouldn't Mikael Backlund and Mikael Granlund be on the same team? How do the Czechs have a guy named Michal Jordan? And Alexander Galchenyuk isn't really an American citizen, is he? (Come to think of it, the people putting together the Team North America roster may be confused on that last one as well.)
By the way, it should go without saying that you never admit to any of this. When you see a player show up on a team you didn't expect them to be on, just pretend like you knew that all along. You faked your way through Douglas Murray being Swedish, you can fake your way through this.
8. The player who's playing for the wrong team
Unlike the previous category, this guy is definitely playing for the wrong team. You're sure you remember him being from somewhere else, and a quick Google search backs you up.
Yet there he is, wearing the wrong uniform, and everyone seems OK with it. From Peter Stastny to Bryan Trottier to Petr Nedved to Brett Hull, these guys tend to show up every few years and confuse everyone.
Obviously, your reaction to this will be 100 per cent determined by which countries are involved. If this guy left another country to play for yours, hey, rules are rules and he's simply exercising his freedom of choice. But if he left your country to play somewhere else, he's a dirty traitor and should be scorned for life.
9. The coach you'd forgotten about who's maybe trying to get back to the NHL
Wait, you recognize that guy. Didn't he coach in the NHL a few years ago? What's he been up to since then?
Coaching international hockey, apparently.
Granted, this is really more of an Olympic thing. The World Cup will occasionally serve up a candidate or two – hello, Ralph Krueger! – but it can't hold a candle to the Olympics, where Ted Nolan or Dave Lewis will show up behind the bench for someone like Latvia or Belarus and we all just roll with it.
10. The referee who hates your country
What game is he watching? Why does he keep calling penalties against the good hard-working boys on your country's team while ignoring all the diving, cheap shots and blatant cheating from the other side? Who got to him? WHO?
To complicate matters, there's a decent chance that the referee who hates your country might also be from your country.
Or at least he was, before this game ended and his passport was permanently revoked.
11. The player you didn't realize was still playing
There's a weird phenomenon that hockey fans run into from time to time where you find out a guy you assumed had retired five years ago is still active.
When you hear his name mentioned on a broadcast, you briefly wonder whether you've accidentally flipped over to the classic channel. Does he have a kid who's already made the NHL? Wait, you're telling me that's the same guy?
We all do it. Call it the Alex Tanguay Effect.
And it's never more apparent than during an international tournament, when players who'd left North America headed overseas suddenly show up again, and you're left wondering where you know the name "Roman Cervenka" from.
12. The media guy who's just a little too into pronouncing all of the names right
Preparation is key when it comes to international tournaments. Some of these names are tricky, and it's always impressive when someone can avoid the mistake of mispronouncing a foreign name.
But this guy takes it too far.
We get it, Jean-Francois Champollion, you did your homework. But maybe tone it down just a little, because you're making the rest of us feel inadequate.
13. The former NHL star who's now running a national team
This one's always a bit jarring because of how old it makes you feel. You weren't even 100 per cent sure that guy had retired, but now he's apparently in charge of an entire country's national program.
For this year's World Cup, former players like Martin Rucinsky, Jere Lehtinen and Miroslav Satan have been named general managers. And that's before you even get into the seemingly endless list of assistants, scouts, and special advisors that clog up the tournament's various management teams.
The World Cup is a two-week tournament, but the eight teams somehow employ more people than the North American manufacturing industry.
14. The player who accepts the World Cup Trophy, lifts it over his head, then skates over and tosses it into a flaming dumpster, never to be seen again.
Hey, we can hope, right?
15. The hot goalie on a bad team who terrifies you
At the start of the tournament, this guy may have also doubled as the player you've never heard of. But you've heard of him now, because every time you turn on your TV you're bombarded with highlights of him standing on his head.
His team isn't very good – heck, half of his defencemen seem to be holding their sticks upside down – but in hockey, a red-hot goalie can trump anything, and this guy is single-handedly keeping them alive.
Next thing you know, your country is facing this guy in a crucial game, it's somehow still tied midway through the third even though you've pelted him with 50-plus shots and his glove disintegrated early in the second period, and you're having a coronary at how unfair this sport can be.
We don't know who this guy is going to be at the World Cup… yet. But he's out there. He's waiting. And he's going to ruin everything.