COLUMBUS, OHIO – If James van Riemsdyk is feeling just a tad antsy, we get it.
The first player to step on the ice at Team USA's World Cup of Hockey training camp Monday afternoon in downtown Columbus hasn't played a game in eight months.
The Toronto Maple Leafs' best wingman suffered a non-displaced fracture in his left foot on at San Jose on Jan. 9, and never has he gone so many days without playing the game he loves.
After an hour-long session skating in a grey USA practice sweater alongside centremen David Backes and Brandon Dubinsky on an early-look checking line, van Riemsdyk repeatedly calls on the word excited to describe his freshened state of mind.
"It was a long road, but I have all that behind me now. Just ready to get going," he tells Sportsnet. "It was definitely a trying experience, but it makes you all that much stronger for it, just to have those mental ups and downs in the day. You pick the positives out of it. It gives your body time to heal. You make use of the time."
Though van Riemsdyk shone for the U.S. in a top-six role at the 2014 Winter Olympics, running up seven points in six games, and has been an annual threat for 30 goals since former Leafs GM Brian Burke traded for him in 2012, he was not named to his country's initial lineup. There is "no question" in his mind; his busted foot put his national spot in jeopardy.
"When they first announced this tournament I really wanted to be here to represent my country on this stage. I feel fortunate to get the chance to be here," van Riemsdyk says.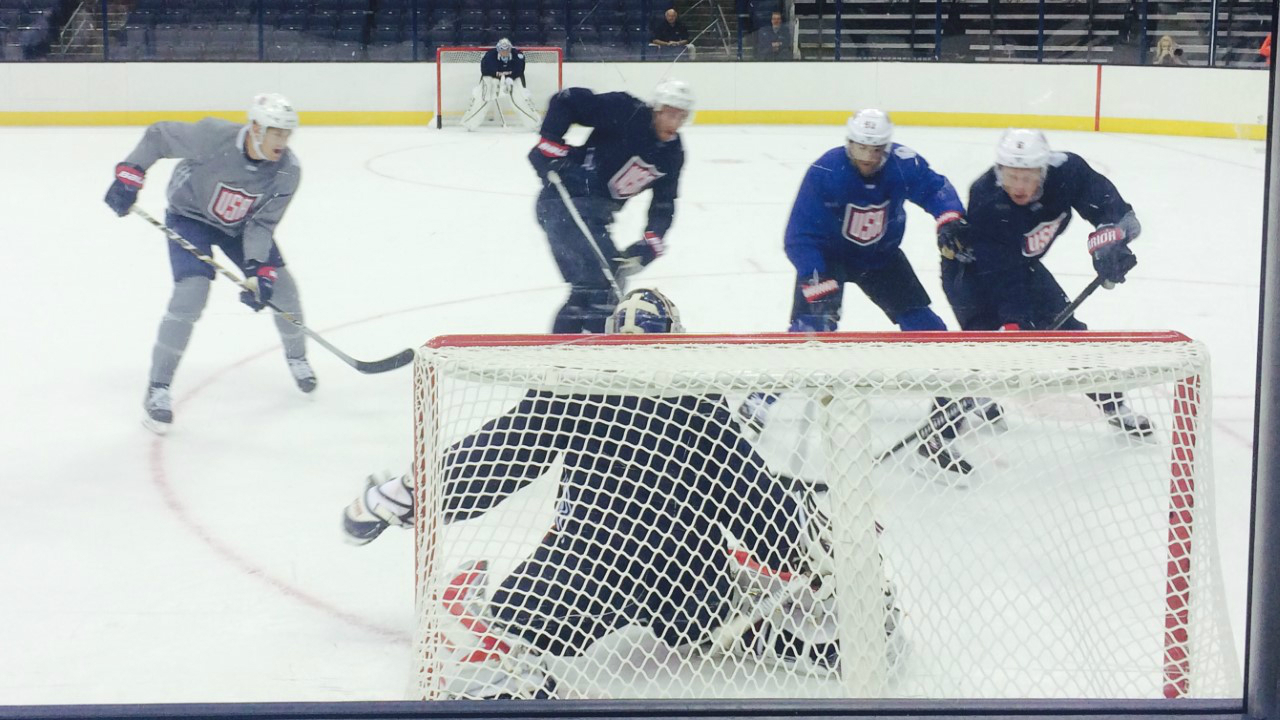 The injury wasn't USA Hockey's main concern, however. It was more about buying in to a specific role.
Burke, Team USA's senior advisor, spoke with van Riemsdyk ahead of his being named to the final roster. The message was simple: Be prepared to do whatever head coach John Tortorella asks you to do, and do it at a high-intensity level.
"You have to put him up there on the Americans as one of our most talented players," GM Dean Lombardi tells Sportsnet after today's practice. "In the discussions we had with him before his selection, we had a lot of talks about the importance of using that talent to fill any role you're given.
"So many of these guys are used to always being on the power play or being in the top six, but he's shown he can play a 200-foot game when he wants to. Plus, he has a lot of talent and can score. He's one of those guys you can put anywhere in your lineup. It's all going to depend on his focus. I think that's the big thing: When he wants to play, he's a top player."
Wait. When he wants to play?
"I don't think a player ever doesn't want to play—that's not the right way to put it. But like any player, there's a level of intensity. You can tell whether he's into it that night or he's not into it. That's going to happen to any player over an 82-game schedule. It's the old Gretzky theory: How many times do you throw an A game? The great ones will tell you it's hard to do every night.
"But in a tournament like this, we don't have time. You gotta hit the ground running. There's no brake. You have to be going 100 miles an hour dialed in right away."
Lombardi brought up how dynamic JVR played in Sochi, where he and Phil Kessel piled up points flanking San Jose's Joe Pavelski. Monday, Pavelski centred scoring champ Patrick Kane and Montreal's chief triggerman, Max Pacioretty, on USA's top line ("Don't get married to it," Tortorella cautions).
Kessel, however, remains absent—the dressing room's most glaring omission.
Van Riemsdyk's chemistry with the Stanley Cup champions' top playoff scorer is undeniable.
"I'm glad I don't have to make those types of decisions. There's so many good players in the U.S. now. There's a lot of tough choices. Management makes the decisions they think are best for the team," explains van Riemsdyk, happy for his buddy's success in Pittsburgh. "You know they're doing their homework for what they want here.
"When you can look at the guys left off and say 'Wow,' I think it's a good thing for the depth of USA Hockey."
Lombardi says Kessel's chances of making the cut, or that of any other player (Kyle Okposo, anyone?), had nothing to do with on-ice chemistry and everything to do with blending skill with grit in effort to dethrone the golden boys.
"When we went through this team last August, we looked at the matchups and it became more and more critical that, No. 1, they're a team. We didn't have time for egos or guys not accepting roles.
"No. 2, even in the selection of John Tortorella, there's a way we want to play, and it's geared towards…" Lombardi wants to finish his sentence with "beating Canada" but reloads. "Not that those other teams aren't very good teams, but whether you like it or not, Canada is the favourite in these things."
So JVR, who attended the School of Babcock for half a season and knows Air Canada Centre's tics better than most, will be tasked with, among other things, extinguishing some of the home country's firepower.
There were zero setbacks in his recovery and he's been 100 per cent healthy and cleared to go since June. When van Riemsdyk left the Leafs' lineup at the first page of the calendar, he was the club's leading scorer (14 goals and 15 assists in 40 games) and a plus-3 skater on a bad team.
Once he hit IR, Toronto went 13-25-4, tumbled to 30th place, and scored fellow U.S. national development product Auston Matthews as its wonderful booby prize.
JVR says he's had his eye on the first-overall pick since the centre started breaking records on the U.S. under-18 squad.
"I got a chance to finally meet him a couple weeks ago and skate with him a few times [in Toronto]," van Riemsdyk says. "He seems like he's got a good head on his shoulders. He works hard, he's doing all the right things, and he's putting himself in a position to be successful right off the bat. It's going to be exciting to play with him."
In Toronto, van Riemsdyk has become a bit of a 'tweener. The old core—Dion Phaneuf, Kessel, and a couple of 1B goalies—has been dismantled. The significant-money players signed by the Brendan Shanahan group beyond 2017-18 are all younger than JVR, Tyler Bozak, Leo Komarov and Joffrey Lupul—forwards who don't hit free agency until 2018 but have had their names pop up in trade rumours at various points and whose long-term status as core members of Toronto's return to respectability remains foggy.
Of that quartet, 27-year-old van Riemsdyk, at a $4.25-million cap hit, has the most upside, especially when he wants to bring that A game.
"I'm going to try to be the best player and best Maple Leaf I can be while I'm there. It's a place I've grown to love playing. I've grown to love the city of Toronto. I've really enjoyed my time there.
"They've given me a chance when I first got traded there to play a bigger role and show what I can do. I'm always grateful for that. As far as years down the road, I don't want to start speculating too much about that yet," van Riemsdyk says.
"Now it's time to start climbing the ladder and becoming a team that is expected to make a push for the playoffs."