COLUMBUS, OHIO – Patrick Kane's inspiration was uploaded to a USB key, stuffed inside an envelope and mailed to him by Team USA this summer.
The most valuable player in hockey plugged the portable cartridge in his computer, sat down by himself, and for two and half hours he transported back to the night of Sept. 14, 1996 in Montreal.
Team USA vs. Team Canada, Game 3 of the World Cup final. Gold for grabs.
Kane had never seen the game before—the prodigy was seven, only discovering hockey, when the U.S. upset Canada 5-2 for gold in real life—and he drank it in like a fanboy on a winter's Saturday night.
Wayne Gretzky, Mike Modano, Joe Sakic, Chris Chelios, Brendan Shanahan, Brian Leetch, Eric Lindros, and Mike Richter leaving it all out there.
"I couldn't believe how intense it was," Kane says. "After every whistle you have guys from Canada and the U.S. going at each other. You had major penalties, double minors, there's 4-on-4, 5-on-3. Everything happened in that game. It was a really entertaining game to watch. You could say Canada took it to the Americans. Richter played amazing, but at the same time they found a way to win.
"Players you grow up idolizing. Not only Americans but Canadians as well—and they're competing. It kinda gets the blood flowing."
Kane notes small details of that historic victory, the senior men's greatest since the Miracle on Ice. He saw 148-point man Pat LaFontaine killing penalties. He noticed Joel Otto grinding out critical face-off wins.
"You watch that and say, 'That's something we're going to have to do in here. Some players are going to have to change up the way they're playing to be successful,' " Kane says, looking around Team USA's dressing room 20 years later.
Kane himself, however, won't need to change a damn thing—a luxury granted when you become the first NHLer in four years to put up 106 points in a single season and the first American to win the Hart Trophy.
"I'm going to stay out of his way. I want him to be as creative and as free as he can be offensively. I'm not going to look for a lot of great defensive plays from him in this short tournament," says U.S. head coach John Tortorella, a staunch advocate of defensive zone responsibility and playing the right way.
"I want him thinking: Just be creative. We're going to stay out of his way and let him do his thing. He legitimately is one of the most dangerous players in the world, and what the hell am I going to do to coach that?"
The 27-year-old Chicago Blackhawk will start on the right side on a top line centred by national captain Joe Pavelski and flanked by Montreal Canadiens sniper Max Pacioretty. He'll be the Americans' creative source on the first power-play unit, but that's not all.
Tortorella envisions Kane as "a rover" in this short tournament. No doubt he'll be double-shifted and linked up with other forwards for maximum ice time on a squad less talented up front than Canada and Team North America.
Pacioretty told us he was a tad concerned about getting "star-struck playing with a Kaner-type player." But there are no Kaner types. Just Kaner.
This week we've shook our head whenever Kane snaps a bar-down puck past Jonathan Quick from an impossibly tight angle, a half-step away from the goal line. Equally impressive, though, is when the 5-foot-11 guy slips into the corner with two hulking D-men and, more often than not, scurries away with possession.
"That's probably one of the biggest things—when he escapes under pressure and plays with the puck in traffic," Pavelski says. "He's fun to play with, fun to watch."
Tortorella gushes over Kane's spontaneity, an undervalued commodity in some circles.
"Analytics are so false within our game because it is such a spontaneous, creative game in all different situations. I think he thrives in that. He doesn't know what he's doing when he's playing. That's what is so great about him—it just comes to him and it is certainly something you can't teach. That's just an innate ability he has," Tortorella says.
Over the past three seasons, Pavelski and Pacioretty have scored a combined 222 goals. Kane pictures himself the playmaker on the line. After registering zero goals and four assists in Sochi, he's piling pressure on himself to produce.
Kane was close with his grandfather, who died shortly before the 2014 Olympics, but he doesn't use mourning as an excuse.
"I didn't think I played that bad. I just didn't score or capitalize on my chances. That was a little disappointing. I'm there for production, to be an offensive guy. That didn't happen there," he says.
A student of the game, Kane sees a practical reason he failed to produce.
"I found myself in 2014, you're on that bigger ice, sometimes things don't generate. You're on the ice for 30 or 40 seconds standing there, waiting for things to happen," says Kane, happy the World Cup will be waged on an NHL-sized sheet.
"I feel there's a lot more action. More plays. More physicality, too. And chances. You get across the blue line in the Olympics, there's no way you have a chance to score—you're too far out. It's different here, where you get over the blue line and you start thinking where you're going to create and threaten the net."
It would be irresponsible to discuss Patrick Kane in depth without mentioning his off-ice troubles. Drama played out for three months this time a year ago as Erie County police investigated the star for rape. Kane maintained his innocence and was never charged with a crime.
"He's a different cat. He's done some crazy things along the way. We've all been caught in some situations. But he's stood in there," Tortorella says. "I don't coach him, but I watch him during our year and I listen to him. I see a maturity about him.
"I want him to take more responsibility now. I think he's ready for more responsibility as a leader of a USA team, where before it was, 'Kaner, go play.' "
Hear the word leader associated with Kane, many fans think, and it sure as hell better be preceded by scoring.
When Tortorella anointed him an alternate captain of this squad Wednesday, Kane was more visibly moved than Pavelski, who took over the 'C' from Zach Parise.
"I don't know if I was expecting to receive that, but I think it's a responsibility I can handle," Kane says. "I wore an A for a little bit last year when a couple guys were hurt. That in itself was an honour, just doing it for the Blackhawks. I guess you can imagine how I feel right now when you're talking about the United States of America."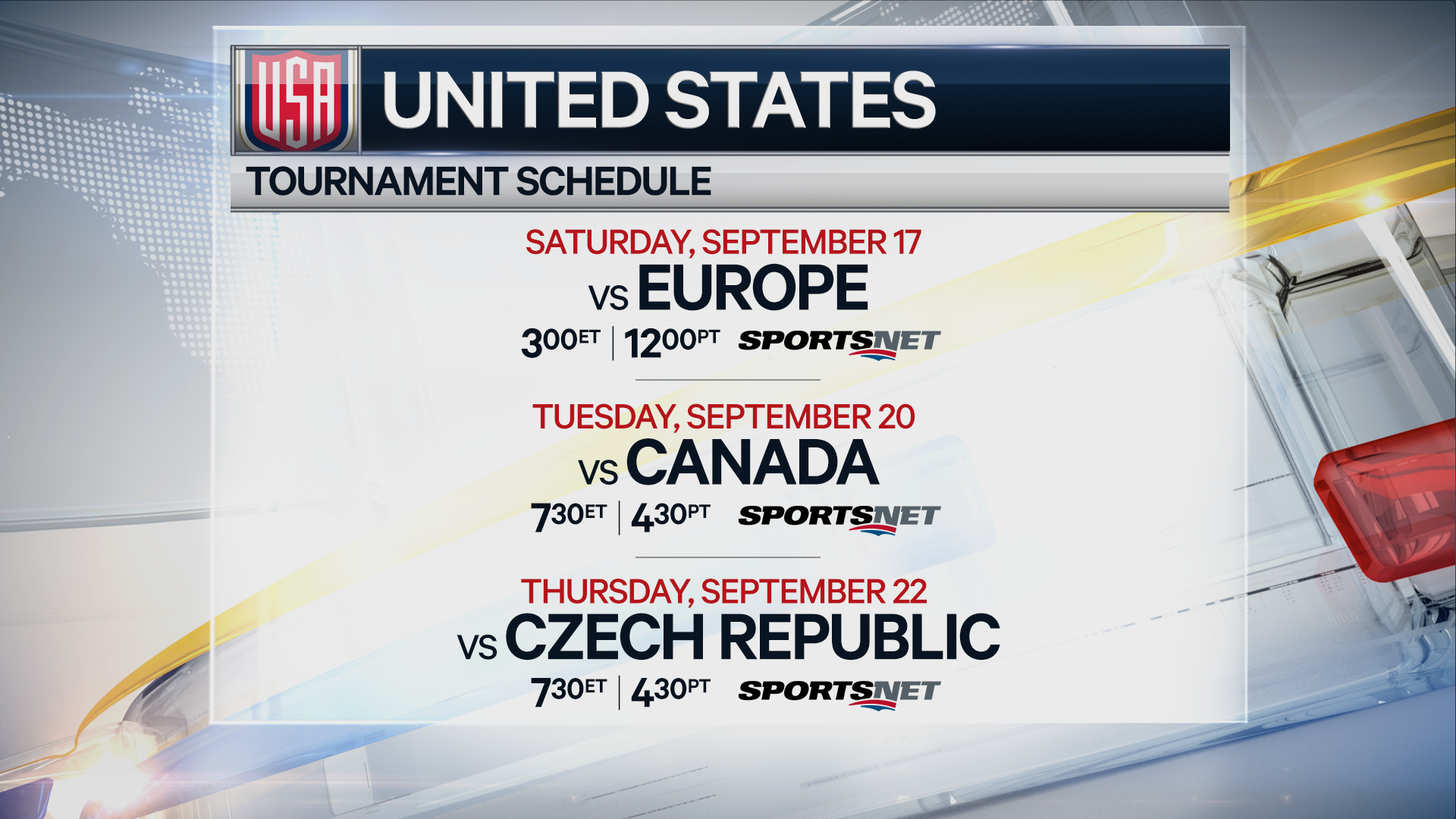 Speaking to the coaching staff and reporters this week, Kane has been thoughtful and generous with his time. We've spotted him out on the bench stretching alone, gazing at a clean sheet 30 minutes before practice. No mullet or Vanilla Ice–styled cuts in his hairdo these days, but the on-ice flash is firmly intact. A calm focus is about him.
When 2015's investigation is brought up, we're left to read between the lines.
"I still feel I'm the same person," Kane says. "Obviously, things change. Everyone has a different maturation level of when they're going to move on from certain things or grow up in a different way. For me, I haven't really changed who I am as a person. Just as you get older, you kinda figure some things out, grow up at your own rate."
Looking to October, Kane is motivated to prove that his 106-point season, which featured a 26-game point streak, was no fluke. He wants to extend his prime for as long as humanly possible.
"I had a blast. It was fun when you're producing like that and you're playing with some confidence. I owe a lot of it to my teammates and my linemates," Kane says.
"Sometimes I catch myself over the summer [thinking], 'OK, you did it once, but can you do it again? Can you prove yourself again?' "