Even with so many good young Canadian players assigned to Team North America for the World Cup of Hockey 2016, it's impressive how many choices Team Canada general manager Doug Armstrong still has to fill out the final seven roster spots.
It's often been said that Canada has the talent to fill out two teams for these competitions, and while players like Connor McDavid, Nathan MacKinnon and Mark Scheifele will be with the young guns, a pretty good Team Canada II could still be put on the ice.
But that's not needed. Instead, Armstrong and his staff have about 20 viable and qualified candidates to stuff into seven available spots, and the choices aren't easy. He sent head coach Mike Babcock to the world championship in Russia to evaluate some of the players skating for Canada there, and seeing those players capture gold has to influence the process to some degree.
We can already project that at least nine spots on the World Cup squad will be different from the Olympic team iced by Canada in Sochi two years ago.
We'll have to wait until the official announcement on May 27 to know for sure, but here's what the final Canadian roster is likely to look like:
Watch it live on Sportsnet at 6 p.m. ET and world-wide at sportsnet.ca here.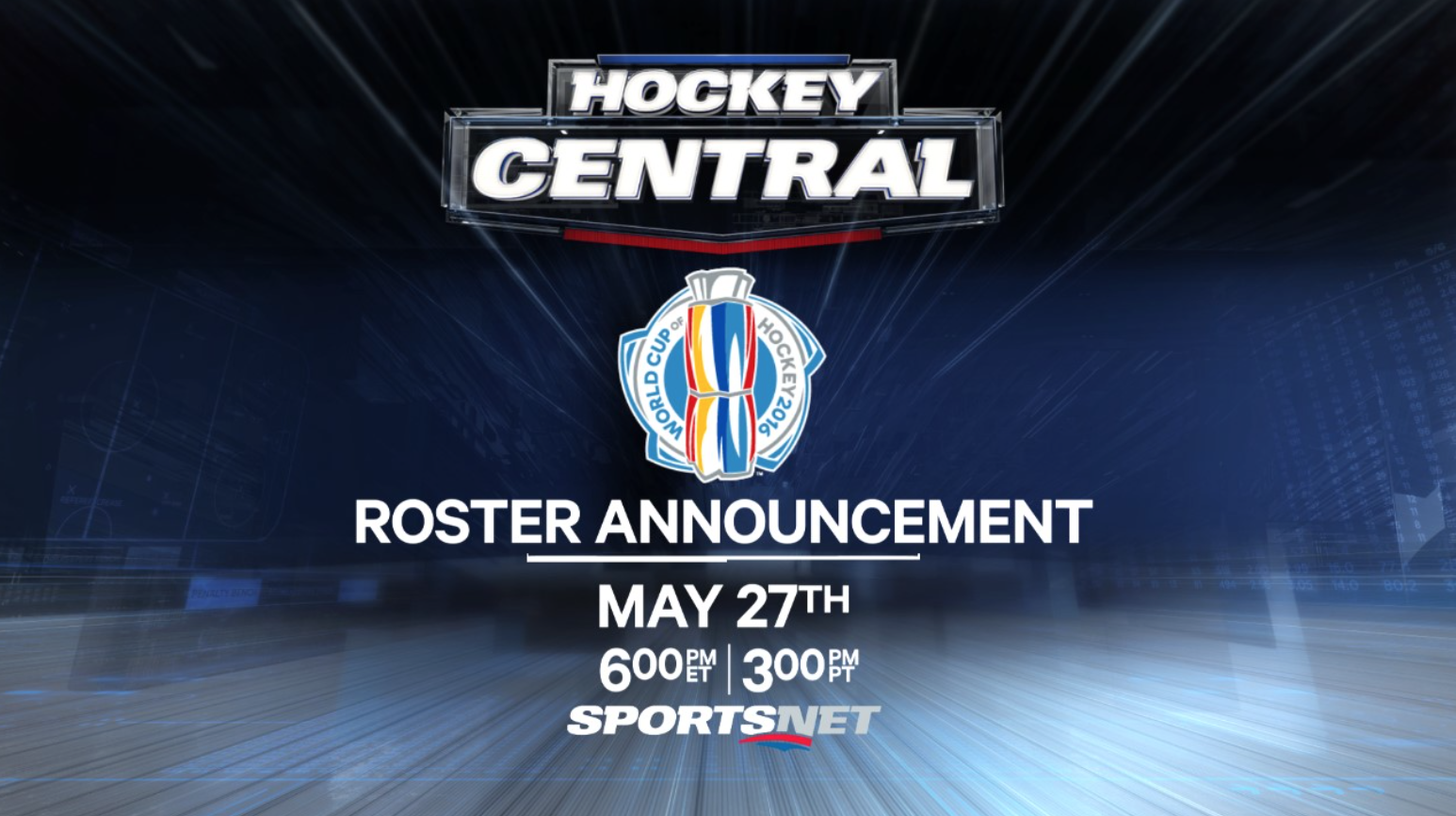 GOAL
Already named: Carey Price (MTL), Corey Crawford (CHI), Braden Holtby (WSH).
Armstrong said he hasn't received any indication — yet — that Price won't be healthy enough to attend training camp in September or compete in the tournament. Both Crawford and Holtby, meanwhile, saw their teams eliminated in the first two rounds of the Stanley Cup Playoffs, and should be both healthy and well-rested.
If there's a fourth goalie needed, San Jose's Martin Jones, 26, may have staked his claim with his strong performance these playoffs.
DEFENCE
Already named: Drew Doughty (LA), Duncan Keith (CHI), Shea Weber (NSH) and Marc-Edouard Vlasic (SJ).
Given what he's done in the post-season, Sharks rearguard Brent Burns looks like a shoo-in for the team, which would give coach Mike Babcock three right-handed shooting defencemen to go with the left-handed shooting Keith and Vlasic.
Pittsburgh's Kris Letang also looks like he's played himself onto the roster with a strong end to the regular season and an impressive playoff run. After that, the picture remains very competitive and very crowded with many candidates, including Montreal's P.K. Subban and St. Louis backliner Alex Pietrangelo, along with the left-handed shooting Mark Giordano, T.J. Brodie and Jake Muzzin. Chris Tanev and Ryan Ellis, meanwhile, both played well for Canada at the world championship, but there are probably just too many quality D-men ahead of them.
At the end of the day, the three defencemen added are likely to be Burns, Letang and the swift-skating and underrated Brodie. But this is really too close to call.
FORWARDS
Already named: Jamie Benn (DAL), Patrice Bergeron (BOS), Jeff Carter (LA), Sidney Crosby (PIT), Ryan Getzlaf (ANA), Tyler Seguin (DAL), Steven Stamkos (TB), John Tavares (NYI) and Jonathan Toews (CHI).
So far, that's eight centres of the nine players named.
"We always have this situation," said Armstrong. "We're comfortable moving players to the wing."
The question is, who moves? Let's assume for the sake of this discussion that Crosby, Getzlaf and Toews are three of your centres, leaving Bergeron, Carter, Seguin and Stamkos to shift to the right side if needed. Tavares could play left wing or centre.
That still leaves four forwards needed — natural wingers, preferably. Two more left wingers, at least, are required.
Brad Marchand (BOS), Taylor Hall (EDM) and Matt Duchene (COL) were all very good at the world championship for Canada. Corey Perry (ANA) was the captain, and Brendan Gallagher (MTL) played an important role. Ryan O'Reilly (BUF) and Mark Stone (OTT) played crucial shutdown roles.
Philadelphia's Claude Giroux had a tough playoff and needed surgery after the season. Stamkos' status remains muddy, but indications are that there is no medical information now that suggests he definitely won't be able to play because of his blood clot issues.
So given the needs and what's happened since the first 16 Team Canada players were named, the guess here is that the final four forwards added will be the versatile O'Reilly, Marchand, Hall and Duchene, a veteran of the 2014 Sochi team.
TEAM CANADA LINEUP
* Denotes late addition
Line 1: Jamie Benn — Sidney Crosby — Patrice Bergeron
Line 2: *Taylor Hall — Ryan Getzlaf — Jeff Carter
Line 3: *Brad Marchand — Jonathan Toews — Tyler Seguin
Line 4: *Matt Duchene — John Tavares — Steven Stamkos
Extra: *Ryan O'Reilly
1st Pair: Duncan Keith — Drew Doughty
2nd Pair: Marc-Edouard Vlasic — Shea Weber
3rd Pair: *T.J. Brodie — *Brent Burns
Extra: *Kris Letang
Starter: Carey Price
Backup: Braden Holtby
Reserve: Corey Crawford