The letters are sewn and the roster appears set.
To the surprise of no one, Sidney Crosby was named captain of Team Canada's entry at the just-around-the-corner World Cup of Hockey. Jonathan Toews and Shea Weber will serve as alternate captains, as the Red and White stick with the same leadership trio from their gold medal-winning entry at the 2014 Olympics in Russia.
While the tournament is high stakes and tense drama, coach Mike Babcock says the Hollywood version of motivating people doesn't really apply when trying to win a real-life best-on-best hockey tournament.
"Everybody thinks there's this big Knute Rockne speech all the time and in reality, it's more about what you do than what you say," Babcock said. "Leadership is delivered in the big moments under the gun. Leadership is saying the right thing in a calm, composed manner at the right time. Leadership is about making people accountable when things aren't right and these guys—whether it be Sid, Web or Taser—they all do it real well."
---
FOR MORE WORLD CUP COVERAGE HEAD TO OUR TOURNAMENT HUB PAGE
---
While continuity is the theme with the captain and alternates, Canada has been forced to deal with some disruption of late. Left winger Jamie Benn and defenceman Duncan Keith both recently pulled out of the event due to lingering injury concerns (Benn had off-season abdominal surgery, while Keith had right knee surgery early last season and requires more time to fully heal). Logan Couture will take Benn's place up front and Jay Bouwmeester, who won gold with Canada in Sochi, slides in for Keith.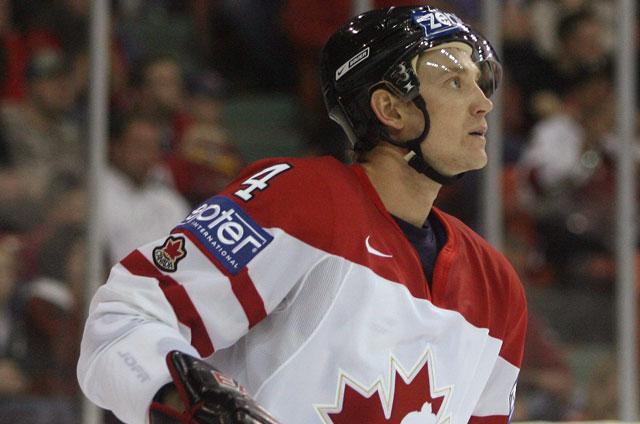 Team Canada GM Doug Armstrong says players were asked to be transparent about any injury concerns from the get-go, so nothing regarding the status of Benn or Keith caught them off guard. Another player being closely monitored is Claude Giroux, but he's recovered from hip/hernia surgery and Armstrong believes the roster as it stands now is the one that will open training camp in the nation's capital on Sept. 4.
"We think this will be the group and we're comfortable this will be the group we take to Ottawa," Armstrong said.
While Canada has the luxury of culling from a deep talent pool, Armstrong acknowledged the loss of Keith—who averaged just over 21 minutes of ice per game at the '14 Olympics—would require the remaining seven defencemen to each do a little more.
"I don't think you replace a Duncan Keith," he said of the man with three Stanley Cup rings and two Olympic golds.
More specifically, you don't do it with a single player who shoots right. Much has been made of the Canadian preference for a right-left balance on the blueline, and with right-hand shots Weber, Drew Doughty, Alex Pietrangelo and Brent Burns still on the team, the odds of someone else who shoots that way—like, say, P.K. Subban— joining the squad were long. That notion was cemented when Armstrong went to another member of the brain trust, 1998 Norris Trophy winner and former right-shot stud D-man Rob Blake, for insight.
"We asked the hard questions; how easy is it to transfer from one side to the other and he said it's not as easy as you think," Armstrong said. "It takes a little bit of time and in a tournament like this, you don't have time to adjust to something new."