TORONTO — At this stage in the World Cup of Hockey, no one is underestimating Team Europe.
Especially not the Swedes.
Members of Tre Kronor know first hand what the rag-tag group of overseas misfits can do after a 6-2 drubbing in the pre-tournament finale, and they need to avenge that loss Sunday if they want to prolong their time at Air Canada Centre.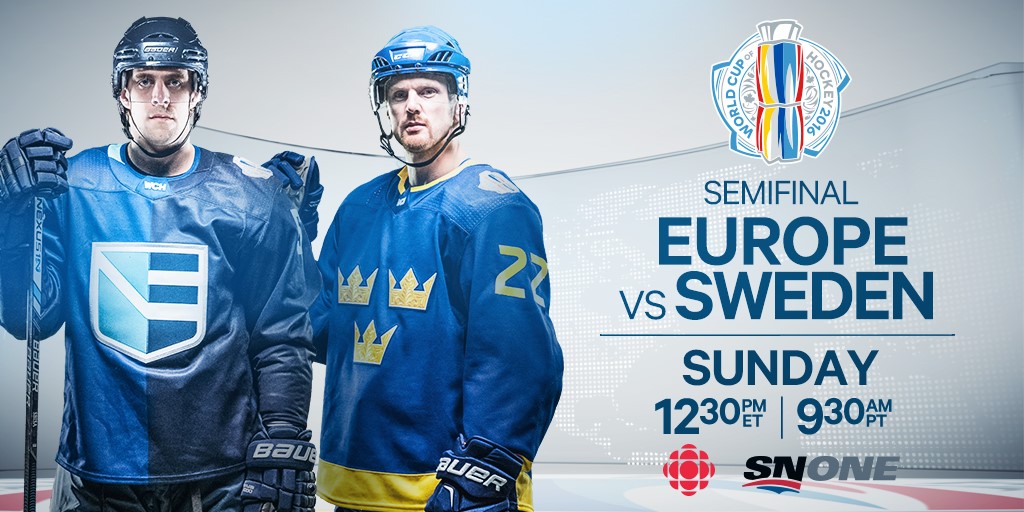 Europe had been blown out in back-to-back pre-tournament games by North America — by a combined score of 11-4 no less — so the result against Sweden earlier this month was an unexpected one.
"We played really stupid that game," Swedish defenceman Oliver Ekman-Larsson said Friday. "We turned the puck over way too many times. Their blue-line, our blue-line. If you do that against a team with that much skill, it's going to cost you. That is what happened to us."
Following that game there were questions abound surrounding a Swedish roster dubbed one of the favourites to win the tournament. In particular, there was some skepticism about the performance of star netminder Henrik Lundqvist.
The 34-year-old recorded a 4.49 goals-against average and .778 save percentage in his two pre-tournament appearances and was chased from the crease by Europe after allowing five goals on 22 shots in that blowout loss. The five-time Vezina nominee then missed the tournament opener against Russia as he dealt with an illness.
Two games and 81 saves later though? No one is doubting him or the team.
Lundqvist had a 36-save shutout against Finland and played out of his mind after his team's slow start against the plucky kids from North America, making 45 saves and forcing overtime which clinched Sweden top spot in Group B.
Sweden was forced to dig deep in their overtime loss to North America, something they hadn't needed to do in wins over Russia or Finland.
"We recalibrated how we coached different lines and how we matched up the lines [against North America]," Sweden's coach Rikard Gronborg said following Sweden's practice Saturday. "We needed to show patience and I think we showed patience during the game. Nothing different when we're playing Team Europe. It's a quick transition team so we've got to make sure we're ready right from the start that we're ready for that type of team. We have a game plan and we have to stick to it and I think we need to show quite a bit of patience."
Sweden found out what players like Leon Draisaitl, Tomas Tatar, Marian Gaborik and Thomas Vanek can do if you carelessly give them the puck or if you're soft on the forecheck and backcheck.
"They're really patient and really good about when they attack and when they defend," Swedish forward Marcus Kruger said. "They're a smart team and we have to be prepared for that. If we don't do the right things they're gong to hurt us. … We need almost a perfect game to get through."
Sweden also knows there's little room for error when going up against elder statesmen like Marian Hossa and Zdeno Chara because those two veterans can and will make you look silly despite being a bit long in the tooth.
"He's been one of the greatest players in the league for so long. He does all the little things so good," Kruger says of his Chicago Blackhawks teammate Hossa. "If you watch him in one game you can tell he's unbelievable, but if you watch him during a whole year it's amazing to see what he does on a daily basis. I've definitely enjoyed playing with him and learned a lot from him so it's going to be different playing against him."
When deep in Europe's zone the Swedish forwards will need to be wary of the ominous shadow cast by a 6-foot-9 goliath.
"He's so strong and big and his reach, you can never leave the puck in front of him because he can get the stick there or do a body check against you," Chara's former Boston Bruins teammate Loui Eriksson said. "You have to play real smart against him. Everyone knows when he's on the ice because he's such a big man out there."
In tournaments like this one, teams usually aren't afforded enough time to work out the kinks in their game. Luckily for Sweden they have done just that. The subpar start against North America, coupled with being humbled by Europe, might have been just what Sweden needed heading into this semifinal matchup.