TORONTO — Over all of the incarnations — the Summit Series', the Canada Cups, the Super Series, you name 'em — this World Cup of Hockey was the most roundly critiqued.
"Team Europe," they sniffed. "What kind of product can come from a rag tag bunch of vagabonds from eight different countries?"
"Team North America? Like a bunch of kids from the United States and Canada are going be able to compete. What a gimmick."
Well, we wonder if those who promised not to watch reached for the clicker as they saw the scores from Europe versus Team USA come across their phones?
They opened the box on Team Europe Saturday afternoon in Toronto, and a clown didn't pop out. Instead, a genuine, competitive hockey team whipped the United States 3-0.
Some gimmick, eh Torts?
On Sunday night, the other abomination in this World Cup of Hockey takes the ice, as hockey's next generation of North American players bring a puncher's chance into their opener against Finland.
"It's becoming a younger and younger game, the NHL," defenceman Jacob Trouba noted Saturday. "Things are different, ever since the rule changes (eliminating obstruction). You're seeing the effects of that now. Players who grew up with those rules, as opposed to players who played with the old rules and now had to adjust.
"So there's more speed, growing up now. More skill and ability."
Does that sound like a player who thinks his team is publicity stunt?
Team North America owned Europe in both of their pre-tournament games. They skated past them like pylons for most of each game, then watched the Europeans make the United States look slow in the World Cup opener on Saturday.
We know there were factors that helped team Europe to look sluggish versus North America, but when the team you outscored 11-4 in two games comes out and knocks off one of world's hockey powers, it's a double shot of confidence, no matter those factors were.
"It just gives us clarity that we can compete," Nathan MacKinnon said of the pre-tournament schedule. "We've established ourselves as a solid, fast team. We've played some really strong periods, and just have to put (60 minutes) together. That's going to be the challenge.
"We were built on speed — we have four very fast lines and seven very mobile D."
I'll admit it: I haven't picked North America to make it out of a group that includes the mighty Swedes, Finland and Russia. But maybe the question should become, "Why not?"
Why can't goalie Matt Murray shut down a couple of European national teams the same way he did the Washington Capitals and San Jose Sharks in the playoffs last spring? Why couldn't Connor McDavid and Auston Matthews, who deliciously have been paired together on a line with Mark Scheifele, go to town against older, slower opponents?
"We feel like we have a good grasp on our game, we've rounded off all the edges and we're ready to go," said McDavid, who gave off a scent that he'd like to help make Sunday a memorable debut for the future Maple Leaf Matthews, who plays a big game in his new city for the very first time.
"It's a big night for him," McDavid said. "Playing in his new barn, the ACC, which is the (epitome) of the NHL for me. That's what I grew up watching. He's from Arizona but it's a very special arena. He'll be ready to go."
If Team Europe can unite from Olympic qualifying tournaments across their continent, get past the jet lag, figure out the smaller rinks under a coach once fired over Skype by the Edmonton Oilers — and replaced with Dallas Eakins, no less — then why can't the other Frankenstein team succeed as well?
"Nobody is 100 percent positive what's going to happen," allows Ryan Nugent-Hopkins. "We've come together as a team. Now we just go out there and play."
This team has been together nearly two weeks now and played only three games. The players, to a man, are sick and tired of practicing, and hearing all the theories on why they can or can not compete at this level.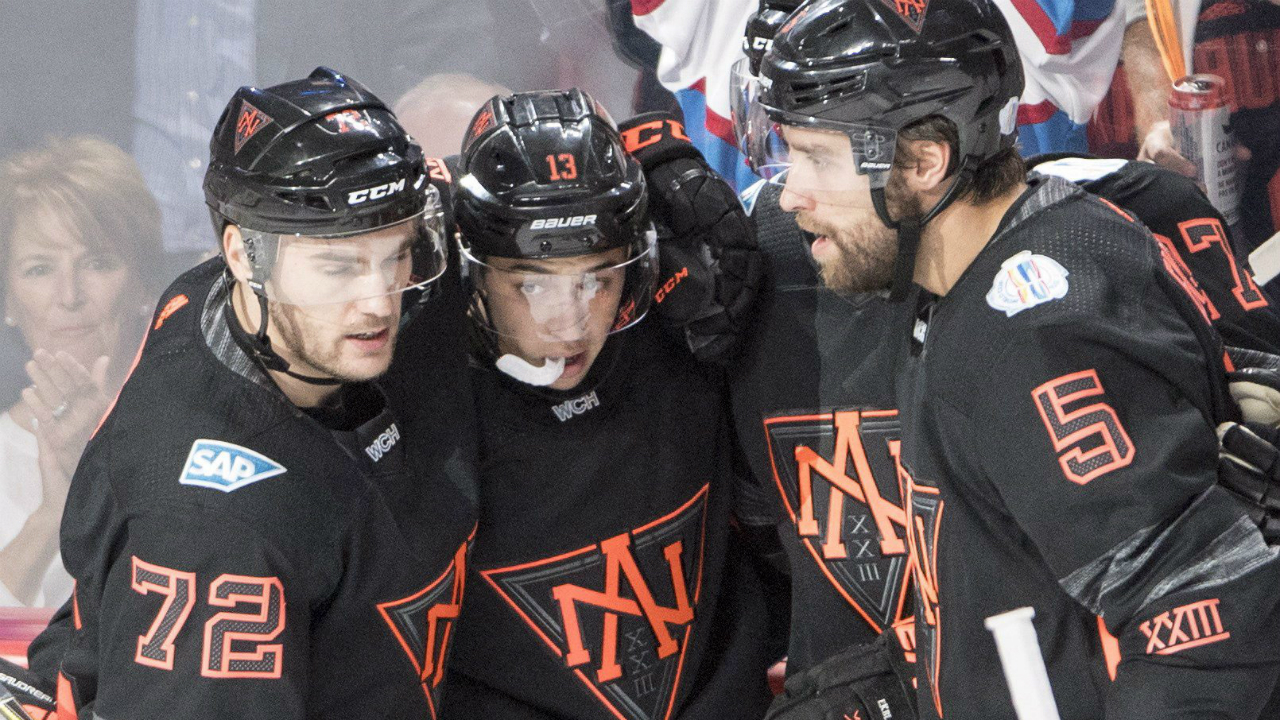 This World Cup project has been talked about, chewed on, sloshed around and digested 10 times more than the European project. It's been a talk radio-palooza for the past two weeks.
Now, Project B has shown to be an early success. How about World Cup Project A?
"It's like goin' to the classroom," said head coach Todd McLellan. "Then you study, and eventually you have to take the test. That's where we are right now.
"We're going to take our first exam against a very good, well prepared team. I'd like to think we can … pass that first test, and worry about the next one."
The hockey world will be watching. Even the many, we suspect, who promised us they never would.