TORONTO — The kids were running all over the place, as if were a darned birthday party.
The goaltending had gone to hell. And whatever the plan used to be, it might as well have been written in Sanskrit, the way Team North America was following it.
The Russians had scored four times in 6:14 of the second period, turning a tidy 1-0 lead into the first genuine "Holy crap!" moment in Team North America's World Cup voyage.
And so it was time for the veteran coach to become the veteran psychologist.
"They're sitting in their stalls, they're down in the dumps, not believing anymore," said Todd McLellan, the Edmonton Oilers coach who knows a bit about salving a club after a train wreck of a period. "I told them they were a much better team than they think they were. They are a better team than the way we performed, and they came out and played that way (in the third).
"What could have happened to our belief system is it could have completely crumbled. It didn't."
After goalie change and a quick message of confidence, McLellan's squad came out in the third period looking like the team that spawned this line by colleague Nick Cotsonika: "Team Canada may be the team to beat here, but Team North America is the team to watch."
They outshot the Russians 19-4 in the third period, scored twice, and came within a mad scramble and a solidly-struck goal post of tying the game in the dying seconds. But they lost, 4-3.
The hole North America had dug against a veteran, uber-skilled Russian team that simply had to win this game was too deep. North America will now await Tuesday's Sweden-Finland matchup, then play their own final game against the Swedes on Thursday to see if they advance from this three-game round-robin and earn the right to play on the weekend.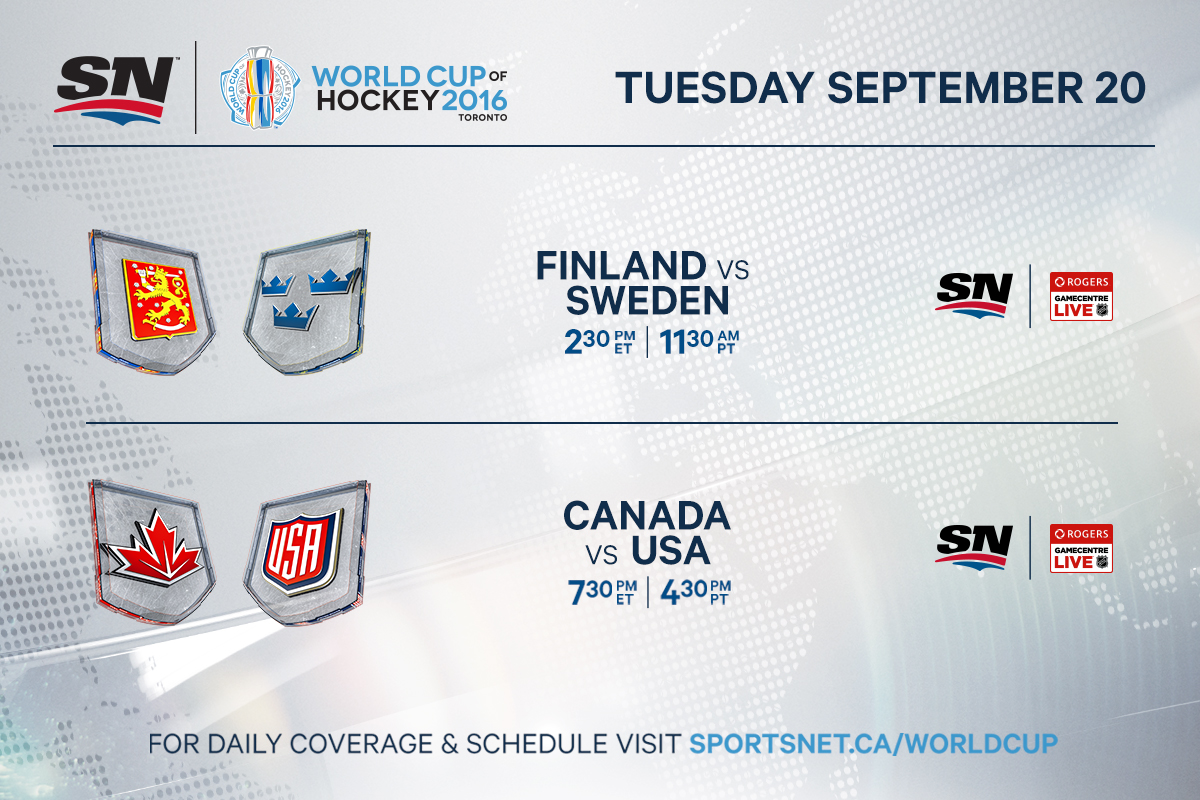 "I think some hockey God got on our side, and we just got good luck," said Evgeny Kuznetsov, whose team was outshot 46-25 on the night.
We would disagree with that, however.
After an early Auston Matthews goal courtesy of a breathtaking display of speed by Connor McDavid had made the score 1-0 for North America just 5:14 into the game, Russia dug in. They clawed back into the game by the 20 minute mark, and completely owned the first 16 minutes of the second frame.
The key moment came when Sergei Bobrovsky stopped McDavid on a breakaway that would have made the score 2-0 Canada at 5:23 of the second period. Russia took it from there, and is now 1-1, with a game left against the very beatable Finns.
"We were desperate tonight, so every moment, every shot I was focused and that was the most important shot of my life," said the poetic Bobrovsky, who held the fort in that 19-shot assault in the third period.
"We were desperate, so the guys made huge blocked shots," he said. "We were as one fist and it was fun to watch and fun to play shoulder to shoulder to shoulder."
"If we lose the game we're out of the tournament," said Russian captain Alex Ovechkin (one shot, one assist), who had less influence on this win than he would have no doubt liked to. "We played a solid second and our penalty-kill guys, (Ivan) Telegin, blocked the shots. You can see everybody sacrificing, and we get the result."
North America went without its No. 1 defenceman, Aaron Ekblad, who was a late scratch with what is being reported as a concussion. If that is the case, he may miss Thursday's game as well.
"I think we were happy with the way we came out, happy with the way we battled at the end, but there was a middle in there, and they took it to us," said Leafs defenceman Morgan Rielly, who had a game-high 23:07 of ice time. "When you're playing a team like them with all their skill and their speed, I think when they get a few and they get the momentum, it's hard to get it back. And once you get it back, it's hard to score against them."
After a dominant 4-1 win over Finland Sunday night — and the fact North America very nearly rescued this one — the round-robin finale against Sweden should be fantastic. And really, didn't we expect some hiccups here, from a team of 23-and-unders?
Faceoffs were supposed to be an issue, and they haven't been. But leadership through adversity? Well, it turns out the kids don't have that built in, quite yet.
"We looked unsure out there for the first time as a team," McLellan admitted of the fateful 6:14. "When you're a group of young players, you're looking for someone to take charge, settle it down, maybe get a shift or two under your belt. We didn't get that quick enough.
"That happens when you're young and inexperienced."
If it happens again, their tournament will likely be over.