COLUMBUS, OHIO – The veteran players of Team USA, still feeling the two-year-old sting of Sochi, did not wait for Labo(u)r Day weekend to meet up in-person and start discussing September's World Cup of Hockey like the rest of the tournament's entries.
Six days in Columbus isn't much time to bond, so the American core—Zach Parise, Joe Pavelski, David Backes, Ryan Suter, Max Pacioretty, et al.—didn't want to sit around until Monday's official training camp opening to begin gelling for a run at revenge.
So in mid-July they gathered for a boys' trip in Wisconsin: a little golf, a little story swapping, a few laughs.
This is a group that tore out the gate during the 2014 Games, outscoring its opposition 20-6 in its first four games, then lost 1-0 to Canada in the semis, phoned in a pitiful 5-0 loss to Finland in the bronze medal game, crated their puppies and flew home.
"I felt there was much more to give. It always comes down to Canada," Pacioretty told Sportsnet this summer.
"We thought we were going to have a great tournament, then Canada took us out and we weren't able to recover. Coming in to the World Cup, we want to play as well as we can every game, but that rivalry between the U.S. and Canada is one I think about very, very often."
The redemption mission of Team USA — led by reigning NHL MVP Patrick Kane, whose 106-point campaign turned the scoring race into a stroll — begins in earnest on a sleepy holiday Monday in downtown Columbus, starting with a 1 p.m. practice. The town doubles as home to Blue Jackets/USA's Jack Johnson, Brandon Dubinsky and head coach John Tortortella.
Nationwide Arena, installing ice after hosting an AC/DC concert Sunday night, is splashed with the images of the Jackets' Nick Foligno and Sergei Bobrovsky, neither of whom will be representing Team USA. A slogan spanning 16 windows screams "MARCH WITH US"—emphasis on the "US," but that is purely coincidental. And the local NHL club does sport the NHL's most patriotic colour scheme.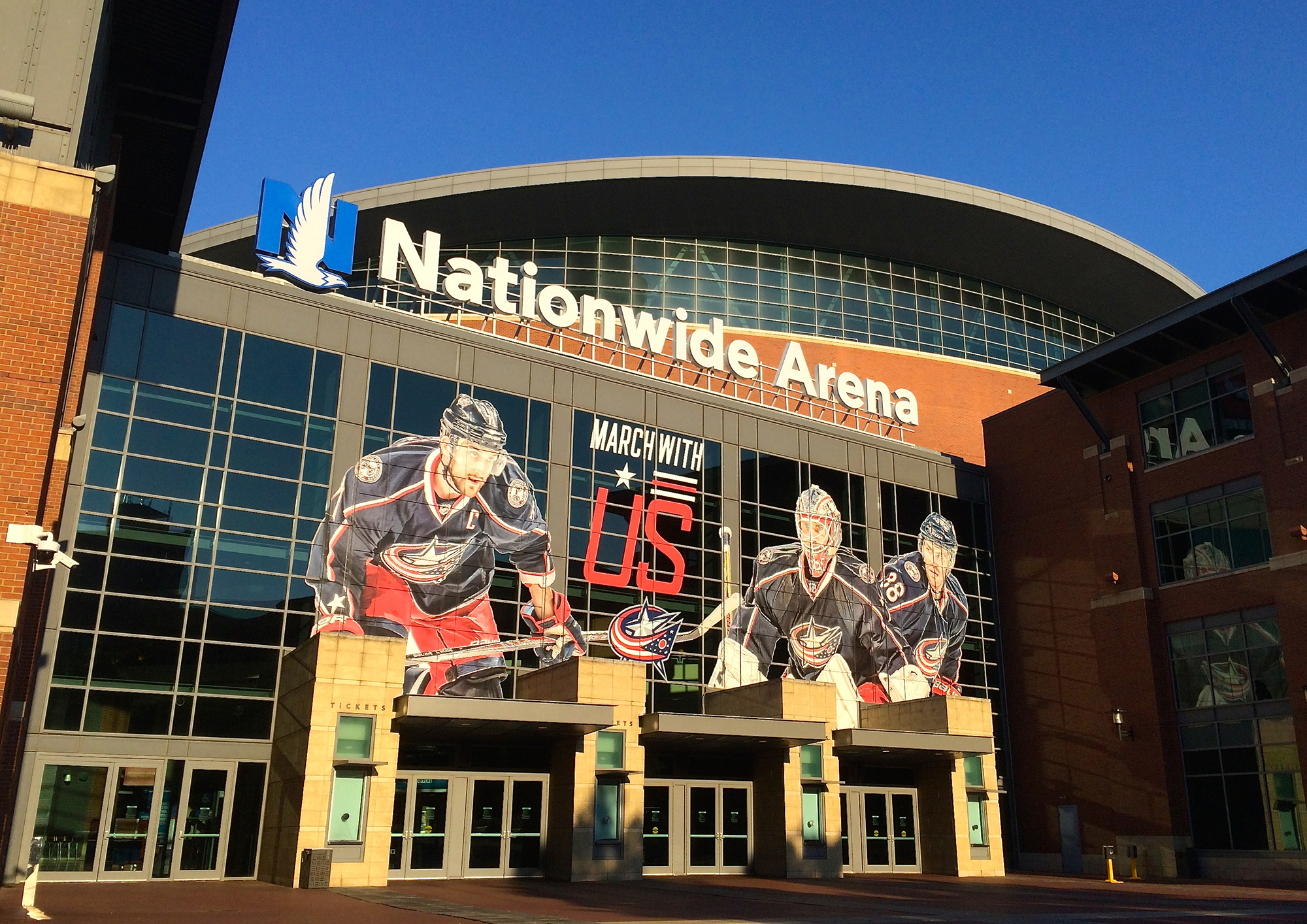 There is no mention of the national camp's opening in Monday's city newspaper, although Jackets beat reporter Aaron Portzline did pen a nice piece on Tortorella on Sunday.
School opens tomorrow, it's 31°C and sunny outside, and the college town is still abuzz over the sixth-ranked Buckeye's 77-10 shaming of Bowling Green on the weekend. This was the final score of a football game, not a basketball game. (Sample headline: "Did Ohio State already prove it's a legitimate national title contender?")
No matter. The U.S. national hockey team should make canon-blasting noise soon enough. They're opening up Tuesday and Wednesday's morning practices to the public for free (but, oddly, not Monday's, when kids are still on summer holidays) and host Group A nemesis Canada here in the first pre-tournament game Friday night. (This reporter will be at Nationwide all week providing coverage.)
With the tourney's two weakest entries, the injury-ravaged Czech Republic and experimental catchall Team Europe, joining USA and Canada in Group A, a semifinal berth is all but certain. In what cannot be an accident, the tournament's setup smartly aligns for a high possibility of a U.S.-Canada gold medal match.
The summer has been kind to a goalie-rich U.S. roster built for banging, defending and grinding out tight-scoring affairs in the elimination games.
While Canada has lost two-time Norris Trophy winner Duncan Keith and top 2015-16 scorer Jamie Benn to injury, the Americans needed only to replace checking forward Ryan Callahan (10 goals) with Kyle Palmieri (30 goals). Depending on how much you think offence matters, some might even view that switch as an upgrade.
Star forwards James van Riemsdyk and Parise and necessary blueliners Ryan McDonagh and John Carlson all welcomed the time off to recover from injuries.
"People really are amped," says Pacioretty of his teammates. They're taking this as seriously as the Olympics, he assures.
"Not many of us grew up on the big ice, so it is a different game. Proving yourself on an NHL-sized rink is something we all take pride in. It's a much different game—faster. It's much more physical. Our team is built like that."
Ya think?
Consider: Of the top 11 point-getting American-born NHLers, only four were originally named to this squad (Palmieri joined later). Some were too young (Johnny Gaudreau, Jack Eichel) and got scooped by Team North America; other playmakers were simply passed on (Phil Kessel, Kyle Okposo) in favour of two-way guys such as Dubinsky and Detroit's Justin Abdelkader.
The construction of the team should be less surprising when you weigh its architects. Dean Lombardi, Brian Burke, Paul Holmgren and Tortorella aren't prone to soft hockey.
Twenty years ago this month, Team USA defeated Canada and claimed World Cup gold. The eras, the players, they all change. Van Riemsdyk told us it's too tough to compare this squad to the one that flamed out in Sochi. Too much turnover. One thing doesn't alter, however.
"Every time you wear the USA jersey," van Riemsdyk said, "you want to win."