TORONTO – Really, this ugly mess is for the best.
This shambles of a World Cup for USA Hockey, an organization that strapped on its blinders and repeated the mantra "Beat Canada" but never came within sniffing distance of doing so Tuesday night, ended in the team's swift elimination from the tournament.
Believing the path to take out the reigning Olympic champs was through crashing and banging and killing the penalties they would inevitably take along the way, the organization hired tough, old-school thinkers Dean Lombardi, Paul Holmgren and Brian Burke to pick a coach and a roster.
They spoke of "an identity," of hardnosed, north-south relentlessness; of inflicting, not being inflicted upon.
Lombardi referenced John F. Kennedy and Vietnam. John Tortorella created a stink about an anthem no hockey player was sitting down for anyway. This was about the flag and history and revenge. Seizing the moment.
In 2016, John Tortorella hockey gets you Jack Johnson standing below the hash marks and Justin Abdelkader committing goalie interference against Carey Price. It helps you win the hit count, like the U.S. did 38-14 Tuesday, and the shot block race (20-13), and that's about it.
It also gets you a limp effort against Team Europe, two lonely goals in 120 minutes of must-win best-on-best competition, and Hall of Famer Brett Hull ripping you a new one whenever ESPN, which paid big bucks to broadcast the disappointment, goes to intermission.
Oh, and it gets you this stroke of brilliance from the roster's most obvious omission:
Ryan McDonagh opened the scoring by hacking a rebound past Price early in the first period, but 104 seconds later the U.S. lead had become Canada's. The Air Canada Centre throbbed to Wiz Khalifa's "We Dem Boyz"—the host nation's goal song of choice—four times in a 4-2 cakewalk. Yes, USA hit a few posts in a desperate third frame, but Canada's skill dominated here.
"I thought the guys were prepared, but we blow up, self-inflicted, and they surged, and we had no answer," Tortorella said. "I'm still looking for us to generate offence."
The notion that offence could've been provided by the passed-over skill guys, like Phil Kessel, Tyler Johnson, Kyle Okposo, Justin Faulk or Kevin Shattenkirk won't gain traction here. The hubris is too thick.
"In hindsight, do you think maybe you would change the makeup of this roster at all?" a reporter asked Tortorella.
The one-word response: "No."
Earlier in the day, T.J. Oshie had encapsulated Team USA's architects' thinking at large: "If it comes down to 100 per cent skill, I think they win; 100 per cent grit, I think we win."
Hockey needs both, of course, and anyone who's caught a glimpse of Team North America knows skill's stock is rising.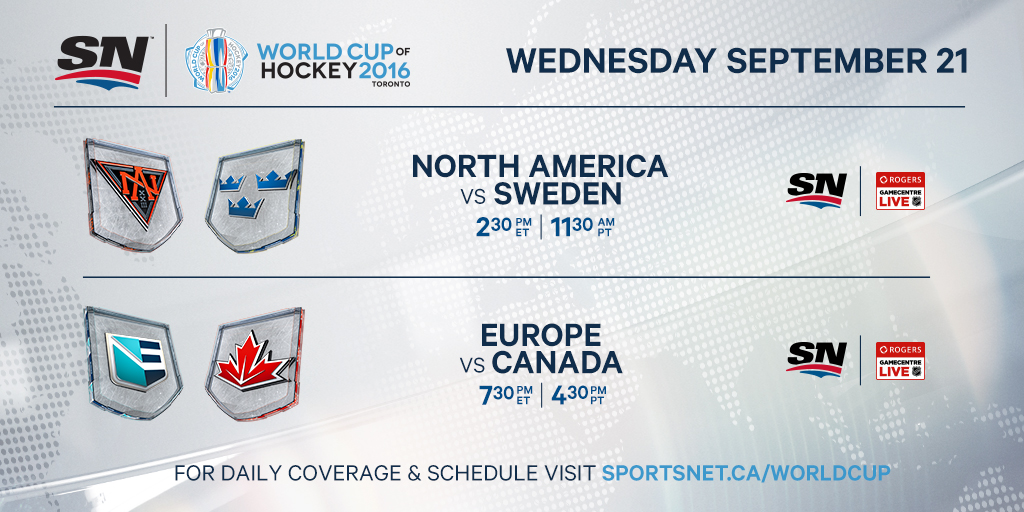 "We have a good mixture of skill and grit on our team," Joe Thornton said with a smile at intermission, a man holding pocket aces. "Let's see how the game plays out, and let's see who wins."
Thornton and the rest of the building knew who'd win about 14 minutes in, if not sooner. Canada flexed its grit, too. Sidney Crosby pushed back when Dustin Byfuglien and Ryan Kesler got in his face. Ryan Getzlaf strode to the point and blocked a shot even though he'd lost his helmet.
This was quiet confidence winning over rhetoric, slick passing and creative offence trumping dump-and-chase.
"It's disappointing, frustrating, all different types of emotions," Tortorella said. "We let some people down. It's on my watch. I certainly feel responsible for that."
Ryan Suter said they let their country down. He feels terrible for disappointing Lombardi, Holmgren and Burke. Patrick Kane said they let their coach down.
"Tortorella is one of the most passionate guys I've ever seen about hockey, and I'll never say a bad thing about him. He's just a great coach, and we didn't show up for him," said Kane. The reigning MVP didn't score a goal in Sochi and has yet to find the net in Toronto.
"Two games here, and you're done. It's just amazing. It's crazy the way hockey is. It definitely frustrating as an American, having these opportunities and having nothing to show for it."
Even in swift, convincing defeat, the Americans defended the roster—one that, to be fair, was damaged by the creation of Team North America.
"There are decisions made, and that's the way they went, and that's the way the group was put together. It doesn't matter who was here or who wasn't, it was a job for us to get it done, and we were not good enough," captain Joe Pavelski said. "We had this team here, we believed in each other, and we didn't get the job done."
Again, U.S. TV ratings notwithstanding, this is for the best. Consider the Americans' humbling as a win for skill, a triumph for speed, a victory for those of us who like to go to a game and see some damn goals scored.
USA Hockey will be back. Anyone who's caught Auston Matthews or Johnny Gaudreau this week knows that. But the "100 per cent grit" identity, and the belief that belief is enough, died tonight.
It was time.