ST. LOUIS — Peter Chiarelli knew this was going to happen. The Team North America co-general manager said as much back in February.
"It's a cross between pro scouting and amateur scouting," he said of trying to pick the Under-24 team for this fall's World Cup of Hockey. "These players change way more than 25- or 26-year-olds. An older player can have a lull in his game, but you know what you're going to get. These guys, their swings are huge."
Case in point: Chiarelli politely dismissed Auston Matthews' chances of making this team back in March. "He's got an uphill road," he said then.
Now, how can they not include Matthews, who looked very much at home playing for Team USA at the world championships?
Meanwhile, Jonathan Drouin was on his self-imposed holdout from the Tampa Bay Lightning back when they named the first 16 players for Team North America. Today he has 12 playoff points, the second-most of any player eligible for the U-24 team.
The U-24 player who has the most points? Robby Fabbri, another player who was barely on Chiarelli and Bowman's radar three months ago.
General managers will flesh out their World Cup rosters on Friday, May 27 adding seven players apiece.
Watch it live on Sportsnet at 6 p.m. ET and world-wide at sportsnet.ca here.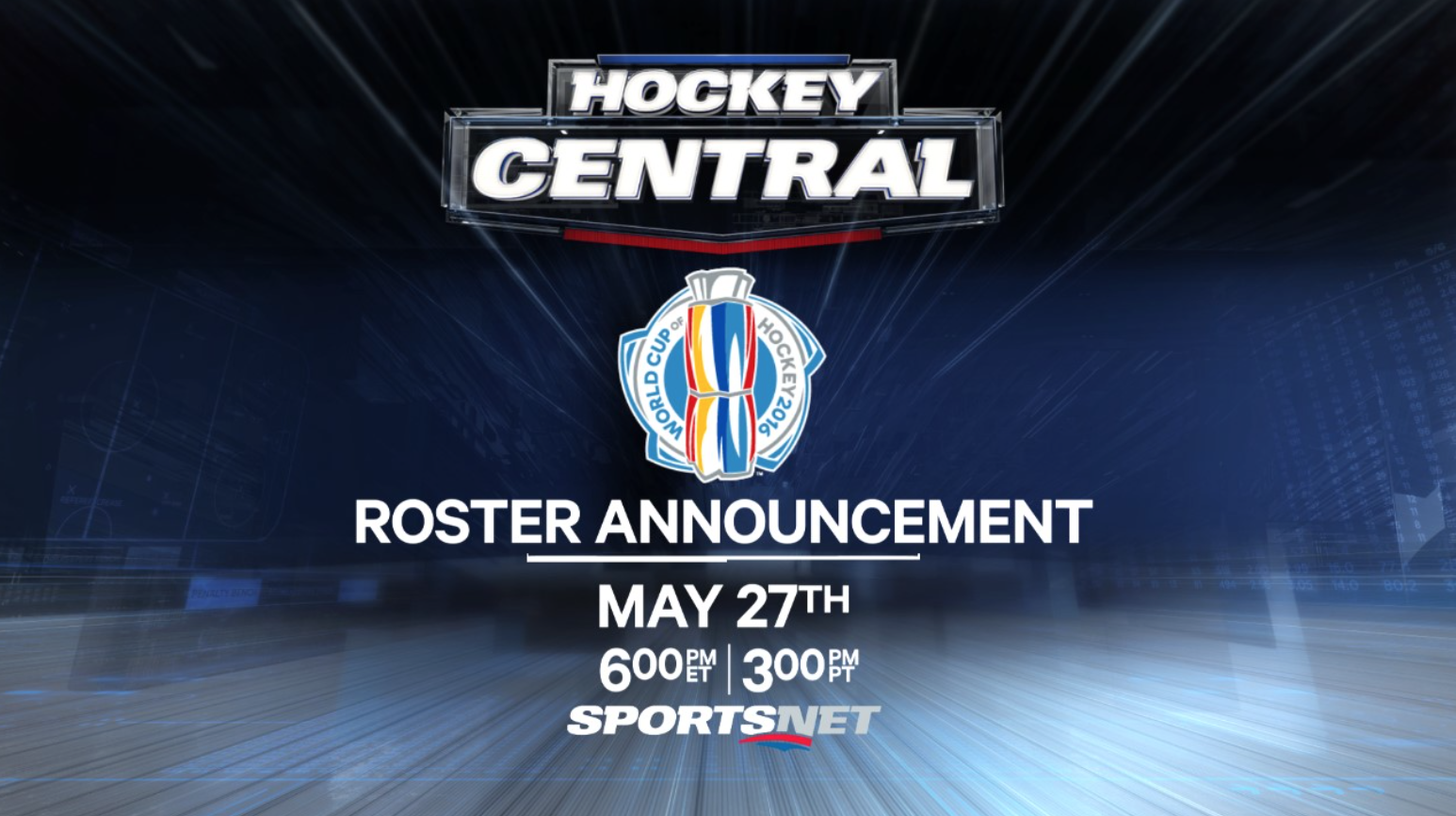 Here's our projected Team North America roster, by position:
GOAL
Already named: Matt Murray (PIT), Connor Hellebuyck (WPG), John Gibson (ANA).
The three goalies were all named in March, but Murray's playoff performance has changed everything. Remember, when the format was first devised, Chiarelli and Bowman petitioned organizers for some relief in goal, because they were afraid they wouldn't have a U-24 goalie that could allow their team to compete.
Now? They've got to be feeling mighty good about Murray, who was barely up from the AHL when he was named to the squad in March.
DEFENCE
Already named: Morgan Rielly (TOR), Aaron Ekblad (FLA), Ryan Murray (CBJ), Seth Jones (CBJ).
Rielly and Murray are lefties, while Ekblad and Jones are right-handed shots. Lefty Shayne Gostisbehere became a force for Philadelphia this season, while righty Colton Parayko (St. Louis) will make a perfect partner for him, with his ability to stay at home and defend, as well as unleash a cannon of a one-timer when asked to.
They'll both be added this week.
"At the beginning of the season my only goal was to make this team (the Blues), then let things unfold," said Parayko. "It would be extremely exciting. They're world-class players. It's going to be a cool tournament."
We'll make Winnipeg's Jacob Trouba the final pick, an all-around defenceman who can adopt whichever role he is asked to play. Honourable mentions to Noah Hanifin (Carolina) and Cody Ceci (Ottawa), who were both in the conversation.
FORWARDS
Already named: Dylan Larkin (DET), Connor McDavid (EDM), Nathan MacKinnon (COL), Johnny Gaudreau (CGY), Sean Monahan (CGY), Jack Eichel (BUF), Brandon Saad (CBJ), Sean Couturier (PHI), J.T. Miller (NYR).
The problem at forward with Team North America is the glut of lefties. This team will likely have only three right-handed shots up front in MacKinnon, Eichel and Winnipeg's Mark Scheifele, all centres who will be pushed to the wing for this tournament. Saad will also see duty on the right side, a spot he is accustomed to.
If McDavid is the No. 1 centre, Monahan the No. 2 and Couturier the No. 4, that leaves a third-line centre spot. We'll fill that spot with Ryan Nugent-Hopkins, who gets the nod here as the only player other than Couturier with 300 NHL games under his belt. Experience is precious here, especially considering McDavid has played just 45 games in the NHL, and Matthews has yet to play his first.
Drouin has played himself onto this team and will play the left side (unless the coaching staff feels he can handle playing on his wrong wing), and Scheifele's strong world championships puts him on this roster as well. That leaves one final spot for a utility forward, and although Fabbri has likely earned it, we'll give it to Auston Matthews.
If this team is going to be about young guns and the NHL's stars of the future, then it would pretty tough to show up at the Air Canada Centre in Toronto having excluded the player we expect the Maple Leafs to draft No. 1 overall in June.
TEAM NORTH AMERICA LINEUP
* Denotes late addition
Line 1: Dylan Larkin                         Connor McDavid                     Nathan MacKinnon
Line 2: Johnny Gaudreau                Sean Monahan                        Jack Eichel
Line 3: *Jonathan Drouin               *Ryan Nugent-Hopkins         Brandon Saad
Line 4: J.T. Miller                             Sean Couturier                       *Mark Scheifele
Extra: Auston Matthews (?)
1st Pair: Morgan Rielly                    Aaron Ekblad
2nd Pair: Ryan Murray                   Seth Jones
3rd Pair: *Shayne Gostisbehere   *Colton Parayko
Extra: Jacob Trouba
Starter: Matt Murray
Backup: John Gibson
Reserve: Connor Hellebuyck