Pre-tournament games for the 2016 World Cup of Hockey begin Thursday with six teams in action.
Official tournament play is set to get underway on Saturday, September 17. Here's a look at what you need to know about the official rules heading into the third World Cup of Hockey.
The Rules
The World Cup of Hockey will observe NHL Official Rules. Video review and the coach's challenge will be available in accordance with the NHL's rules.
All games will feature an NHL-standard crew of two on-ice referees and two linesmen. Here's a look at the officials who will be working the tournament.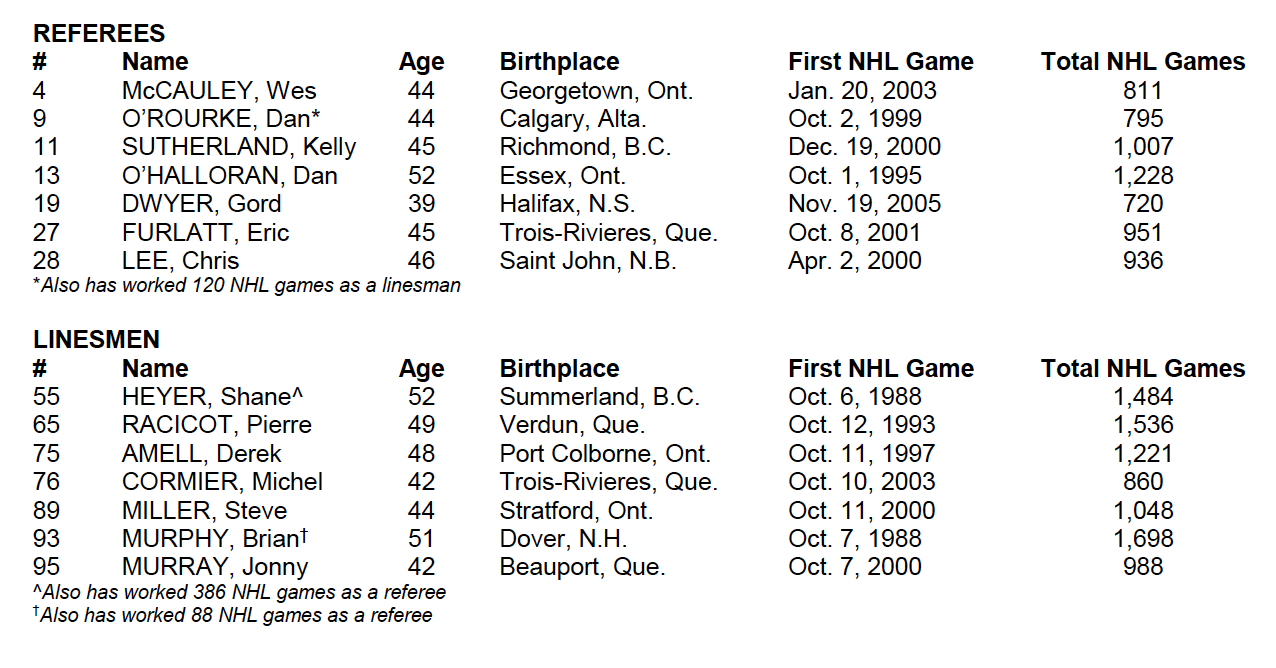 As with any international competition, there is a set of rule relating to potential tiebreaking scenarios following round-robin play. Here's a breakdown of the tiebreaking rule via official NHL/NHLPA release.
Team Rankings
Determination of seeding at the completion of the round robin will be based upon points earned. In the event of a tie, seeding will be based upon the tiebreaking procedures listed below.
At the conclusion of the round robin, teams will be ranked Nos. 1-4 within their respective groups, with the top two teams advancing to the semifinals.
Tiebreaking Procedures
The following tiebreakers will determine group rankings at the conclusion of the round robin:
Two-Way Tie
Any tie between two teams will be decided by the result of their head-to-head game.
Three/Four-Way Tie
Steps 1-5 will be calculated based upon ALL games played:
Step 1: Total Points (2 points for any win, 1 point for any OT/SO loss)
Step 2: ROW (total regulation/OT wins, not including shootout wins)
Step 3: Regulation Wins (total regulation wins only)
Step 4: Goal Differential (total goals for minus total goals against)
Step 5: Total Goals Scored (total goals for)
Steps 6-7 will be calculated based upon games played between tied teams only:
* Step 6: Goal Differential (total goals for minus total goals against)
* Step 7: Total Goals Scored (total goals for)
Notes
As soon as any three-way ties are broken down to a two-way tie, the tie will automatically be broken by the head-to-head matchup between the two tied teams (see two-way tie criteria outlined above), and not by continuing on with any additional steps.
Steps can either advance a team OR eliminate a team:
Example: A three-way tie for second place, where only one team can advance. After applying Step 4, two teams are +2 in goal differential, one team is -1. The team with a -1 goal differential would be eliminated. The two remaining teams would be broken by their head-to-head matchup (as per two-way tie criteria outlined above).
In a four-way tie, a step can advance two teams at once. Alternatively, a single team can be advanced in a four-way tie. The remaining three teams would revert back to Step 1 to determine the No. 2 team in that group (using the three-way tiebreakers outlined above) until only one team advances.
Teams that pull their goaltender for an extra attacker during the overtime period (other than on a delayed penalty) will be subject to the potential forfeiture of their one point earned for the tie at the end of regulation in the event the opposing team scores into the empty net.
For purposes of the tiebreaking procedures, shootouts will result in the awarding of +1 goal to the winning team and -1 goal for the losing team.
The Anthem Question
One of the burning questions on the minds of hockey fans ahead of the tournament is how will Team North America and Team Europe handle national anthems?
Team North America will play both the Canadian and American national anthem during pre-game ceremonies throughout the World Cup.
We have some bad news for those who were hoping for "The Final Countdown" from Swedish rockers Europe to serve as the official anthem of Team Europe. Players representing Europe opted to go without an anthem for the tournament.
"Participants from Team Europe were strongly of the view that notwithstanding their commitment to work together as a team toward a common objective in this tournament, their passion and loyalty for their own respective homelands and anthems made any surrogate musical tribute somewhat artificial and therefore unnecessary," organizers said via release.