TORONTO – Zdeno Chara doesn't deserve your hate, Toronto.
And yet it keeps coming in loud, spiteful waves.
Every time Team Europe's 6-foot-9 behemoth touched the puck during Tuesday night's loss to Team Canada in Game 1 of the World Cup final, boos rang through the Air Canada Centre.
The gentle giant heard you, Toronto, but he's confused about why he's such a target.
"To be honest with you, I don't know why it is," the defenceman said Wednesday. "Obviously I can't control the fans. Sometimes I just don't understand. Sometimes I feel they boo because they feel they need to boo someone. Honestly, I don't care. Doesn't bother me."
Hearing the boos at the game, a baffled friend of mine and I had the following text exchange: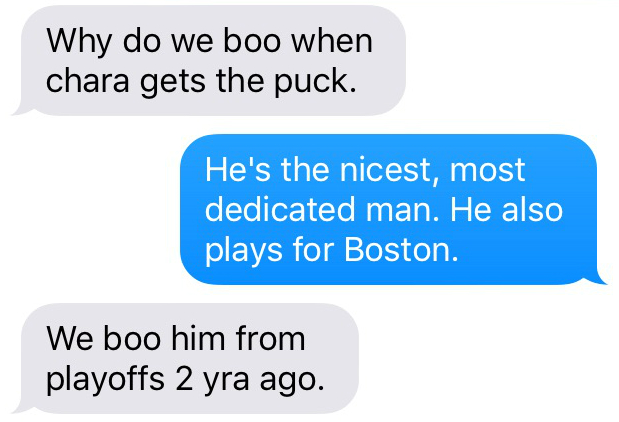 A portion of Toronto Maple Leafs fans, of course, are still bitter over the Boston Bruins' incredible Game 7 comeback in the first round of the 2013 playoffs, when Chara's Bruins rallied from a 4-1 deficit to crush a city's hopes 5-4 in overtime.
Sure, Chara had an assist in that memorable stunner, but Team Canada's Brad Marchand helped set up the winner, and Canada's Patrice Bergeron potted both the tying and winning goals on May 13, 2013, enjoying a three-point night. They get cheers.
"If it's because of the Boston game, we have a few other guys in Boston [playing here]," Chara said. "I have no idea. It doesn't bother me. I'm trying to focus on the game, trying to do my best."
Jeering the 39-year-old Stanley Cup champion has become commonplace in the World Cup.
"Everywhere we went, starting in the pre-tournament [games in Montreal and Quebec], he got booed everywhere," Europe teammate Christian Ehrhoff said. "I kind of feel for him."
That Chara also patrolled the Ottawa Senators' blue line for four seasons may add to the vitriol.
The irony is, anyone who spends time with Chara the human knows he's the least deserving of your anger.
"He's definitely been a tower in more ways than his physical presence. It's the man inside of that tower that is really amazing to work with," says Europe coach Ralph Krueger.
"He's quite calm in the team environment and moves quietly. He's just so respectful of everybody he comes in contact with. The guy serving him coffee today will feel every bit as respected as his teammates. And I think that's Zdeno Chara."
Sounds like a jerk. Let's boo him.