Of the pivotal moments from Super Bowl XLIX that didn't involve Pete Carroll's brain misfiring, the most unsettling came when New England receiver Julian Edelman absorbed a helmet-to-helmet blow from a Seattle defender—then staggered forward another 10 yards on wibbly-wobbly legs.
A decade or so ago, his coaches would have thought, "He got his bell rung!"—and that would have been the end of it. But today we live in a more enlightened time, one in which the NFL is at the forefront of pretending to take head injuries seriously.
The fact that Edelman stayed in the game (and returned for the next drive after reportedly being assessed) prompted many to criticize the NFL's commitment to player safety.
However, the league insists it has a strict concussion protocol—one that is followed to the letter in each and every case, including Edelman's. How strict is it? Judge for yourself.
---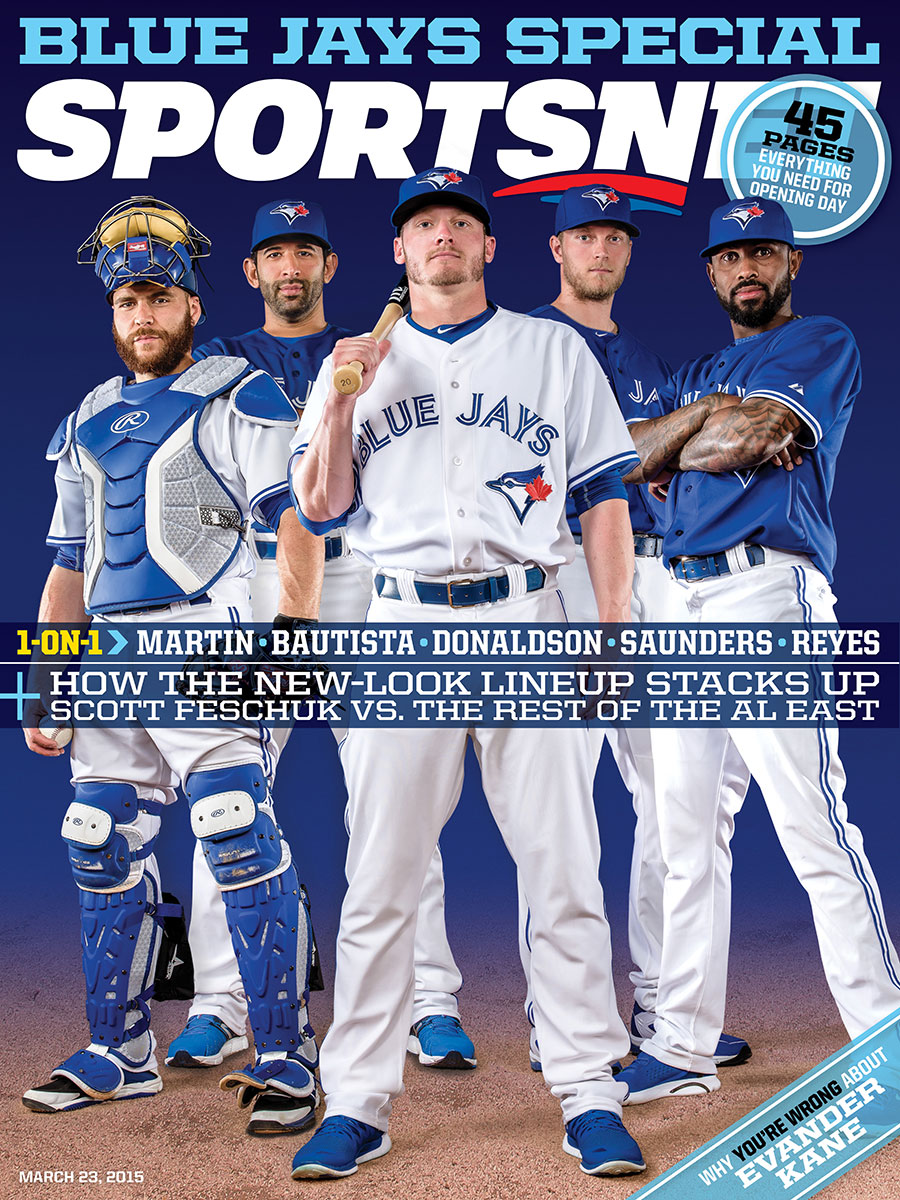 Sportsnet Magazine's Toronto
Blue Jays Special: From the heart of the order to the bottom of the bullpen, we've got this team covered in our preview issue. Download it right now on your iOS or Android device, free to Sportsnet ONE subscribers.
---
NFL Sideline Concussion Assessment Tool
1. Hold up a random number of fingers on one hand and ask the player: "How many fingers do you see?"
• If the player answers correctly, proceed to step two. 
• If he answers incorrectly but it was a pretty decent guess, proceed to step two.
2. Ask the player: "Hey, you don't have a concussion, do you?" 
• If the player answers "No," proceed to step three.
• If he answers "Yes," he may have meant "No." After all, the question has kind of a "double negative" feel to it, and those things are super confusing. That's our bad! It's entirely possible the player meant to say, "Yes, I don't not have a non-concussion." Heck, now WE'RE getting confused! Tell you what, let's just proceed to step three.
3. Assess the player's awareness of his surroundings by posing a series of questions: What year is it? What is the date today? What time is it right now?
• If the player answers correctly, proceed to step four. 
• If he does not know the answers to these questions, ask yourself: What IS time exactly? Who are we to place an arbitrary number on the indefinite continued progress of existence and events? What kind of hubris is that? Sure, we consider it to be "2015" right now, but if you think about it, isn't it equally plausible that the player is right and we are all living in the year "eleventy seven" or "Monica Lewinsky"? It's pretty cocky of us to assume we've got it all figured out. Proceed to step four, you arrogant knob.
4. To gauge the player's ability to concentrate, ask him to recite a string of numbers, such as 5-2-6-8, backwards. Repeat this three times, scoring one point for each string of numbers the player is able to recite backwards accurately. (Note: If the player is Rob Gronkowski, he won't be able to do this even if he hasn't suffered head trauma. Instead, have him belch the first seven letters of the alphabet.)
• If the player gets three points, proceed to step five.
• If he gets two points, proceed to step five after giving him a light punch on the shoulder and saying, "Be careful out there with that head of yours, OK?"
• If he gets one or zero points then, oh, I'm sorry Mr. Perfect, have YOU never made a mistake? Maybe the player said the sequence correctly and it was YOU who got it wrong, dumbass. Like you've never forgotten to pick up milk on the way home or had to look everywhere for your car keys. And yet you sit here, judge and jury, poised to tell a professional athlete that he can't play the sport he loves just because he was supposed to say "eight-six-two-five" and instead he said "Hellmann's fun cake zebra." You sicken us. You need to step back, take some time and evaluate the judgmental, unforgiving human being you have become—although not before proceeding to step five.
5. Allow player to return to the game.
This story originally appeared in Sportsnet magazine. Subscribe here.