It was a bizarre year in mixed martial arts, which is par for the course in this wacky sport.
The biggest "MMA event" was a boxing match between Conor McGregor and Floyd Mayweather in the spectacle of all spectacles; Georges St-Pierre returned from a four-year absence to capture UFC gold again; the UFC introduced the women's strawweight division; six UFC titles changed hands and a few more interim champs were added; all-time greats like Jon Jones and Anderson Silva were both caught cheating again; and Bellator closed the gap on the UFC thanks to its continued growth.
Fans of the sport can expect more chaos in and out of the cage in 2018. With that in mind here are six predictions that could come to fruition in the next year.
1. GSP will retire… officially this time
When Georges St-Pierre stepped away from the UFC in 2013 he was careful to never use the word "retire." That will change next year — as sad as that may be for MMA fans to hear.
GSP proved he's still among the best by returning to the sport and choking Michael Bisping unconscious at UFC 217 to win the middleweight title. He proved he could overcome a four-year layoff. He proved he can beat the best at middleweight despite being a natural welterweight. He proved he's still a relatively big draw compared to the rest of the UFC roster.
At the end of the day, there's not much left for GSP to prove to himself and others. That's why he'll finally walk away from the sport for good and declare himself officially retired.
The only mystery here is whether or not he'll fight once more before hanging up his gloves for good. He's only interested in momentous matchups, which limits his options. A GSP-McGregor bout at 170 pounds, as frustrating as it is to admit, would easily be the biggest fight in UFC history from a pay-per-view buys perspective. Outside of McGregor, though, is there any fighter worth GSP's time? It hard to imagine there is.
2. Conor McGregor will fight in the UFC and lose
Saying a UFC champion will attempt to defend his title shouldn't be considered a bold prediction, but with McGregor it certainly is. That said, we're still going to hear plenty of wild rumours attached to him. A rematch with Mayweather in the UFC? A boxing match with Manny Pacquiao? A trilogy bout with Nate Diaz? A super fight with GSP?
Those four options would make him the most money, and that seems to be what he's interested in, but the decision that will get him back in the good graces of the non-Irish fan base will be to finally attempt to defend a UFC title for the first time in his career. Whether it's against Tony Ferguson or someone like Khabib Nurmagomedov (see below), McGregor will eventually agree to a title-unification bout and he will get finished in said bout.
My crystal ball is showing McGregor and Nurmagomedov headlining the UFC's first-ever event in Russia and it not ending well for the Irishman.
3. Rory MacDonald will become Bellator's first two-weight champion
The Canadian looked phenomenal in his Bellator debut in May, dominating Paul Daley with a vintage performance. He faces Douglas Lima — one of the most under-appreciated talents in the sport — for Bellator's 170-pound title in January. Once he beats Lima there won't be too much for him at welterweight besides maybe a tilt with the entertaining and unbeaten Michael "Venom" Page.
MacDonald hasn't competed at middleweight, but he has the frame for the weight class and he's more skilled than nearly every 185-pounder in Bellator at the moment. MacDonald said when he signed with Bellator that he aimed to take the middleweight belt after he wins welterweight gold, and he could breathe new life into a division with a dearth of talent.
Gegard Mousasi is another new and interesting name for that division, but current champion Rafael Carvalho, despite his 15-1 record, is unproven against top talent. Of Carvalho's three title defences, two have been over Melvin Manhoef and the most recent was over Alessio Sakara, neither of whom have been relevant for years.
MacDonald winning both the 170- and 185-pound titles in 2018 could happen.
4. The Bellator heavyweight tournament will have a surprise winner
When Bellator MMA president Scott Coker announced an eight-man heavyweight tournament earlier this year, it got MMA fans excited. The eight participants — Fedor Emelianenko, Frank Mir, Quinton "Rampage" Jackson, Chael Sonnen, Ryan Bader, Muhammed "King Mo" Lawal, Matt Mitrione and Roy Nelson — might be considered over the hill and only four of them (Fedor, Mir, Mitrione and Nelson) are natural heavyweights, but it's reminiscent of the grand prix tournaments defunct promotions like Pride FC and Coker's baby, Strikeforce, used to hold.
Mitrione is the betting favourite to win, but the odds of every fighter staying healthy throughout the tournament are slim, so it's not crazy to think a replacement opponent might be needed at some point. In fact, when the betting lines for the tournament were first released the option of "other" (meaning any fighter not among the initial eight participants) actually had better odds than Sonnen, King Mo and Rampage.
It's not ludicrous to think a mystery fighter ends up winning it all.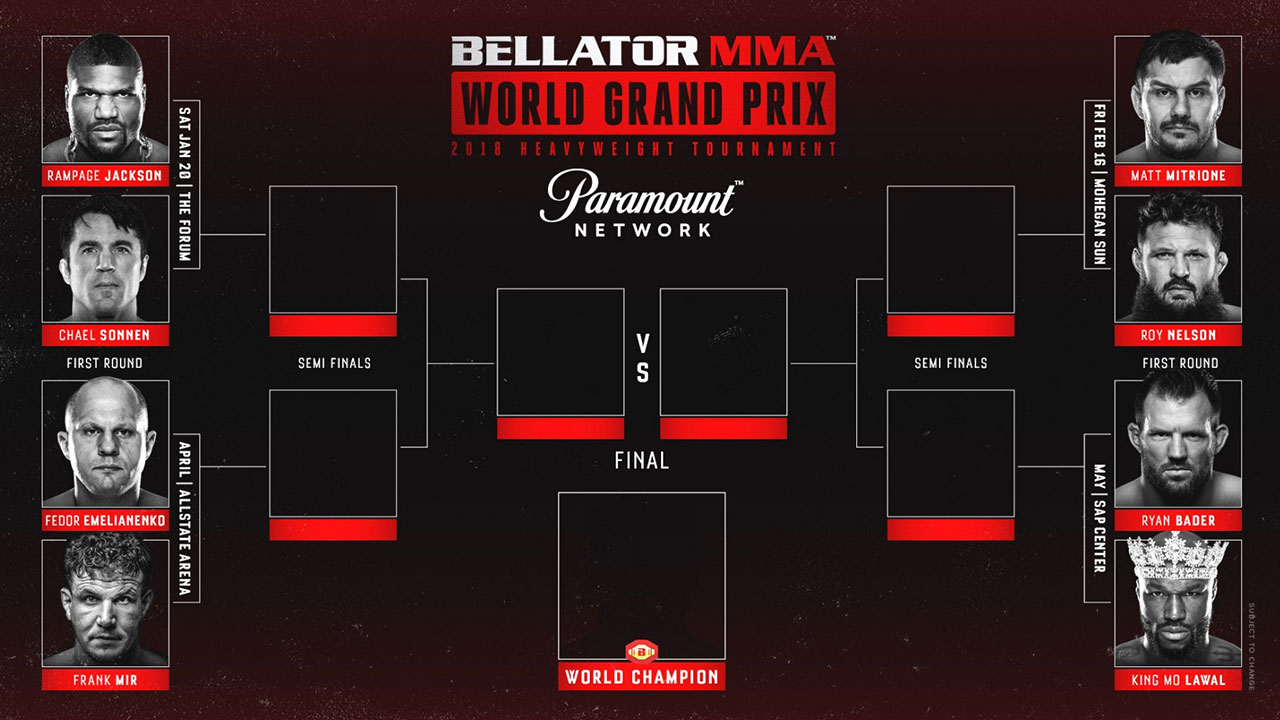 Back in 2011, during the Strikeforce Heavyweight Grand Prix, a highly touted prospect by the name of Daniel Cormier — now considered an all-time great and the current UFC light-heavyweight champion — wasn't originally in the tournament yet ended up wining the whole shebang. Cormier replaced Alistair Overeem, who was pulled from the tournament following his opening-round victory over Fabricio Werdum. Cormier then knocked out Antonio Silva (who had beaten Fedor in the first round) in the semi-finals before dominating Josh Barnett in the finals.
Perhaps in 2018 a young heavyweight like Tyrell Fortune can make a name for himself like Cormier did years ago. Or maybe former light-heavyweight champ Phil Davis? What about a smaller, off-the-board fighter like Mousasi or MacDonald? Crazier things have happened.
5. AKA will finally boast four champs simultaneously
The American Kickboxing Academy in San Jose is among the elite MMA gyms on the planet. It's home to UFC stars Daniel Cormier, Luke Rockhold, Khabib Nurmagomedov and Cain Velasquez, and in 2018 all four of those fighters will be UFC champions.
Cormier is currently the titleholder in the light-heavyweight division and unless Jon Jones is exonerated from his most recent failed drug test and returns to competition, there's no fighter currently competing at 205 pounds who's going to take the belt from him. Cormier is set to face Volkan Oezdemir at UFC 220 in January but Oezdemir, despite his incredible rise, only has a puncher's chance.
Rockhold has been on a mission to recapture his middleweight belt since being upset by Michael Bisping at UFC 199. He is challenging interim champ Robert Whittaker in the main event of UFC 221 in February. The winner of that bout will be crowned undisputed champ at 185 pounds since GSP recently vacated the lineal middleweight strap citing health concerns.
Nurmagomedov, due to frequent injuries and weight-cutting issues, has been inactive in 2017 but if he improves to 25-0 by beating Edson Barboza on Dec. 30 he'll remain at the top of the lightweight division and should fight for a title in his next outing. Whether it's against McGregor, as mentioned above, or interim champion Tony Ferguson, Nurmagomedov will make the most of his first title shot.
Velasquez is perhaps the greatest talent MMA's heavyweight division has ever seen. Unfortunately, the 35-year-old has been plagued with back issues since schooling Travis Browne at UFC 200 in 2016. He has fought only twice in the past four years, however he's working his way back to health with the plans of returning in 2018.
Stipe Miocic and Francis Ngannou square off at UFC 220 in the most anticipated heavyweight title fight since Velasquez and Junior dos Santos met for the first time six years ago. When Velasquez gets the Miocic-Ngannou winner, he'll reclaim his belt and celebrate with his champion teammates.
6. Cynthia Calvillo will become strawweight champ
She's only 6-0 as a pro but half of those wins have been inside the Octagon against top competition. After she gets by Carla Esparza at UFC 219 she'll be firmly in the contender conversation. Then one more win over a top-five opponent should earn her a title shot and the Californian will upset Rose Namajunas (or whoever the champion is at the time) to become the new face of women's MMA at 115 pounds.
A charming personality plus a high-skill, fan-friendly fighting style will lead to Calvillo becoming one of the breakout stars of 2018.
---
Agree? Disagree? Got predictions of your own? Let us know in the comments below.