TORONTO — It doesn't matter how entertaining an athletic competition ends up being. If no winner is declared, it's going to leave fans with some sense of dissatisfaction.
That's what we saw Saturday night as Quebec's Adonis "Superman" Stevenson and Badou Jack "The Ripper" thrilled those at Air Canada Centre with a back-and-forth, 12-round championship tilt. It was truly a world-class prize fight with Stevenson's WBC and lineal light-heavyweight titles on the line. The only drawback? Well, it ended in a majority draw.
One judge scored it 115-113 in favour of Jack while the other two had it 114-114. This meant Stevenson retained his belt even though it was Jack that inflicted more damage throughout the bout.
"I'm just going to say this … a champion doesn't finish the fight with his hands down in your own backyard, in your own country," Floyd Mayweather Jr., one of the promoters of the event, said post-fight. "A true champion's going to fight hard and have his hands raised. If Adonis Stevenson thought he won he should've raised his hands instantly."
Stevenson had the crowd and momentum on his side across the first three rounds with Jack primarily circling clockwise so as to avoid Stevenson's best weapon, his thunderous left hand. A fight-ending weapon that has felled Andrzej Fonfara, Thomas Williams Jr., Tony Bellew and Chad Dawson among many others.
"It's 12 rounds and I just need one punch," Stevenson said earlier in the week. "One punch."
Stevenson landed 165 punches on Jack, according to CompuBox, but that one punch he spoke of never came. In fact, Jack ended up landing 44 more punches than his opponent, ate Stevenson's best offerings, bided his time to find his own rhythm, and slowly but surely worked his way back into the fight.
Mayweather likened it to the strategy he used to lull Conor McGregor into a false sense of security last summer when the boxing icon welcomed the UFC superstar to the squared circle in a blockbuster spectacle.
Jack, originally from Stockholm but now living and fighting out of Las Vegas under the Mayweather Promotions banner, began landing clean combinations of his own in the fourth round. He sent a plume of Stevenson's head sweat over the top rope after connecting with a right hook that earned him some respect.
During the middle rounds the fighters began to clinch frequently and it took Jack some time to adapt to the in-fighting. Chants of "Canada! Canada!" or "Superman! Superman!" rained down from the crowd whenever Stevenson summoned a burst of energy.
Jack seldom wavered, even when Stevenson walked him down in the sixth. He landed a stiff straight right to Stevenson's beltline that had an impact heading into the seventh stanza.
This is when Jack began doing his best work.
A Jack uppercut from the clinch snapped the Canadian's head back and he kept firing straight rights to Stevenson's abdomen. A looping right that creeped around Stevenson's guard and connected on the right ear appeared to hurt the champion.
By the end of the eighth, Jack had the momentum. He raised his fist to the crowd after the bell in a sign of confidence, a grin crept across his visage.
The methodical Jack we saw early on was gone. He stopped relying on his jab as much and found a home for a piston-like lead right. Stevenson was using a white gumshield, but after nine rounds all you could see was a crimson hue when he would open his mouth. Jack stared Stevenson down after the bell and smiled as he strutted back to his corner.
Like so many classic fights, this contest one was a crescendo of violence with many ebbs and flows.
Jack is considered among the best body punchers in boxing, yet, in an ironic twist, the crowd was brought to its feet in the 10th when Stevenson hurt Jack with a right to the midsection — not a left to the head like we're used to seeing from him. Mayweather, who stood ringside shouting advice to Jack throughout the fight, thought the shot might've broken Jack's ribs.
"I used both hands," Stevenson said afterwards. "I touched him a lot with the right hand on the body and slowed him down."
The 10th-round body shot was such a devastating punch that it allowed Stevenson to carry some momentum into the 11th. At this point, the fight was up for grabs but Stevenson began to fade. He did not have the same pop on his shots, the speed in his hands, nor the agility to avoid absorbing more punishment. Perhaps it was simply because of all the damage he had been taking. Or maybe it's because Stevenson turns 41 in September and time is undefeated.
Mayweather spoke during fight week of certain challenges fighters face once they reach their late-30s and early-40s. When asked after Saturday's fight if he thought Stevenson looked like an old fighter at times, Mayweather answered, "absolutely."
"Once you get to being 38, 40, 41, it's not the same as when you were young," Mayweather added. "You see certain things but you're not able to do them."
The crowd stood and cheered for the duration of the 12th and final round, which concluded with Jack landing an uppercut in the waning seconds that buckled Stevenson's legs and sent droplets of blood flying from his nose.
Jack hopped up on the ropes after the bell sounded, confident he had just picked up another win over a champion yet somewhat regretful he didn't earn a stoppage.
"He almost walked to the wrong corner," Jack said. "He was all over the place, so I mean five, 10 seconds more he would've been down."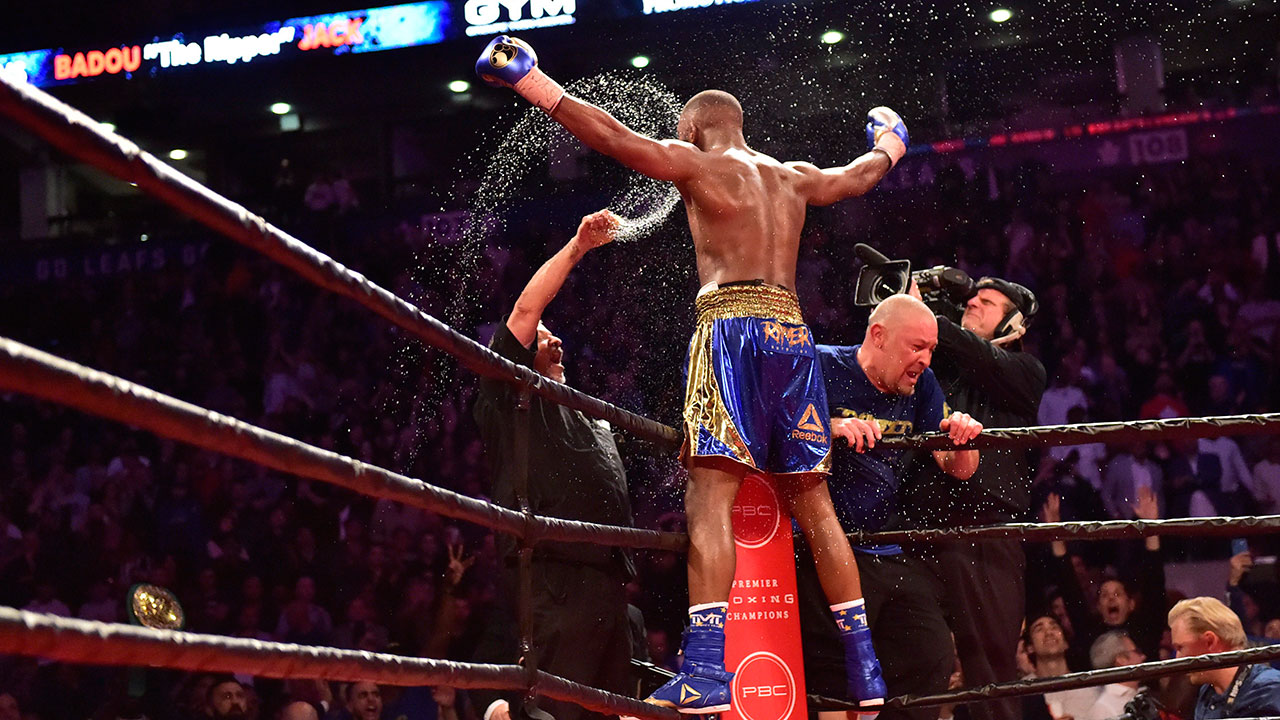 Jack's celebration was short-lived, though, as the announcement of a majority draw undercut what an excellent fight it was.
The bout was hyped as the most notable prize fight to take place in Toronto since the late, great Aaron Pryor defeated Nick Furlano at Varsity Stadium in 1984.
Although the quality of fighters in Saturday's main event warranted that billing, Jack and Stevenson only competed in front of a mostly-full lower bowl with fewer than 5,000 tickets sold in a venue that when at full capacity can house roughly 20,000.
The poor ticket sales can be chalked up to the fight being relocated from Montreal to Toronto on three weeks' notice, and credit to the fans that did show up because the atmosphere was electric during the main event. However, when the scorecards were relayed, a collective groan bellowed throughout the building.
It was the third draw of Jack's pro career.
"I thought I definitely won the fight. No judge had him winning. I have no idea why I can't get a decision [from the judges]. It could be that they're jealous of Floyd and don't like him," Jack speculated. "I'm one of his top fighters. I can't do anything about it. I'm not the judge. I have to respect their decision.
"Maybe I started the fight too slow. I gave away those [early] rounds. He didn't really hit me. I can't do anything about it."
Not only was it an unfulfilling result, but it did nothing to move the division forward.
Ever since Andre Ward announced his retirement and walked away from the sport with an unblemished professional record this past September, a handful of light-heavyweights have jockeyed for position atop the weight class.
Stevenson has a legitimate claim that he is boxing's top 175-pounder, but Saturday's result certainly muddies that legitimacy. Moreover, the boxing community has found Stevenson's title reign to be a source of frustration. The Canadian has avoided fights with Sergey Kovalev and Eleider Alvarez and hasn't fought outside of his home country since 2011.
Stevenson joked that he wants to break Bernard Hopkins's record of being the oldest fighter to win a world title — Hopkins did it at age 46 — but the truth of the matter is his career is winding down.
Kovalev is set to defend his WBO light-heavyweight title against the 23-0 Colombian Alvarez on Aug. 4 in Atlantic City.
In theory, the winner of Jack-Stevenson could've gone on to face the winner of Kovalev-Alvarez to determine the true top light-heavyweight. But now, who knows?
Alhamdulillah! Thanks for all the support and love from all the fans! Really appreciate it Hope you guys enjoyed the fight? Thanks to @AdonisSuperman for great fight. Would you like to see a rematch? #TeamJack @WBCBoxing @ShowtimeBoxing pic.twitter.com/dGwK0wJS6e

— Badou Jack (@BadouJack) May 20, 2018
All parties involved in the Jack-Stevenson bout expressed a desire to run it back, so an immediate rematch could take place later this year. Yet with Stevenson's track record it may not be that simple.
Jack suggested: "Let's do a rematch in Las Vegas. I came to his backyard, it's time he comes out to Vegas."
Stevenson countered with: "Anybody that wants to fight me has to come to Canada. If I don't have the title I'm gonna come to you, that's not a problem. But now I've got the title so anybody that wants to fight me has to come to Canada."
And therein lies why Jack coming up just short and the fight ending in a majority draw was such a frustrating result. We're right back where we started. At least we got 12 rounds of fun to salvage some of the mess.