TORONTO – The date is Sept. 18, 2004 and in the ninth round of his undisputed middleweight title fight with Oscar De La Hoya, Bernard Hopkins smells blood.
Stalking his prey as he's done all evening long, Hopkins lines one devastating left hook to the 'Golden Boy's' body and De La Hoya crumples in pain as he suffers his first knockout defeat of his pro career, writhing in too much pain to watch Hopkins somersault in celebration.
Of the 65 professional fights he participated in, that fight against De La Hoya can be looked back upon as the one that shaped the man known as 'The Executioner's' legacy on two fronts.
With his famous body-blow knockout, Hopkins managed to unify the four major sanctioning bodies' middleweight titles – WBA, WBC, WBO and IBF – in addition to the Lineal and The Ring middleweight belts.
This was an accomplishment that cemented Hopkins' place within boxing's annals as one of the best to ever do it, but perhaps more important than the achievement and glory of his victory over De La Hoya is what was announced a few months after their fight.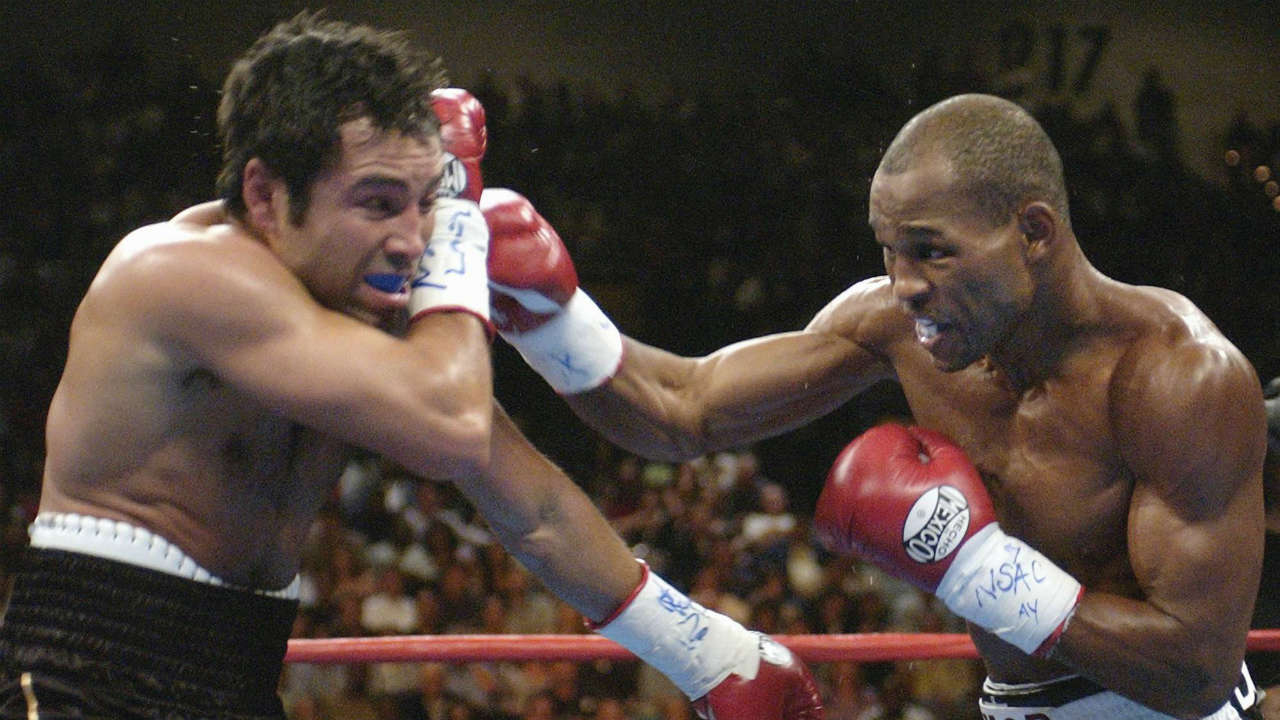 Bernard Hopkins taking on Oscar De La Hoya in 2004 (Laura Rauch/AP)
In November 2004, it was revealed that Hopkins had joined De La Hoya's Golden Boy Promotions. This is a partnership that extended as he continued to fight into his 40s and early 50s – earning himself the nickname "The Alien" in the process – before he officially retired as a pro fighter following a scary knockout loss to Joe Smith Jr. that saw him fall through the ropes on Dec. 17, 2016.
Now, 14 years after he first partnered with the man he so painfully knocked out to become the modern-day legend he's seen as, Hopkins is using his platform and that partnership he forged with De La Hoya to take on a different kind of fight.
"Right now we're in the business of promoting and we are setting the standards that maybe not all, but those that choose to do it and are sincere, that they can be the next us in the future," Hopkins said last week sitting in a boxing gym in Toronto.
With the gloves officially hung up, Hopkins is now fully committed to life as a promoter and has been on the promotional trail for, arguably, boxing's biggest attraction: Saul 'Canelo' Alvarez.
Announced back in October, Alvarez and Golden Boy Promotions signed a historic five-year, 11-fight, $365-million contract with streaming service DAZN. The first fight of this monster deal is coming as soon as this Saturday with Alvarez squaring off against British fighter Rocky Fielding at Madison Square Garden a mere three months to the date after his big majority-decision victory over Kazakhstani star Gennady Golovkin.
This deal that Alvarez signed was announced shortly before HBO Boxing broadcasted its final card ever last Saturday after a 45-year-run that made the premium cable network synonymous with the sport. It's also something Hopkins could never dream of happening to him when he was in his prime the way the Mexican superstar appears to be right now.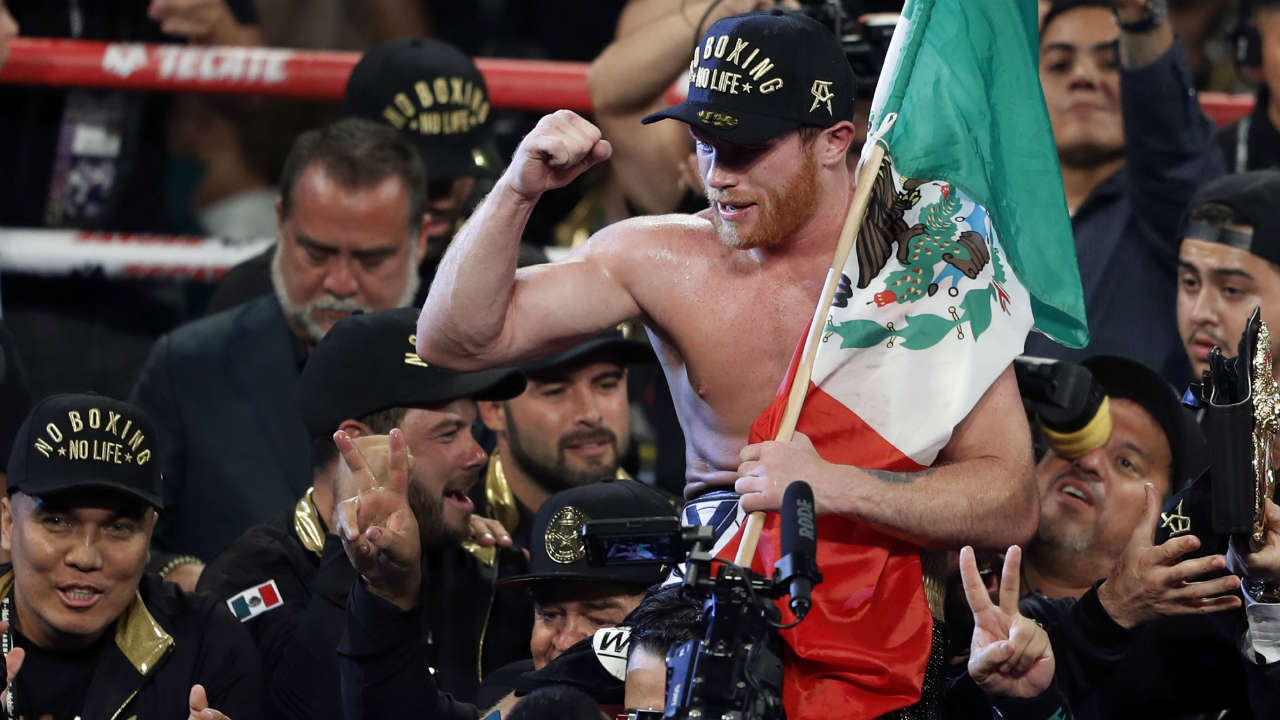 Canelo Alvarez, of Mexico, celebrates after defeating WBC/WBA middleweight champion Gennady Golovkin, of Khazakstan (Steve Marcus/Las Vegas Sun via AP)
Looking back at that Hopkins-De La Hoya tilt, the way both fighters got paid out is always a talking point of the bout. Hopkins, despite being every bit the talent De La Hoya was as far as boxing skills went, was paid $20 million less, taking $10 million to De La Hoya's $30-million payday.
This was mainly because De La Hoya was the face of boxing at the time and commanded greater Pay-Per-View appeal, but back then Hopkins was distrustful of promoters and felt he had to do things himself.
"I didn't trust the promoters, I didn't trust the advisors or the managers, sometimes I looked in the mirror and I didn't even trust myself because I know how intoxicating this sport can be," said Hopkins.
As such, Hopkins experienced many a growing pain as he continued to fight, but now as a full-time promoter he's hoping to impart those lessons he learned to the next generation, with Alvarez being chief among them.
"I was always in a promoter role while I was fighting because if you look at what Bernard Hopkins said – delightful or distasteful – when you looked at Bernard Hopkins as a guy who never shut up, always continued to have a sound bite or a question or an answer back, I was promoting way before my career was over," Hopkins said.
"I realized when a promoter wasn't promoting me the way I think he should, I had to do things to get peoples' attention. Some of it was distasteful, some of it historic, bad or good, and I got you to write about it. I couldn't control what you write, I couldn't control what you think, and that's any media personality that's representing that paper, TV network or social media. Once I understood that it became a game-changer.
"That's why I'm so comfortable sitting here telling you how I feel about this deal with DAZN, how I feel about Canelo having this deal for himself, his family, his legacy and Golden Boy Promotions being part of this historic deal."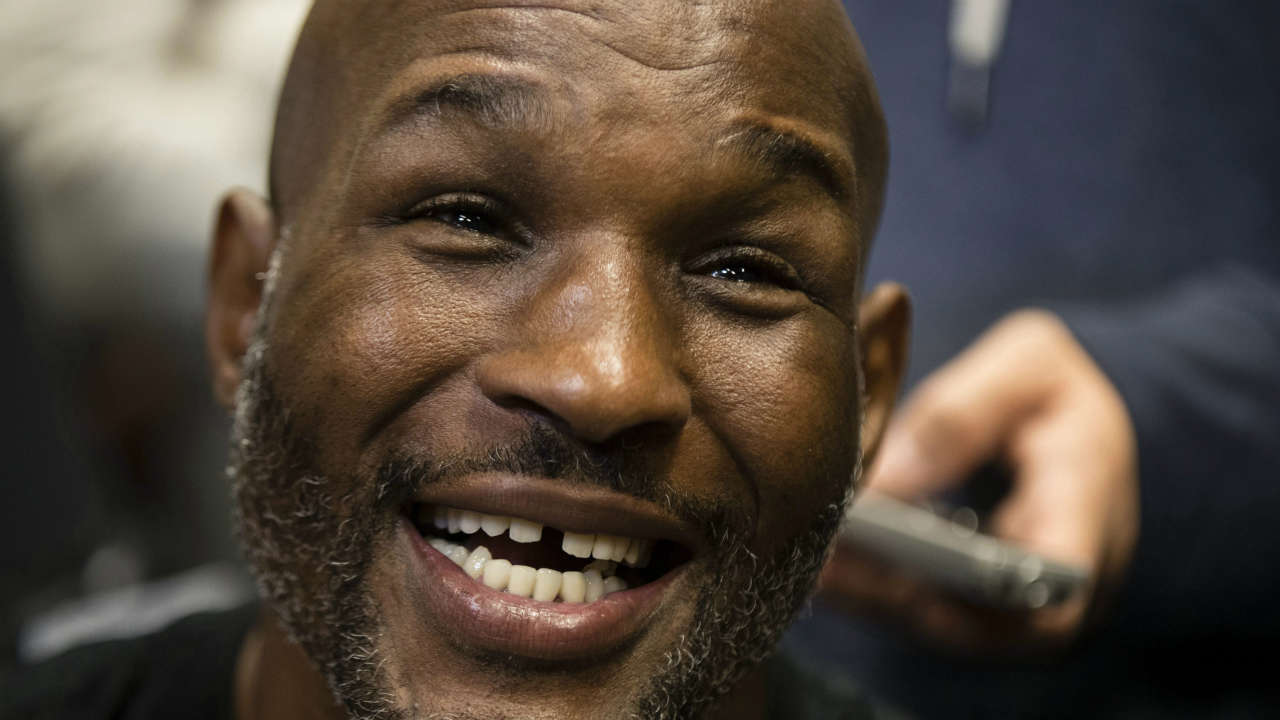 Bernard Hopkins smiling while addressing the media in 2016 (Matt Rourke/AP)
It's Hopkins' job now to try to sell the world on the virtues of Alvarez and this incredibly lucrative streaming deal, and is just another chapter in one of the most unique career arcs in modern boxing history.
From Graterford penitentiary where he first picked up the sport and famously told the warden upon his release, "I ain't ever coming back here," to multiple time world champion and now promoter-extraordinaire, Hopkins has lived quite the blessed boxing life.
And to think, that third act all started after he destroyed his future partner's kidneys.
"If we had a great friendship before the partnership I would never have hit him that hard to the body."