It's three days before one of the biggest moments of Arthur Biyarslanov's life, and he's looking to start things off on the right foot.
Being mindful of his weight control, Biyarslanov opts for a light oatmeal breakfast while thinking of Saturday, the day he'll finally shed himself of the amateur label and make his professional debut in front of friends and family at Budweiser Stage in Toronto — the city he's proudly called his hometown since arriving in Canada in 2005 with his family.
While eating, Biyarslanov's phone buzzes. He checks it and sees it's from the Saturday show's promoter.
Wondering what's up, Biyarslanov opens the text, reads it, then promptly puts that oatmeal aside and tells his mom she'd better bring out the beef because the show, and everything that he was working towards in the months leading up to his moment of glory, had just been cancelled.
That was just about fourth months ago. Now, however, it's happening for real.
Famed for his impressive amateur career that saw him amass an 85-13 record, win four national titles, represent Canada at the 2016 Olympic Games in Rio de Janeiro and win gold at the Toronto Pan Am Games in 2015, Canadian boxer Biyarslanov will make his actual pro debut on Saturday in front of friends and family at Toronto's Coca-Cola Coliseum.
Given the circumstances he's making his debut in, the situation isn't ideal, but for Biyarslanov it's better late than never.
"These things happen in boxing," said Biyarslanov over the phone last week. "I know it was very unfortunate because it was just a few days before the fight and I had a really good training camp and was ready. And when these things happen, of course, it's not good news and, obviously, you're not too happy about it, but what can you do? Everything happens for a reason.
"So I just kept training after that, staying in shape always, look for another opportunity to come up, and here it is: Dec. 15 in Toronto. I'm excited."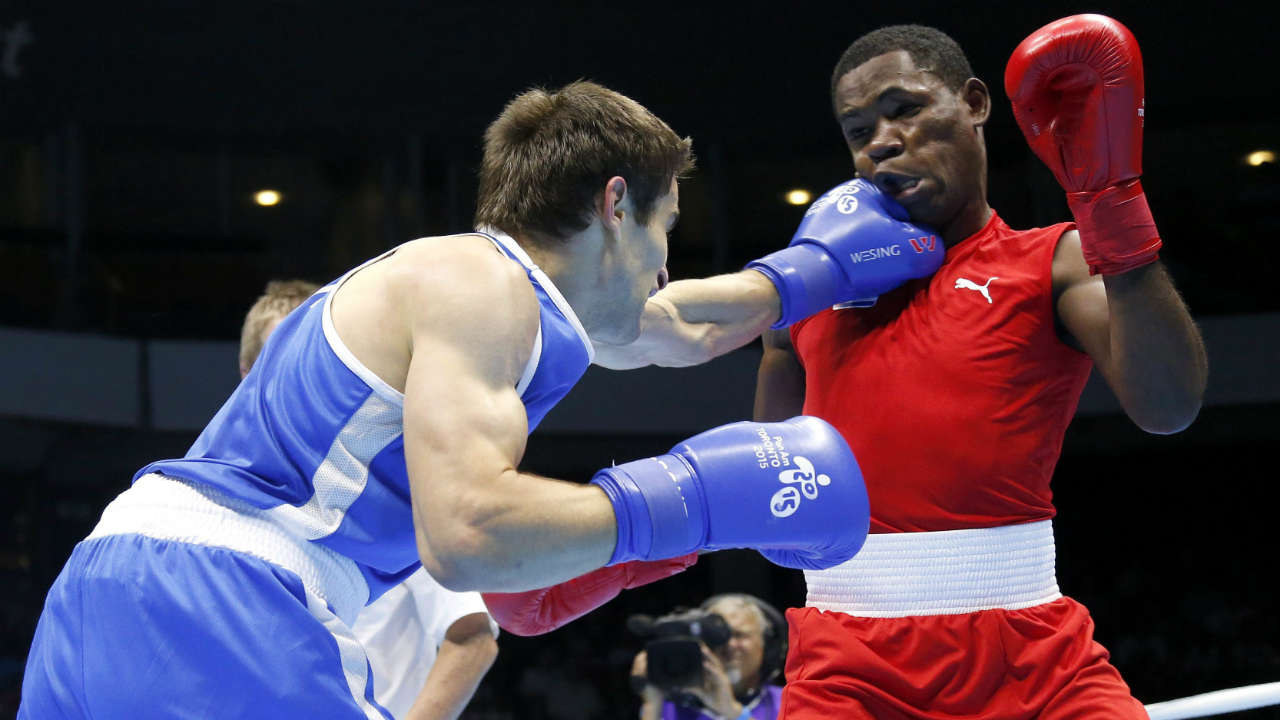 More than just making his pro debut, though, Saturday will be the realization of a plan Biyarslanov put into motion over a full year ago to the day.
In late November 2017, Biyarslanov penned a piece for CBC Sports announcing his decision to turn professional. This wasn't an easy decision for Biyarslanov, but one he says was necessary.
A few months after he got back from Rio, Boxing Canada announced its decision to centralize its high-performance programs and move all training to the organization's National Training Centre in Montreal. This rubbed Biyarslanov the wrong way as it would've meant having to move from Toronto to Montreal – something the boxer says he couldn't afford to do at the time – or else the $1,500 stipend he was receiving from Boxing Canada would be stripped from him.
"I can't do another four years. I'm going broke," Biyarslanov told The Toronto Star's Morgan Campbell in July 2017. "What am I boxing for? For free? I might as well go pro and get paid for every fight."
And that's exactly what he ended up doing.
A vicarious dream
Like many who take up the sweet science, Biyarslanov doesn't come from a wealthy background. In his case, Biyarslanov's family fled to Azerbaijan from the war-ravaged Russian republic of Chechnya where, as he told The Toronto Sun's Steve Buffery in 2014, Biyarslanov "could hear shooting and bombs" when he was only four. Around the time his family escaped Chechnya, Biyarslanov's father, Xairudin, died leaving his mother, Alla, to raise him and his three siblings on her own.
Six years after fleeing for Azerbaijan, Biyarslanov's mom then decided to migrate the family to Toronto in hopes of a better life for her kids in Canada. It was around this time, with the family positioned for a better future but not necessarily present, that Biyarslanov's older brother, Rustam, started working at age 16 to help out their mom.
Back when the Biyarslanov family was in Azerbaijan, Rustam had the makings of a fine combat sports athlete himself, excelling in wrestling, kick boxing and boxing. However, with the family situation the way it was when they moved to Toronto, he had to give up on his athletic dreams in order to help put bread on the family table.
But where Rustam's wish fell short, he saw the potential for it to be fulfilled through his younger brother Arthur. As brothers do, the two would wrestle with each other, and despite being six years younger, Arthur wouldn't concede. From these playful dust-ups, Rustam says he noticed the power in his younger brother's hands, and as a result, he decided he was going to bring Arthur with him to the local boxing gym, where Rustam worked out, to teach his little brother self-defence — and instill some self-confidence.
At first, Arthur hated it, even pretending to still be asleep in his bed when Rustam came knocking early in the morning. However, as time went on, Arthur's love for boxing grew primarily because he was accomplishing what his brother couldn't. And so, what was once just Rustam's dream was now the Biyarslanov brothers' dream.
With his brother beside him every step of the way, Arthur shot through the ranks as one of Canada's best young boxers, culminating with the first Canadian men's Pan Am boxing gold since 1975 and an Olympic berth. And, at the age of just 21 coming out of the Rio Games, he was readying himself to take a crack at Tokyo 2020 — to fulfill his brothers' dream of seeing him medal at the Olympics — but then the money situation with Boxing Canada got in the way.
So, tired of seeing Rustam work long hours at the construction site and even more as an Uber driver, Arthur made the decision to turn pro. It's his turn now to take care of the family.
Life as a pro
Since making his decision to turn professional, Biyarslanov has been working with Marc Ramsay, a trainer who includes Canadian fighters Jean Pascal and David Lemieux, and WBO light-heavyweight champion Eleider Alvarez, and IBF light-heavyweight champ Artur Beterbiev among his stable of fighters.
Ironically, Biyarslanov has since moved to Montreal to work with Ramsay, but knowing that he will now get paid to fight has made the adjustment much easier.
And if Ramsay is to be believed, he may also find winning in the ring that much easier.
"He's a very complete fighter. His speed is above average, he's a good puncher, he has a good amateur background, he has great athleticism, he's a southpaw, he trains very hard and he's very resilient," said Ramsay of Biyarslanov's skills. "Going eight to 10 or 12 rounds will be even better for him. I actually think he's going to be a better professional than he was even as an amateur fighter."
And to this point, Biyarslanov, seems more excited about professional prizefighting because there are more rounds to work with.
"Amateur it's only three rounds and you have to just throw more punches and be busier," he said. "You have little time to show yourself. It's kind of like you're in a rush. Through three rounds you have to score points, you have to win the round. For pro, I think it's more for damage, power, you pick your shots."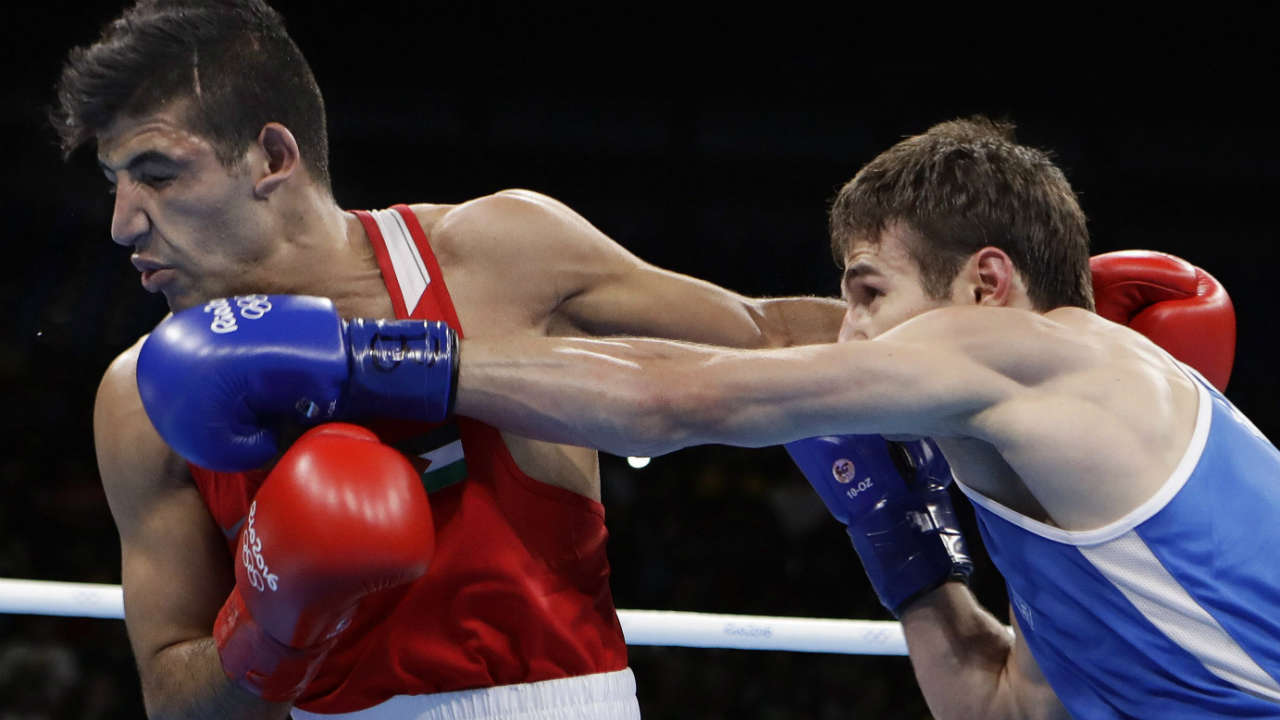 Those measured blows Biyarslanov mentions could be a real advantage for him professionally because he does possess special power, particularly in his left hand. And with this knockout potential at his disposal, Biyarslanov could leverage that into becoming a desirable ticket-selling fighter.
"He's exciting and he's got some good power," said Daniel Trépanier, Boxing Canada's high-performance director and Biyarslanov's former amateur coach, laughing. "He's going to hurt some boxers early in his career that's for sure."
The first time Biyarslanov will be able to test Trépanier's theory will be against Ernesto Cardona Sanchez on Saturday. A Mexican fighter who sports a 3-5 record, and who, to most young pugilists making their debut might pose a problem, but not to Biyarslanov.
"For most guys who are making their pro debut, he might be a little bit over-talented," said Lee Baxter, the promoter of Saturday's card. "But for a guy who's been an Olympic athlete, has been all over the world, this is nothing but a walk in the park."
Nicknamed the 'Chechen Wolf' because of his background and his fighting style, on Saturday against Sanchez, Biyarslanov's long year of waiting will finally end.
"I could've gone to another Olympics in two years. I would've been 25 and then I could've turned pro then," Biyarslanov said. "I really wanted to go to the next Olympics, but I was having political problems with the national team and I felt I wasn't getting treated the way I should be so I made the move. …
"I had a long year to train. I'm more than ready. I'm hungry."
Momma Biyarslanov might want to get the beef ready for Saturday as well.