When Prime Minister Justin Trudeau went shopping for a brand-new snowboard setup this winter, he made one request: It must be Canadian.
"He just said he wanted to ride a Canadian board, so that narrowed the options for us," Eric Dionne, co-owner of Ottawa snowboard shop Top of the World, told Scott Birke of SnowboardingForum.com. "So we asked him a few more questions about his riding style and went from there."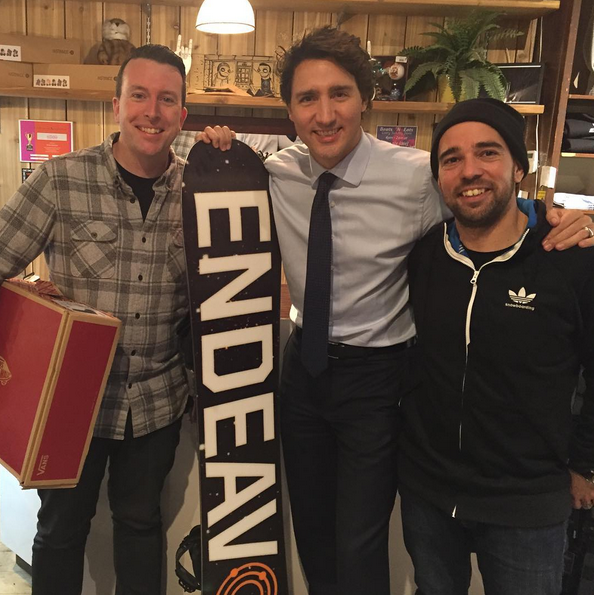 Based off Dionne's recommendations, Canada's leader then researched his board, boot and bindings options online before placing his order with the brick-and-mortar shop: An Endeavor Clout 162, Union Team Limited bindings and Vans Sequal boots.
Trudeau picked up his new ride Monday afternoon, taking advantage of the store's "20 per cent off" sale.
"It started off really professionally — and we were all really nervous — but after a while he was really relaxed and even started cracking a few jokes," Dionne said. "The PM wasn't afraid to pick up a screwdriver either. He worked with us on setting up his board to his liking."
A longtime snowboarder who has thrown his support behind the Canadian Avalanche Association, Trudeau now requires two officers to go shredding with him. They have a hard time keeping up.
"You want to know how to get the best service of your life from a sales rep?" Dionne said. "Tell them the Prime Minister is looking for a new setup."